EU Brexit Debate 2016: Iain Duncan Smith Says Resignation Not About Referendum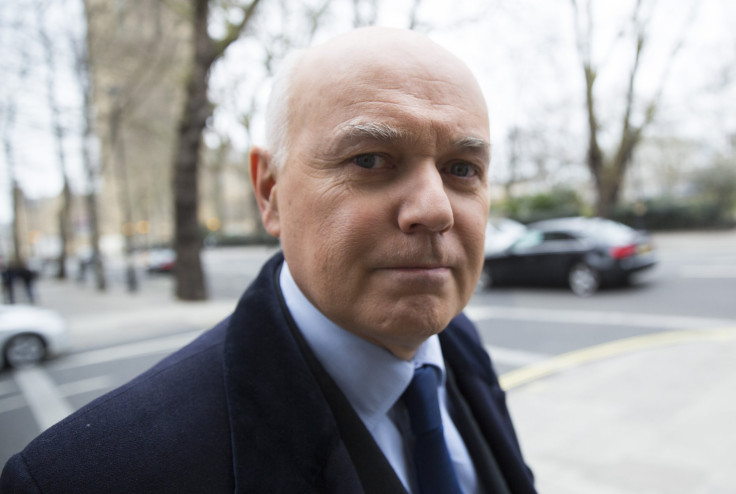 After a sensational resignation Friday that rocked the British political establishment, former Works and Pensions Secretary Iain Duncan Smith gave his first interview Sunday and said the government led by Conservative Prime Minister David Cameron risked dividing people. He argued his decision was not driven by the debate over whether or not Britain should remain within the European Union and instead was linked to decisions over the budget.
"[The government is] in danger of being seen as unfair and being far too hard on working people," Smith said Sunday. He said he chose to resign after cuts to disability benefits were discussed, Sky News reported. The cuts will not be implemented.
Smith said his resignation was "not personal" and was not aimed against Chancellor George Osborne or Cameron, the BBC reported. He said he would campaign for welfare reform, and his views that Britain should exit the EU would be of secondary importance.
Smith was critical of the government's "desperate search for savings," arguing benefit payment cuts were focused on people who do not vote for the Conservative Party. He said he had considered resigning from the government last year, describing a deteriorating relationship.
"We are sorry to see Iain Duncan Smith go, but we are a One Nation government determined to continue helping everyone in our society have more security and opportunity, including the most disadvantaged," the government said in a statement. "That means we will deliver our manifesto commitments to make the welfare system fairer, cut taxes and ensure we have a stable economy by controlling welfare spending and living within our means."
A referendum on whether or not Britain should remain in the EU has been scheduled for June 23. Former British Prime Minister John Major attacked those campaigning for a British exit from the EU Sunday in a piece in the Sunday Telegraph.
"This is, at best, disingenuous. More bluntly, it is fantasy," Major wrote.
© Copyright IBTimes 2023. All rights reserved.