EU Threatens WTO Suit Against Argentina Over Trade Restrictions, Oil Nationalization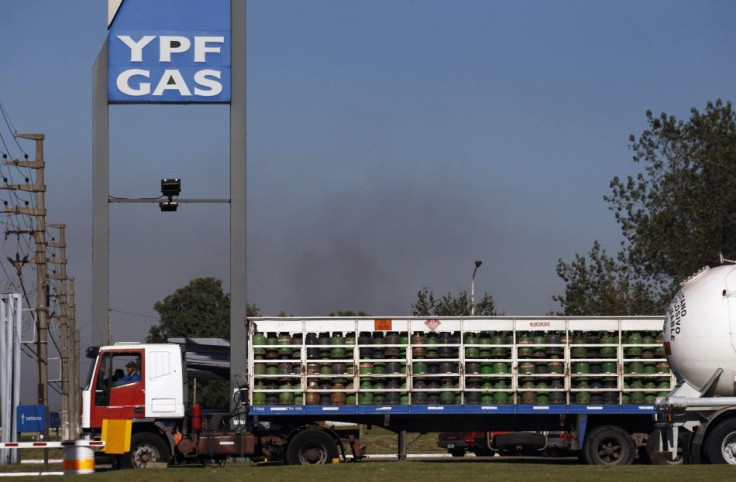 The European Union is preparing to file a complaint with the World Trade Organization over Argentina's new import restrictions, and may seek additional action in response to the country's recent nationalization of its largest oil firm YPF. The Argentinian government seized control of the company from Spanish oil major Repsol.
By taking this action, Argentina has sent shock waves through the international business community, EU Trade Commissioner Karel De Gucht said Tuesday in a speech in Brussels. The consequences for its own economic development will be felt for a long time to come. But this is not only about Argentina. Europe also has a stake in this matter as it is one of our own companies that is under attack.
I can assure you we will do everything in our power to support the Spanish government as it seeks full compensation for the company concerned, he added.
Argentina's recent economic policies have proven popular for President Cristina Fernandez de Kirchner, who accused Repsol of limiting oil production to increase profits at the expense of the nation's economic growth and forcing the country to spend more on imported oil.
[Repsol-YPF's] corporate conduct failed to deliver an expansion in production at a time of great dynamism in demand and in the context of the most significant and continuous period of growth in national history, wrote Mario Rapport, an economics professor at the University of Buenos Aires, in an opinion article for the Financial Times.
Kirchner has not yet specified how much she intends to compensate Repsol for its 57 percent stake in YPF. Repsol has demanded about $10 billion, though it initially acquired its stake for $13 billion and said it has invested an additional $11 billion since then, the Los Angeles Times reported.
Members of the European Parliament also condemned YPF's nationalization and demanded action through the WTO to address Argentina's trade tariffs, BBC News reported.
We have a comprehensive trade enforcement strategy that employs all tools, from diplomacy to dispute settlement proceedings at the WTO, to promote market openness around the world, De Gucht said without specifying what actions might be taken. We will not hesitate to use them.
The Argentinian import restrictions, implemented in February, require licenses for all imported goods, which make it more expensive for other countries to export to Argentina.
Argentina's Secretary for International Economic Relations Cecilia Nahón defended the restrictions, which she said were necessary to account for market distortions created by developed nations in the wake of the 2008 financial crisis.
An honest assessment of the multilateral trading system shows that it is not the licenses imposed by Argentina and by so many other countries, but the traditional distorting measures applied mainly in the developed countries which are the root cause of the real problems in international trade, Nahón told Reuters.
On top of the enormous sums devoted to domestic support for agricultural producers, millions have gone into fiscal and monetary stimulus packages in recent years to meet the global crisis, and it has not yet been possible to measure the true extent of the global distortionary impact of that crisis, she added.
© Copyright IBTimes 2023. All rights reserved.
FOLLOW MORE IBT NEWS ON THE BELOW CHANNELS