European Stocks Push High But Economic Fears Continue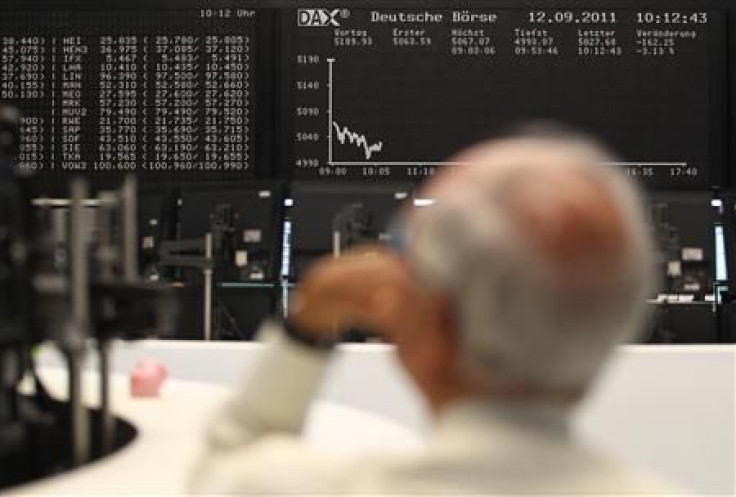 Most European markets rose Tuesday but investors remained watchful amid continuing concerns of the deepening economic conditions in the euro zone.
The German DAX 30 index was marginally up 0.09 percent or 6.04 points to 6425.37. Shares of Commerzbank AG rose 0.44 percent and shares of Metro AG advanced 0.20 percent.
The French CAC 40 index was up 0.59 percent or 18.18 points to 3119.71. Shares of Alstom SA advanced 0.99 percent and shares of Total SA rose 0.93 percent.
London's FTSE 100 index rose 0.22 percent or 12.12 points to 5545.99. Shares of Kazakhmys PLC advanced 1.70 percent and shares of Shire PLC were up 1.12 percent.
Spain's IBEX 35 rose 0.23 percent or 14.50 points to 6191.90. Shares of Bankia SA climbed 2.86 percent and shares of Iberdrola SA advanced 2.30 percent.
Market sentiment remains cautious with investor concerns about the debt burden affecting the euro zone not showing any signs of improving. Market players are worried that the International Monetary Fund (IMF) might stop lending to Greece if it decides that the programme no longer meets its demand that Greece's public debt would fall to a sustainable level in the medium term. Since some euro zone policymakers have previously insisted that they would only participate in a bailout if the IMF does so too, this could prompt the entire rescue deal to collapse.
The political deadlock in May and June means that Greece has already fallen well behind the fiscal and structural reform targets that were set in March. This has prompted the troika, consisting of the European Commission, the European Central Bank and the IMF, to suspend all further loan payments from the second rescue package until Greece demonstrates its compliance with the bail-out terms.
Market players are worried about Spain and also about the gross domestic product projections showing that the country's economy will not register growth before 2014. Investors worry that a banking sector bailout and an empowerment of the EU's bailout funds will not solve Spain's underlying economic problems.
© Copyright IBTimes 2023. All rights reserved.