European Union Expansion? Bosnia And Herzegovina Wants To Join Amid Mounting EU Problems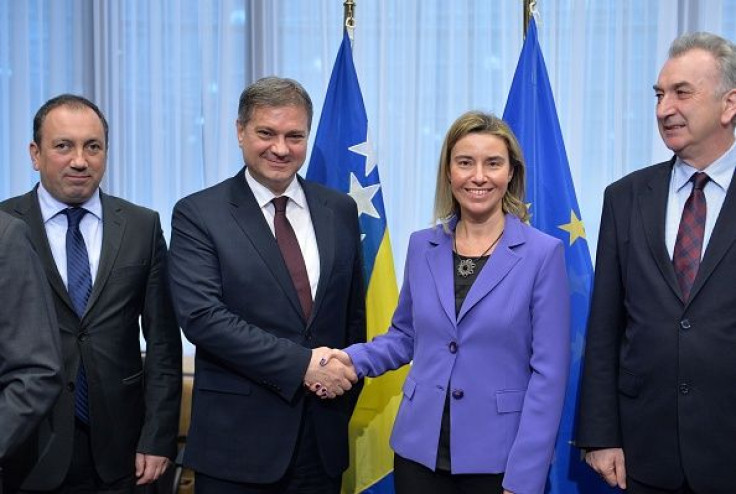 Between the refugee crisis, fears over its banking sector and a resurgent Russia as a neighbor, the list of problems for the European Union keeps growing. But even with Britain considering abandoning the 28-member nation bloc unless reforms are enacted, other nations are still looking to join, as Bosnia and Herzegovina proved when it applied for membership this week.
The former Yugoslav republic's application Monday offers EU officials a powerful counter narrative at a moment of grave uncertainty about what the next decade will look like in Europe, experts said. Through a joint initiative launched in 2014, Germany and Britain have been encouraging the small Balkan nation to undertake reforms, such as addressing minorities' rights and stimulating the economy, while promising to advocate for Bosnia's advancement in the EU process. But the country of nearly 4 million has a complicated history of ethnic conflict as well as Europe's highest unemployment rate. And with many citizens migrating to find jobs, its membership process could take years to implement the large-scale economic and political changes that are needed.
"It's good for Bosnia, but it's also good for the EU. It shows that with all the problems … the EU is still able to attract members. If you look at the headlines in the global press, you would think the EU is about to fall apart, but this sends a different signal and message that actually there are countries that still want to join," said Jacob Funk Kirkegaard, a senior fellow focused on Europe at the Peterson Institute for International Economics, a think tank in Washington.
European Commission President Jean-Claude Juncker said it was unlikely the Union would see any new members by the time his term ends in 2019, and EU watchers estimate the Bosnia process could take as long as a decade. Difficult constitutional changes will need to be undertaken for Bosnia to meet EU standards. The union said the country's constitution — which allows the presidency to be held by a Bosniak (Muslim), Croat or Serb, a remnant of the 1995 Dayton Peace Accords — is exclusionary and should be open to all ethnicities.
Milorad Dodik, president of the Republika Srpska, the Serb-majority entity within the country, said any constitutional changes going against Serbian interests should not be undertaken, and he has been wary of Bosnia's goal of joining the 28-member union. Beyond constitutional issues, the Balkan nation will also have to confront corruption, strengthen its judiciary and increase transparency in investment procedures.
"It's a huge agenda," said Judy Dempsey, a senior associate at Carnegie Europe, a think tank based in Brussels. "This may actually push the Bosnia and Herzegovina elite to realize they have to push significant reforms."
For Dempsey, that means also involving the country's next generation, which has chosen to leave home in large numbers as the youth unemployment rate exceeds 57 percent, according to the World Bank. Tanya Domi, a faculty member at Columbia University's Harriman Institute in New York who focuses on the Western Balkans, argues that although the country's pre-accession stabilization and association agreement had good intentions, there is still a long way to go. If Bosnia does manage to achieve EU membership years down the line, the economically desolate land, with adult unemployment at more than 40 percent, could get financial aid from the bloc.
"The Bosnian economy as a size relative to the overall European economy is of a trivial nature. It really doesn't have any overall economic significance to Europe as a whole. The value or the risks to Europe of this candidacy are almost exclusively political rather than economic," Kirkegaard said.
Should Bosnia manage to become the EU's 29th member, it would underscore a remarkable journey for a nation that 20 years ago was engulfed in a devastating war. The EU's head of foreign affairs, Federica Mogherini, along with EU Enlargement Commissioner Johannes Hahn, invoked Bosnia's past in a statement describing the Yugoslav wars of the 1990s as "one of the most awful pages of European history."
"There is no doubt a great deal of symbolism attached to this application, and I strongly suspect Bosnia will not be rejected," said Jasmin Mujanović, a Ph.D. candidate living in Sarajevo who specializes in Bosnia's post-war democratization at York University in Toronto. "That having been said, symbolism doesn't carry a lot of weight here anymore. What the people of Bosnia are seeing are the practical results and benefits of becoming more immersed and embedded in Euro-Atlantic structures."
Welcoming another member from the Western Balkans — neighboring Croatia joined in 2013 — could bring greater stability to a region that has been turning westward, with Montenegro, another fragment of Yugoslavia, likely to become a member of the NATO military and political alliance during a July 2016 summit. Those westward turns anger Russia, and the Kremlin is strengthening its ties with Serbia in turn. The two countries have scheduled joint military drills, Russian state news agency Tass reported. The Kremlin has said in the past that a westward turn isn't Bosnia's only option.
But with Montenegro, Serbia, Macedonia and Albania as official candidates all looking for EU membership, EU observers expect further expansion in years to come.
"[Bosnia is] a tenuous situation that deserves a lot of engagement. Europe is challenged right now without a doubt," Domi said. "But it's better to be engaged than not."
FOR FREE to continue reading
✔️ Unlock the full content of International Business Times UK for free
offer available for a limited time only
✔️ Easily manage your Newsletters subscriptions and save your favourite articles
✔️ No payment method required
Already have an account? Log in
© Copyright IBTimes 2023. All rights reserved.