Europe's 2012 Auto Sales Lowest On Record, But Bugatti, Bentley And Porsche Selling Well
Europe might be seeing some signs that it's pulling out of the economic doldrums, and the European Union might be seeing some improvement in economic sentiment, but Europe's auto sales are at the lowest level since the European Auto Manufacturers' Association began tracking the figures in 1990.
The association reported on Tuesday that for the first eight months of this year new passenger car registrations fell 5.2 percent to 7.8 million vehicles compared to the same period last year. Registrations were down 5 percent in August to 653,872 units.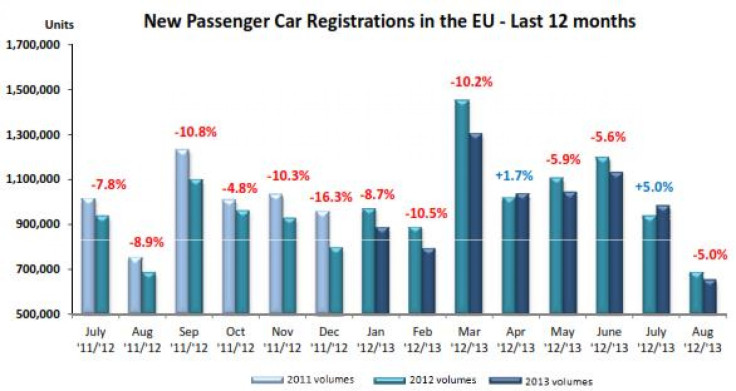 August's drop in sales came after July's 5 percent increase. There have been only two year-over-year monthly increases in passenger car sales in the region since July 2012. The worst month in this period was December 2012, when year-over-year sales fell 16.3 percent.
The UK market was the only one in Europe to see an increase in August, by 10.9 percent, while powerhouse Germany saw new-car sales contract 5.5 percent. Italy's sales fell 6.6 percent, France saw a 10.5 percent drop and Spanish sales dropped 18.3 percent.
So how have individual carmakers fared in Europe this year? Perhaps the more interesting takeaway from this month's report is how Volkswagen's high-end brands have fared in 2013. Bentley, Bugatti, Lamborghini and Porsche saw sales rocket to 4,237 units from 254 cars sold in the first seven months of 2012.
Out of the dozen auto companies that sold more than 100,000 cars in Europe between January and July, only Stuttgart, Germany-based Daimler AG (FRA:DAI) and South Korea's Kia Motors Corporation (KRX:000270) registered positive year-over-year growth. Kia's slight 0.8 percent increase came largely from the sale of its Sportage compact, crossover while sales of Mercedes-Benz sedans pushed Daimler's 3.6 percent increase in Europe sales for the first seven months of the year.
Detroit-based General Motors (NYSE:GM), North America's largest automaker, saw a nearly 9 percent drop in sales in this period of time with declines across the board. Opel/Vauxhall, GM's largest division in Europe with year-to-July sales topping 500,000, saw sales fall 5.3 percent. Chevrolet, which GM relaunched in Europe in 2005, saw sales drop 25 percent to 89,124 units.
Ford Motor Co. (NYSE:F) sales were down 7.7 percent in the same period of time to just over 554,000 vehicles. Ford sells the popular Fusion sedan in Europe under the Mondeo name and sells the S-Max multi-purpose vehicle (MPV) exclusively in Europe. The company recently announced it would go after the European luxury car market with the Vignale (vin-YA-le), a fancy version of the Fusion/Mondeo.
Volkswagen AG (FRA:VOW3) of Wolfsburg, Germany, which leads in European car sales, saw a 2.7 percent decline to 1.86 million vehicles. Seat, the Spanish car company owned by Volkswagen that makes the Ibiza mini, the Toledo five-door sedan and the Altea compact MPV, saw sales rise 10.4 percent while Audi and Volkswagen sales declined.
The number of European new passenger vehicle registrations offers a monthly pulse of consumer sentiment. Europe is the world's third-largest regional auto market, and the economic downturn in Europe has been weighing on company performance despite robust growth in China and the United States. Non-luxury cars have lower profit margins, and automakers with heavy European exposure to these type of vehicles – especially Fiat SpA (BIT:F) and Peugeot SA (EPA:UG) – have been hit the worst by the lingering effects of the euro zone's sovereign debt crisis.
Fiat sales have declined 9.1 percent in the first seven months of the year, to 471,912 units, while Peugeot SA saw sales drop 11.8 percent to 832,467 units.
© Copyright IBTimes 2023. All rights reserved.
FOLLOW MORE IBT NEWS ON THE BELOW CHANNELS