Even More Americans Oppose Syrian Airstrikes, Pew Poll Reports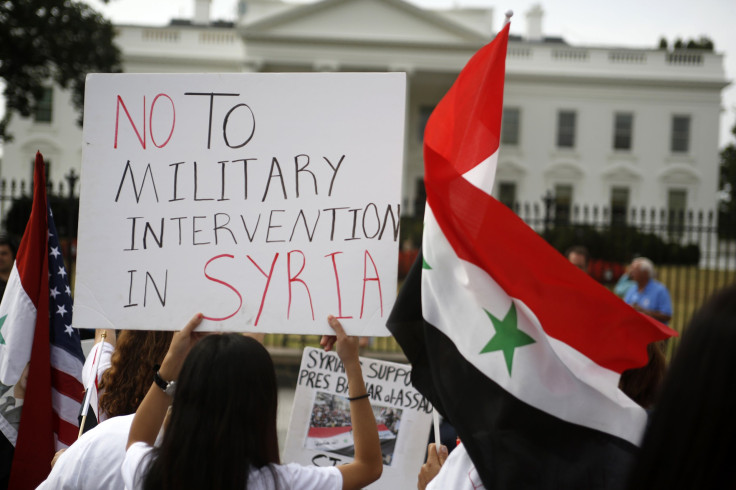 On the eve of a planned presidential address on Syria, a new poll shows growing opposition among Americans to a U.S. military strike.
According to a poll released Monday by Pew Research, 63 percent of Americans are opposed to President Barack Obama's proposed military intervention in Syria, up 15 percent from a poll taken just last week. The poll, conducted Wednesday through Sunday of 1,506 adults across the nation, also found that 45 percent of respondents say they are strongly opposed to punitive airstrikes against Syria.
The results are markedly different from a similar Pew poll conducted between Aug. 29 and Sept. 1. In the poll numbers released last week, only 48 percent of Americans were against military intervention in Syria. Now, the number of those "strongly opposed" has almost reached that level.
While the number of those supporting a strike on Syria has remained largely unchanged (28 percent on Monday compared to 29 percent last week), those who were previously undecided on the matter seem have decided against military intervention. In last week's poll, 23 percent of respondents claimed that they were unsure of their position on a strike against Syria. This week, however, only 9 percent responded that they were unsure. Almost all of those who were previously undecided are now seemingly against an attack on Syria.
The biggest change seems to be an almost complete lack of support of Syrian airstrikes from Republicans. Last week, self-identified Republicans were more or less evenly split on the issue, with 35 percent favoring the airstrikes and 40 percent opposing. This week's poll, however, shows that 70 percent of Republicans are against the strikes and only 21 percent support them.
On the other side of the fence, support for the airstrikes among Democrats jumped slightly from 29 percent to 35 percent. Disapproval of the airstrikes also grew among Democrats, however, from 48 percent to 53 percent as undecided responders continue to pick a side.
© Copyright IBTimes 2023. All rights reserved.