Exxon Mobil Refinery Blast Comes As US Industries Grapple With Safety Concerns: Union, Enviro Groups Say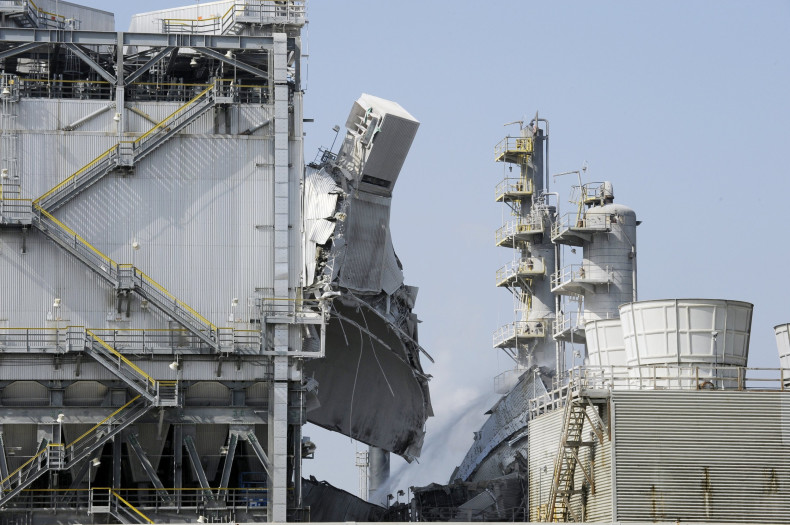 An explosion this week at an Exxon Mobil Corp. refinery near Los Angeles is the latest in a spate of fires to strike U.S. oil plants in the past few years. The refining sector is beset by high risks, weak standards and lax regulatory oversight, labor and environmental groups say, despite recent efforts by U.S. and California officials to clamp down on safety concerns.
"There are inherent hazards in a refinery, but the idea is to keep the risks as low as possible. We don't think that's happening sufficiently in the industry," said Michael Wright, director of health, safety and environment for the United Steelworkers. The Pittsburgh-based union is leading a refinery strike over safety-related and pay disputes.
The blast Wednesday at Exxon's refinery in Torrance shattered a section of the facility, rained down ash and rattled nearby homes with earthquake-like tremors. Four contract workers suffered minor injuries. The company said it is still investigating the cause of the accident, though initial reports suggest the problem might have started in an ultra-hot cracking unit, which turns crude oil into gasoline.
"The safety and health of our employees, contractors and neighbors remain our top priority," Todd Spitler, an Exxon spokesman, said in an emailed statement. "We are cooperating fully with the appropriate agencies to assess the impact and determine the cause of the incident. We learn from all incidents and will use information from this incident to reinforce our commitment to continued improvement."
A full assessment of the Torrance explosion could be months away. But following previous refinery accidents, government reports suggested that fires, leaks and ruptures could have been avoided had regulators stepped in.
Take, for instance, the August 2012 blast at Chevron Corp.'s refinery in Richmond, California, which caused respiratory problems in more than 15,000 people. The U.S. Chemical Safety Board, a federal advisory agency, found that before the accident, refinery workers had considered the plant's mechanical integrity programs to be deficient. At the same time, workers reported that they felt pressured to stay quiet if they saw unsafe activities. Then, on Aug. 6, a pipe ruptured and released highly flammable fuel that quickly ignited.
The chemical board charged that city and county regulators "did not require the Chevron Richmond Refinery to take quality, constructive steps to improve these areas," according to a report released last month. "Had steps been taken before the incident … the pipe rupture might have been prevented."
Regulatory weakness is cited across the industrial sector, including in the deadly 2013 fertilizer plant explosion in West, Texas. The Chemical Safety Board determined that lack of rules and oversight were partly to blame for the chemical blast that killed 14 people, injured more than 200 others and destroyed or damaged hundreds of homes in West. Federal regulators could have prevented the accident by adopting stricter requirements on chemical handling and storage, according to the board's preliminary findings.
America's nearly 150 oil refineries are overseen by both the Environmental Protection Agency and the Department of Labor, as well as their state-level counterparts. By contrast, other hazardous industries like nuclear power and oil pipelines are regulated by a single, dedicated agency.
This divided system appears to create huge gaps in oversight. A 2013 investigation by the San Francisco Chronicle found that the agencies have limited staffing and funding resources to regulate refineries, and they often lack staff with refinery expertise. As a result, federal regulators tend to step in only after accidents have occurred, rather than take preventive measures.
Yet refineries like the one in Torrance are capable of causing far more destruction than seen in recent fires and blasts. About one-third of America's 150 oil refineries use a highly volatile refining process that, in a worst-case explosion, could harm or kill up to a million people, by EPA estimates.
"We've just been skating along on good luck, in most cases," said Rick Hind, a legislative director at Greenpeace and an expert on toxics and chemical security issues. "Everything about this should have been done yesterday."
The oil industry insists refiners are working to diminish the dangers.
"The refining industry's top priority is always safety," Carlton Carroll, a spokesman for the American Petroleum Institute, an industry group, said in an emailed statement. "We are proud of our strong safety record, but even one incident is too many. That's why we update our standards and best practices on a continuous basis to improve our record and protect employees, the communities surrounding refining facilities and the environment."
In the wake of the 2012 Chevron fire and the 2013 fertilizer plant disaster, federal and state officials are attempting to improve their regulatory oversight.
The EPA is proposing to strengthen risk management requirements for refineries and chemical plants and could finalize new federal rules in 2016. California's Gov. Jerry Brown created a permanent interagency task force to improve worker and public safety at the state's 18 refineries. Officials are in the process of revamping "process safety management" codes and have proposed new rules to require the adoption of "safer processes and equipment to the greatest extent feasible."
Labor leaders are simultaneously pushing for stronger worker safety standards in their collective bargaining negotiations with refinery operators. More than 5,000 workers at nearly a dozen plants are still on strike as United Steelworkers and Royal Dutch Shell PLC negotiate a pay and safety agreement.
Wright, the safety director at United Steelworkers, said the union is pushing for limits on consecutive work hours to "make sure that workers in the industry aren't stressed out or bone-tired." He said refinery operators routinely work more than 80 hours a week, raising the risk of mistakes that can lead to tragedy. The union also wants to limit the amount of work that is passed off to contract workers, who might not have the same training or expertise as staff employees.
"We believe that improved safety measures can significantly reduce explosions and fires at these dangerous facilities," said Gary Beevers, who heads the union's national oil bargaining program.
© Copyright IBTimes 2022. All rights reserved.