Facebook COO Sheryl Sandberg Vows Not To Share Personal Information With Advertisers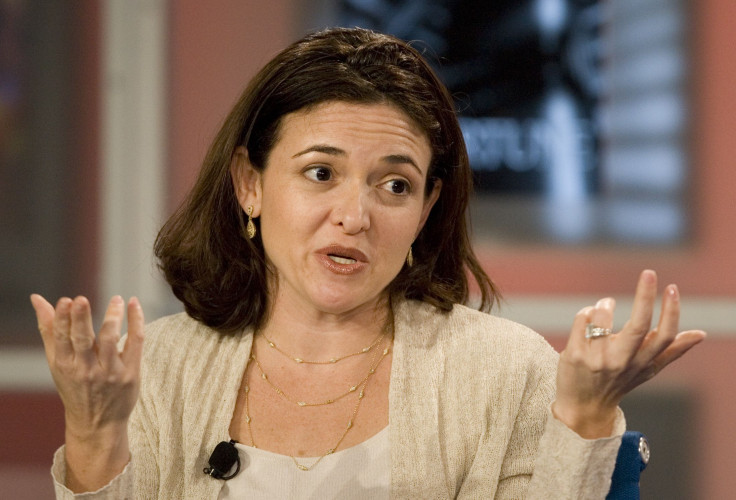 Facebook Inc. is planning to use user profile data to target ads around the Web, but it won't share names and personal details of users with those advertisers, Chief Operating Officer Sheryl Sandberg said Monday. Sandberg said Facebook users are less concerned about privacy than the kinds of ads in their news feeds.
"The No. 1 thing Facebook users said when we asked about ads," Sandberg said, was not privacy but "relevance." While seeing a movie that doesn't fit your tastes might be a "terrible experience" for a Facebook user, one that's personalized based on your tastes would be much more engaging.
Sandberg spoke at the Interactive Advertising Bureau's MIXX conference Monday, the day the company officially unveiled its plans to use its Atlas ad server to target ads across the Web, much like it already does on mobile devices. Facebook calls the initiative "people-based marketing," a departure from more anonymous targeting of Web browsers.
Atlas, which Facebook bought from Microsoft in 2013, is "about getting the right message to the right person at the right time" and "giving marketers real results," for use both online and in the real world, Sandberg said. Mass-market advertising that retains a "personalized" marketing experience on a large scale is the most challenging aspect of advertising, she said. Facebook will allow marketers to use Atlas to measure and verify how extensively their ads are being viewed and clicked on by users.
Sandberg alluded to the social network's reach, at more than 1.2 billion monthly users, saying Facebook can do both mass-market and personalized advertising. "We can make it personal because it's coming to your phone, and just like your content is personal … your ads can be as well," she said.
Privacy issues

When asked about how Facebook was handling the privacy issues raised by its personalized, targeted advertising, Sandberg said the company had a two-fold approach. The first was ensuring users' names or personal data was not shared with marketers -- only preferences and tastes, which would not be connected to profiles or names. The second solution, Sandberg said, was offering users the ability to "opt-out" of seeing personalized ads.
Sandberg was asked about recent reports regarding Facebook's use by governments to find and oppress its users. A recent policy change that forces users to use their real names is being criticized, partly for its impact on the gay, lesbian and transgender community, and especially in countries where sexuality is criminalized.
The policy reportedly has some users moving from Facebook to Ello to have a more anonymous profile. Sandberg said Facebook's Pages already allow users to create an anonymous presence. Sandberg said users could create a page, instead of a user profile, where identity can be withheld from other Facebook users as well as government watchdogs.
"If you live [under] an oppressive government, you have to choose what you post," Sandberg said. "You can set up a page and say bad things anonymously about your government on that page. ... A lot of what happened during the Arab Spring was done on these pages. People who want to do it, can."
Moving to mobile
In the exploding use of smartphones instead of traditional computers over the last few years, Facebook's most important initiative was shifting from a "desktop company" to one that offers a strong mobile experience. While 2 1/2 years ago, Facebook had no mobile ads at all, it has turned the platform into a greater success than its desktop site.
"We get one in seven minutes [of a person's total usage time] on the desktop. We get one in five on mobile," Sandberg said.
Facebook's video advertisements are "exploding," with more than 1 billion views to date, she said. The ads exist in News Feed, Facebook's most visible feature, and they can easily be scrolled past. If a user stops to look at an autoplay video ad, it will start to play, but it only provides sound after it is clicked.
The ease with which a Facebook user can "scroll past" and completely ignore video ads forces marketing companies to ensure their ads are engaging, Sandberg said.
Facebook Creative Network, the company's solution, is an in-house marketing initiative capable of quickly creating videos that are both creative and timely, Sandberg said. For instance, during the World Cup soccer tournament, Facebook worked with the McDonald's Corp. for a campaign where the company's french fries were used to recreate the most interesting play of the day.
© Copyright IBTimes 2023. All rights reserved.
FOLLOW MORE IBT NEWS ON THE BELOW CHANNELS