Facebook (FB) Video Growth Explained In One Graph
Facebook went from zero video views per day a few years ago to 4 billion views, and the rise wasn't all tweaks to the algorithm. Facebook credits two key events that drove the social network to those 4 billion video views per day, 75 percent of which happen on mobile devices.
Carolyn Everson, Facebook's vice president of global marketing, cited the introduction of auto-play video and the ALS Ice Bucket Challenge as events that propelled her company's video view count. Both of those milestones were visualized in a graph shown during her presentation at New York's Advertising Week Monday morning.
"Consumers have always loved sights, sound and motion," Everson said at the presentation. "There were two key inflection points that sent our views up to the right."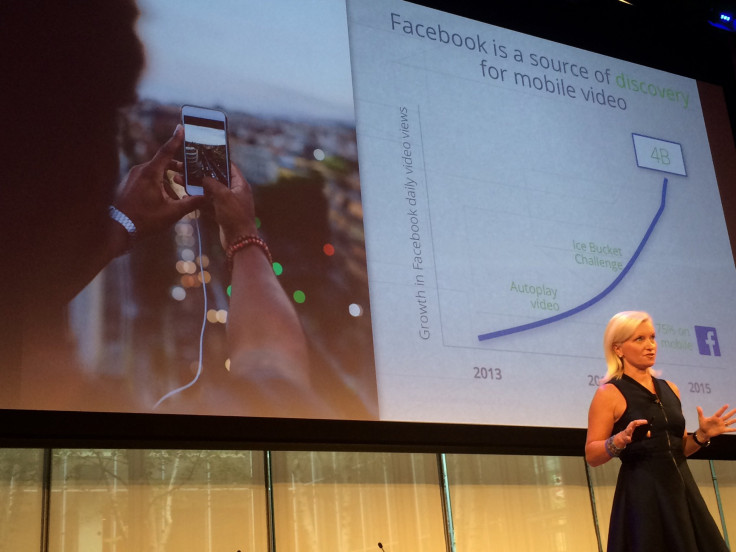 Prior to including auto-play (the feature that runs videos as a user hovers over the content either on mobile or desktop), Facebook had about 1 billion video views per day on the network. Facebook began testing the feature in September 2013 and opened the format to all advertisers that December. During that first three-month test period, Facebook recorded a more than 10 percent increase in users watching, liking, sharing and commenting on videos.
Daily views also were boosted by a highly popularized and user-initiated campaign from 2014. The ALS Ice Bucket Challenge drew more than 17 million videos that were watched more than 10 billion times by about 440 million people, from June 1 to September 1, 2014, Facebook reported.
During 2014, the site averaged 2 billion video views per day and has continued to move forward since the Ice Bucket Challenge. That in part is driven by more user growth. At the time of the ALS campaign, Facebook had about 1.32 billion monthly active users. The site's user base is now up to 1.49 billion.
Number of Active Social Media Users by Network | FindTheCompany
Auto-play has been cast by some as a way of "cheating" for video views, and some advertisers have been frustrated by the lack of data Facebook provided. In response, Facebook has been iterating how it charges customers for views to alleviate these concerns of Madison Avenue.
"Auto-play is the delightful, Harry Potter-esque experience that's about bringing images to life and not even having consumers to have to click play," Everson said in her presentation.
Better, and more, data from Facebook is something advertisers have been pushing for from the social network as it tries to convince brands to move dollars from TV spending budgets to digital video ads. Facebook released new products and tools Sunday.
In response to Everson's onstage inquiry about what Facebook could be doing better, Nigel Morris, CEO of global digital marketing and communications company Dentsu Aegis Network Americas & EMEA, said, "The data issue is massively difficult ... smash some of those barriers down."
© Copyright IBTimes 2023. All rights reserved.
FOLLOW MORE IBT NEWS ON THE BELOW CHANNELS