Facebook Responds To YouTube Star Hank Green's 'Lying, Cheating, Stealing' Charges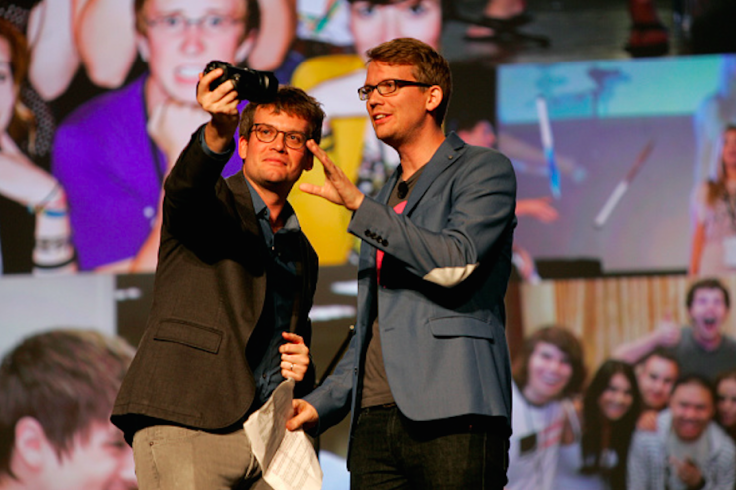 Facebook has been prioritizing video and challenging Google-owned YouTube as a video hosting site and creators' haven, but some video bloggers are not succumbing to the massive social network. Hank Green, a longtime YouTube star whose VlogBrothers channel boasts 2.6 million subscribers, charged Facebook with "cheating, lies and theft" within its sales pitch.
Green, in a blog post published on Medium Monday, claimed that Facebook is inflating the numbers it uses to describe the views and reach videos receive on the site. For example, Facebook counts a video as viewed after three seconds while YouTube waits until 30 seconds, Green notes. That means a Facebook video could be considered watched by a user even when someone is passively scrolling without the sound on.
Facebook has been boasting that the site receives 4 billion video views each day, as CEO Mark Zuckerberg reported in the company's second-quarter earnings last week. That number is up from 3 billion views in April. Facebook's statistics have been compared to YouTube, which claims "billions of views" by 1 billion users each day, and Snapchat recently reported more than 3 billion, as each network battles for the attention of users, original content from creators and the budgets of advertisers and brands.
Facebook Inc. (FB) Quarterly Revenue | FindTheCompany
"This might seem a little like this is a victimless crime, but it fundamentally devalues the #1 metric of online video. The view is the thing that everyone talks about and it's the thing creators sell to advertisers in order to make a living," Green wrote on Medium.
Three seconds is, however, the standard used by digital analytics company comScore. Facebook has also made clear the power of short video content, as it experiments with auto-play and prioritizes mobile use of the site. As for concern from advertisers on whether their videos are actually being watched, Facebook released a new payment option in June where companies are only charged if the video plays for at least 10 seconds.
Green also accused Facebook of stealing from content creators by not putting more effort and providing more tools to identify illegally uploaded content. As Green noted, YouTube faced the same issue in its infancy but has since developed a system called "Content ID." The system analyzes video content for potential copyright infringement. Copyright holders can claim the revenue made off of advertising from a video that is their own, but they did not upload.
"It's a little inexcusable that Facebook, a company with a market cap of $260 BILLION, launched their video platform with no system to protect independent rights holders," Green wrote. "It wouldn't be surprising if Facebook was working on a solution now which they can roll out conveniently after having made their initial claims at being the biggest, most important thing in video."
In response to a press inquiry from International Business Times, Facebook identified several measures the site already has in place to address copyright infringement. For example, Facebook's "Audible Magic" system attempts to prevent unauthorized videos. The site also has reporting tools, where anyone can flag a video as violating copyright, and Facebook will suspend those accounts if the company deems appropriate.
Facebook is also looking to improve the existing system. "This is a significant technical challenge to solve, but we have a team working on it and expect to have more to share later this year," a Facebook representative wrote in an email. "As with all products and experiences on Facebook, we're listening to feedback, and want to continue to improve our content management tools for people and publishers."
Facebook has reportedly been reaching out to video bloggers to start publishing directly onto the site. In July, the site said it would begin sharing revenues from advertising with the publishers, as is done on YouTube. But creators, including Green, have taken issue with its system. Green is one of the most prolific YouTube creators. The 35-year-old entrepreneur was selected as one of three stars to interview U.S. President Barack Obama in January.
© Copyright IBTimes 2023. All rights reserved.
FOLLOW MORE IBT NEWS ON THE BELOW CHANNELS