Fair Trade Gold Q&A – From South America to Toronto [INFOGRAPHIC]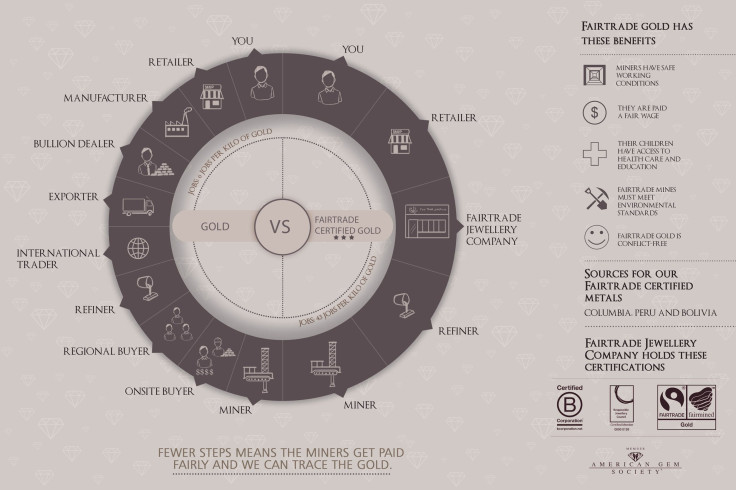 Canada's Fair Trade Jewellery Company produced the above internal infographic in late 2013. It illustrates gold's route from informal artisanal miners in South America to the company's small North American clientele.
Fairtrade gold now comes from certified mining groups in Bolivia, Colombia and Peru, bearing a black logo certifying origin. Fairtrade International plans to expand its sourcing to marginalized miners in Africa, including some in Kenya, Uganda and Tanzania, potentially by the end of 2015.
We spoke to Fair Trade Jewellery Company CEO Robin Ghambir over the phone on the niche market for fair trade gold. His Toronto firm isn't affiliated with the UK-based Fairtrade gold scheme, but became the first North American jeweller to enlist under that global scheme in 2011.
Q: Has emphasizing ethical gold boosted your sales? What's the market like now?
A: Not quite. You might think that being one of the first, you'd be taking wheelbarrows of cash to a bank. But what you need to make this a success is more people carrying fair trade gold. Jewelry is local, and people don't want to buy it online. Very few are actually willing to make the long travels from the U.S. to Toronto.
This will work and be successful when there's at least one store in every market that carries fair trade certified products. We are trying to start that by wholesaling our line to other jewelers…Fairtrade gold isn't really available in the U.S. We're starting to look at selling to other retailers there. There's nothing for them right now. They have customers coming in, but they don't have sustainable products. They don't have an answer to that question.
We are basically pioneering this product in the market. But I think this is an urban coastal market. So, mostly West Coast and East Coast. In the middle of the U.S. and outside of urban centers in Canada, I don't think there's a market for this.
Q: Who are the U.S. retailers interested in fair trade gold? Why isn't such gold widely available in the U.S.?
A: They'd be independent retailers, not the larger jewelry companies or chains. The biggest challenge in this area is training staff. To work with our clients, I have to know how ore is mined, if it's alluvial or hard rock mining. I have to know the difference. I have to know how the ore is processed, with cyanide versus mercury…I'm pretty sure that some chains cannot sell this product, because they wouldn't invest in the necessary training.
For a commodity to be Fairtrade certified, the local Fairtrade body has to adopt it. When Fairtrade gold launched in 2011 [in the UK], the Fairtrade office in the USA did not opt to carry gold. Consequently, such gold just wasn't available. Fair Trade USA later left the international Fairtrade system, so now they're doing it on their own, not under the unified international body or the logo everybody recognizes.
Fair Trade USA still hasn't done gold, and gold is a complicated product. They're used to doing coca, coffee, bananas. With gold, the process is quite different. With leaving the Fairtrade system, they probably have enough to do right now, aside from gold.
Q: Who are your customers?
A: People seeking out this product are called 'deep green'. They already know the issues and they ask tough questions about origins. If you can't answer those tough questions, you are not real to them. They see it as "greenwashing" [deceptive marketing about the environmental friendliness of products].
There are essentially "deep greens" versus "light greens". Light greens are people who look for certifications and want the stuff, but are not necessarily political. They just want to feel good about their purchase.
But some people [i.e. deep greens] want to feel political about it, too. That's fine because we're a value-based company…For example, some people who like the recycled gold we offer are against mining. They do not like mining; they don't like extractive processes. Other people just want Fairtrade.
Right now the demand is coming from women. I've heard from guys who've been told, based on their girlfriend's values: "I don't care what you get me, but you have to get fair trade jewellery." …Guys, basically and wisely, do what they're told. So that's kind of interesting.
Men who want this product are generally involved in some way in fair trade. Or they're professionals in the jewellery environment…We do really well with engineers – there's this very tight relationship between engineers and fair trade.
Q: Does anyone ever complain about the little black Fairtrade stamp on the gold?
A: Oh no, not at all. That's a positive feature. I spoke to somebody who does estate and historical jewellery. She told me that this jewellery, bearing such a stamp, will later have historical value.
We are the first jeweller in North America, still only one of two, that has [official] Fairtrade gold. These are what are called signed pieces. They come from a recognized house with provenance. It's the first time that metals have had documented provenance. Combine those with [ethical] Canadian diamonds and it's the most ethical product you can buy.
Q: Fair trade gold creates more jobs per kilo of gold, according to your infographic, even though the supply chain is much shorter. How does that work?
A: It's because they don't use the same heavy machinery for extraction. There's a lot more hand labor in fair trade gold, and so it provides more employment. You could look at it in two ways – look at it as less efficient, or as supporting communities, employing more people to extract the same amount of gold.
Q: Isn't fair trade gold a mere fraction of the wider gold market?
A: Absolutely. These are early days for fair trade metals. It's very early days in this industry…Notably, there is fair trade platinum, but there's very little of it, and we don't have any demand for it.
We are much, much smaller than the companies we compete against, like Tiffany & Co. (NYSE:TIF), Cartier SA, or Birks & Mayors (Birks Group Inc) (NYSEMKT:BGI). That's the level of the industry that we operate against, since we only work in 18-carat gold and platinum.
[…]
Awareness within the industry is very low right now. We don't want to put this product in somebody's stores if they don't know how to sell it. You can't just shove it in the showcase.
You need somebody who's passionate about the issues, who can explain it. They don't have to be political about the issues, but have to understand them at an intellectual level.
We're still struggling for trying to find something that explains the complexities in a easy to understand way…We want to put this product out there, and we are willing to make no money on some products in order to build the business.
--
UPDATED: Greg Valerio, a UK activist who manages the Fairtrade gold scheme, told International Business Times that some of the 11 African pilot mines could be ready for certification by mid-2015. African artisanal miners will meet with major U.S. and European jewellery retailers in Tanzania next week, he added.
"We're starting the process of international commercial integration, and that's very significant," Valerio told IBTimes. Little direct interaction between jewellery companies and small-scale miners made easy exports a problem during Fairtrade gold's 2011 launch from South American miners, he said.
A reasonable starting figure for Fairtrade gold in the U.S., which isn't now officially available, could be 50 kilos, according to Valerio. Gold traded at $1284 per ounce in New York on Wednesday, so 50 kilos amounts to $2.06 million of Fairtrade gold at that price.
"The American market will be the single biggest market for fair trade gold in the world," said Valerio. "On that, I have no doubt. The American consumer is the biggest consumer of retail jewellery in the world by a long way, of finished jewellery products, gold and diamonds."
FOR FREE to continue reading
✔️ Unlock the full content of International Business Times UK for free
offer available for a limited time only
✔️ Easily manage your Newsletters subscriptions and save your favourite articles
✔️ No payment method required
Already have an account?
Log in
© Copyright IBTimes 2023. All rights reserved.