Falling Price Of Platinum: Volkswagen Cheating Scandal Latest Straw In Ongoing Decline, Experts Say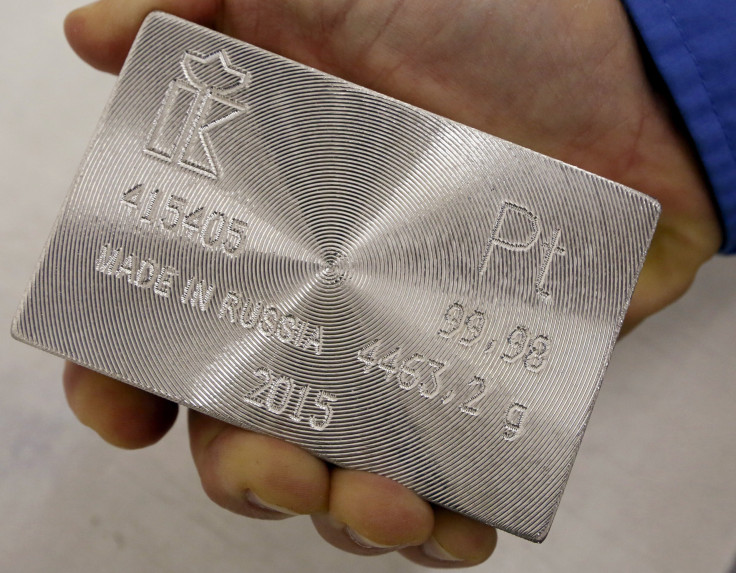 Dense but highly malleable, rare but also critical, platinum is one of the world's purest precious metals. Used in jewelry, pacemakers, automobiles and dentistry equipment, it is as utilitarian as it is subtly elegant, and yet its value has been slipping steadily.
The price of the metallic element dipped Friday to below $900 an ounce for the first time in nearly seven years, and many analysts were quick to blame the recent Volkswagen scandal involving some 11 million diesel cars, which contain platinum in catalytic converters to help reduce emissions. But platinum prices have been slipping for years, and experts cited other factors, unrelated to Volkswagen, that have played a role in the metal's gradual fall in value.
"That decline was already in place," even before Volkswagen's large-scale cheating was uncovered, Rohit Savant, a senior commodity analyst at CPM Group, a research and consulting firm in New York City, said, citing policies in some European cities as well as a weakening retail market in China.
The mayor of Paris said in December that by 2020 the city would no longer allow diesel cars in the city, while in April the British Supreme Court ordered the U.K. Department of Environment to cut down on urban air pollution. Many expected diesel-fueled cars and trucks to be targeted as a result. "You have this anti-diesel sentiment in Europe," Savant said.
The revelation that Volkswagen had equipped its diesel cars with software that detected when it was being checked for engine emissions -- and intentionally reduced those emissions during those tests -- emerged Sept. 18. The auto company had outfitted 11 million cars around with the world with the technology, a so-called defeat device.
The day before the news broke, platinum was trading at $984 an ounce. In the intervening weeks, it has fluctuated as part of an overall decline in price before falling to record lows Friday.
Many analysts have pointed to the Volkswagen scandal as a reason for the fall.
"Given what is happening now with Volkswagen, obviously the sentiment toward [platinum] is hurt," Koen Straetmans, a senior multiasset strategist at NN Investment Partners, an insurance and investment management company based in the Netherlands, told the Wall Street Journal.
But even if the news has put the brakes on demand for diesel cars, other factors have contributed to falling platinum prices.
"It's definitely having an impact on the platinum price right now," Savant said of the Volkswagen scandal. But at the same time, "it's not something that's going to happen as a result of the scandal but more as an ongoing shift that's been in place over the last three years," he said.
Demand for platinum has declined across three key sectors, even though production has not fallen. Refined production in platinum grew over the past year and in 2015 as well, from 1.315 million ounces in the first quarter of 2015 to 1.535 million ounces in the second, according to the latest issue of the World Platinum Investment Council's Platinum Quarterly. But demand in 2015 declined from the first to the second quarter, in the automotive, jewelry and industrial sectors.
In China, for instance, retail sales have dropped and are expected to fall 3 percent in 2015 compared to 2014, the Platinum Quarterly report said. As the world's second-largest economy, China constitutes anywhere from 66 percent to 80 percent of global jewelry demand, according to experts' estimates, and a decrease in marriage registrations there has also contributed to lower demand for platinum.
But experts also pointed to several factors that could potentially spell a turnaround for the precious metal. Over the past eight years, platinum production in South Africa, which is the world's largest producer of the metal, has decreased by 20 percent, and it's expected to fall another 15 to 20 percent in coming years, analysts have said. That could potentially spell a turnaround for platinum and help boost prices.
By the same token, as the price of platinum falls, demand for platinum jewelry could rise, eventually fueling price increases, Savant said. "The jewelry demand is something that might help platinum prices stabilize," he said. They probably could not become "a lot worse from where we are now," he added.
© Copyright IBTimes 2023. All rights reserved.