The Faraday Future Batmobile-Like Concept Car Doesn't Drive And May Never Exist [VIDEO]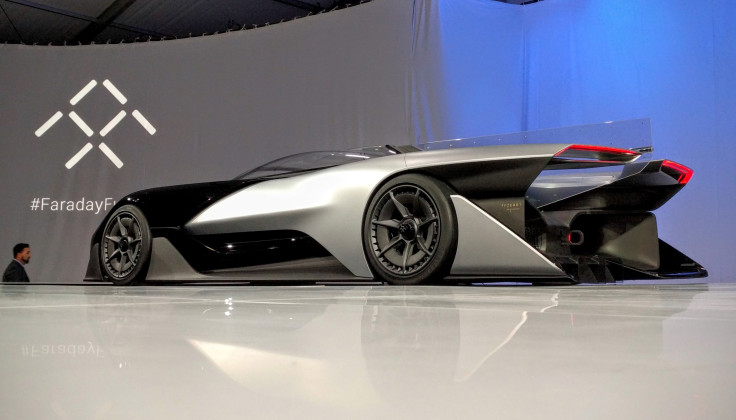 LAS VEGAS — So much for the future. Faraday Future, the secretive electric car startup backed by a Chinese billionaire, captivated the Consumer Electronics Show (CES) here Monday with an angular, Batmobile-like concept, but it turns out the car doesn't drive, may never hit the road and will never be sold to the public.
The unveiling of the concept car from Faraday Future — or FF as the company wants to be called — was one of the most anticipated events at this week's CES showcase. But the announcement turned out to be a damp squib of breathless promises with very little substance, leaving doubts about the company backed by Jia Yueting, CEO of LeTV, sometimes described as the Netflix of China.
What Faraday Future unveiled was an idea of an electric car company that seemed far-fetched even in a world where myriad other car manufacturers like Tesla, GM and Toyota are actually building the real thing. The company's grand vision of "profoundly moving the world in a better way" appears to be nothing more than rhetoric — at least for the moment.
The purpose of showcasing the Zero 1 concept vehicle, which was cringingly described as "an extreme tablet on wheels," was to show the "core design DNA" that Faraday Future production models will share when they eventually roll off the production line — at some vague point in the future.
In the 18 months Faraday Future has been in existence, the Los Angeles-based startup has garnered a lot of attention, and at the unveiling Monday it seemed like a giant case of The Emperor's New Clothes.
Master Class
Nick Sampson, the former Jaguar, Lotus and Tesla engineer who is heading up Faraday Future's research and development, took to the stage and gave a master class in how to say nothing in as many syllables as possible.
Speaking about the company's philosophy, Sampson said: "We all share a common goal to profoundly move the world in better, cleaner and more intelligent ways that connect us effortlessly in the ways we chose to live." He went on: "To meet that goal we must anticipate the future and act upon it with speed, decisiveness and a willingness to be more like a technology company than an automotive company."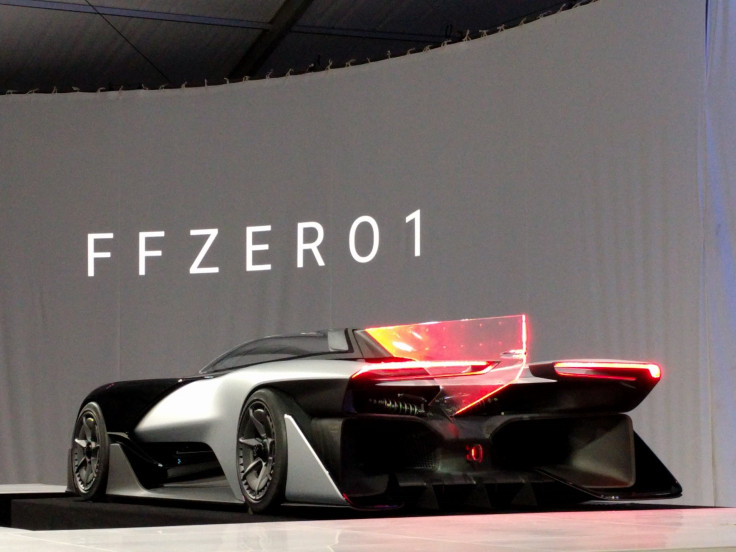 Still not done, Sampson said he believes "we need to define the future from the future's perspective" and that the company is "embarking on nothing less than a complete rethink of what mobility means and how it must be part of our larger world."
While all companies — especially startups — overestimate their importance to the future of humanity, Faraday Future clearly believes it is the savior of the world. "[We want to] build vehicles that offer new ways to connect us to the larger world," Sampson says.
Not of This World
Richard Kim, the head of global design, whose sketch led to the concept car being built, pointed out what he called the "UFO line," which will appear across all Faraday Future designs, and that it "signifies that this car is not of this world."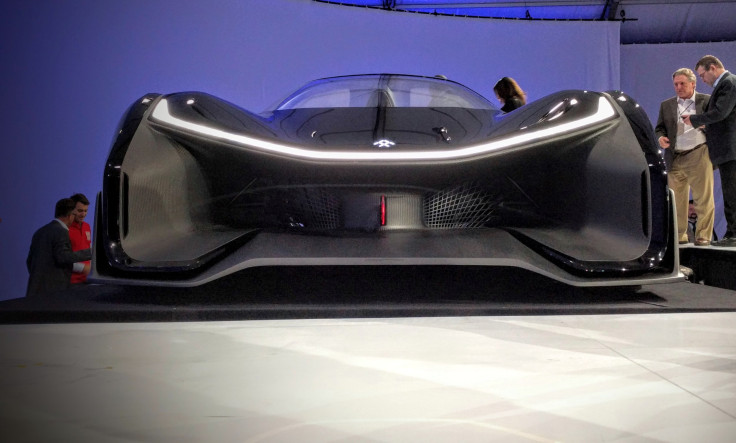 But the truth is that it is of this world, and just like all the other car manufacturers, the company will have to deal with regulations, market competition and the challenge of getting a product to market.
About competitor Tesla, Sampson had mixed comments. On the one hand he applauded Elon Musk's company for creating a market for electric cars, but then he slighted it by saying it took nine years for the company to get a production car into the market.
Faraday Future, by comparison, will be able to get its first production model into consumers' hands in a couple of years' time — or so Sampson claims. As a former Tesla employee, he should be acutely aware of the danger of setting deadlines that simply cannot be met, but he outlined a number of reasons why Faraday Future will be different from his former employer.
Incredibly Fast
He describes the way the company works as "incredibly fast" and that it has met all of its deadlines so far. This is facilitated by having an all-digital design and engineering approach, and using virtual reality to prototype parts and test them in virtual worlds.
Faraday Future has also created something called variable platform architecture that will allow it to quickly create different vehicles with a range of battery configurations, motors and front-wheel, rear-wheel or all-wheel drives.
As Richard Kim unveiled his Zero 1 concept car, he asked the audience if they would like to see it in action, and for a moment it appeared as if Faraday Future would show us the car actually being driven. What was shown instead was a fantasy screen reminiscent of a video game or a scene from the movie "Tron," rather than a real car on roads and freeways, a big let-down for a crowd that had been led to expect something more.
© Copyright IBTimes 2023. All rights reserved.