Faroe Islands Pilot Whale Massacre Photos 2015: Animal Rights Group Condemns Controversial 'Grindadráp' Ritual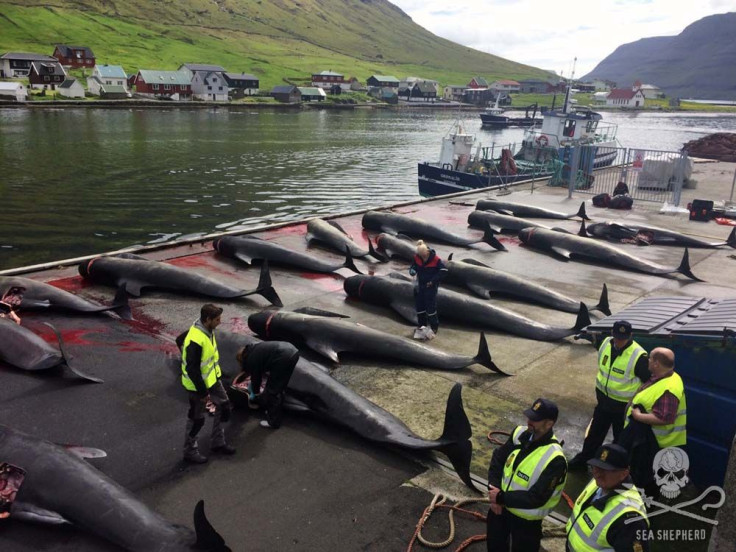 A controversial whale hunt was underway in the North Atlantic Ocean and had yet again pitted conservationists against hunters, who say the whale killings are part of local tradition dating back centuries. Sea Shepherd, a marine conservation group that has been campaigning against the hunts since the 1980s, has released photos and video footage of a hunt that took place Monday in an effort to put a spotlight on what the group has said are needless and cruel killings. The annual whale slaughter takes place on Denmark's Faroe Islands, an archipelago on the border of the Norwegian Sea and the Atlantic Ocean.
"It has been a sad day in the Faroe Islands," Sea Shepherd campaign co-leader, Ross McCall said in an emailed statement about Monday's hunt. The group said at least 22 pilot whales were killed after hunters drove them into a bay and sliced them open with knives. "The whales being lifted by crane onto the decks of the dock, blood pouring from the wounds that caused their death…documenting these tragic events is now of upmost importance in order for us to show the world," said McCall. A hunt earlier this month saw 154 pilot whales slaughtered near the islands, according to Sea Shepherd.
Known by locals as grindadráp, or the grind, the annual whale hunt ritual is non-commercial. Locals typically eat the pilot whale meat and blubber, despite warnings from the government about the high levels of mercury and other heavy metals present in the meat. The meat gets divided among the local villagers and is ususally boiled, air-dried or broiled as a steak, according to National Geographic.
Pilot whales are not considered endangered, although conservation groups have pointed out that data on their population numbers are insufficient.
Animal rights groups have often criticized the hunt, referred to as the Faroe Islands pilot whale massacre, as barbaric. As many as 1,100 whales and dolphins are herded into bays and killed with knives, according to conservation groups. This year's whale hunts began in May. Dozens of whales have been killed so far this year, according to Sea Shepherd.
During the hunts, fishermen in small boats herd the whales and dolphins into bays, driving them into shallower waters and onto beaches where villagers stand by with hooks and knives. The whales are killed cutting through their necks to break the spinal cords.
Correction: An earlier version of this article incorrectly stated that the Faroe Islands were part of Norway. The islands are a self-governing nation within the Kingdom of Denmark, not Norway. The article has been updated to reflect this change.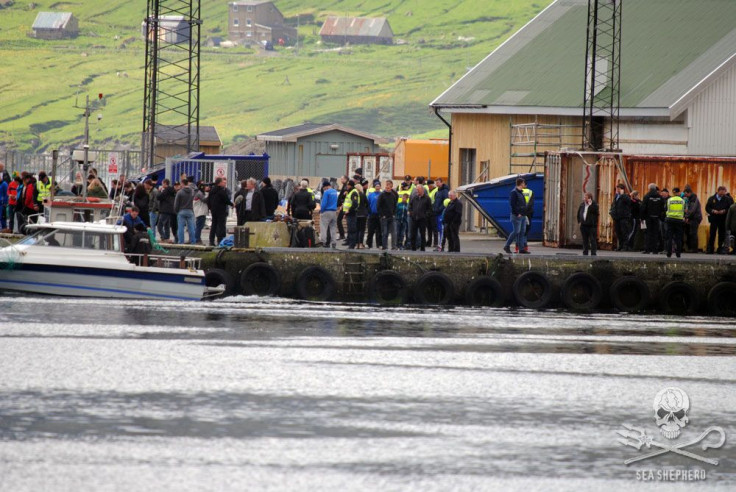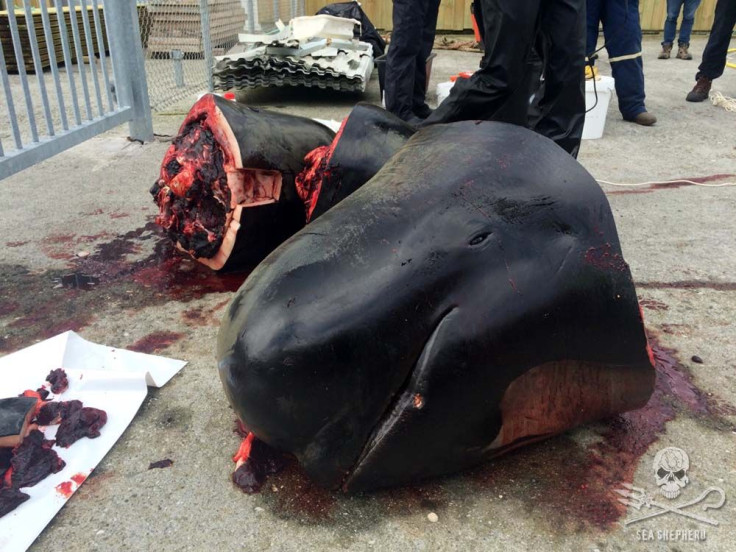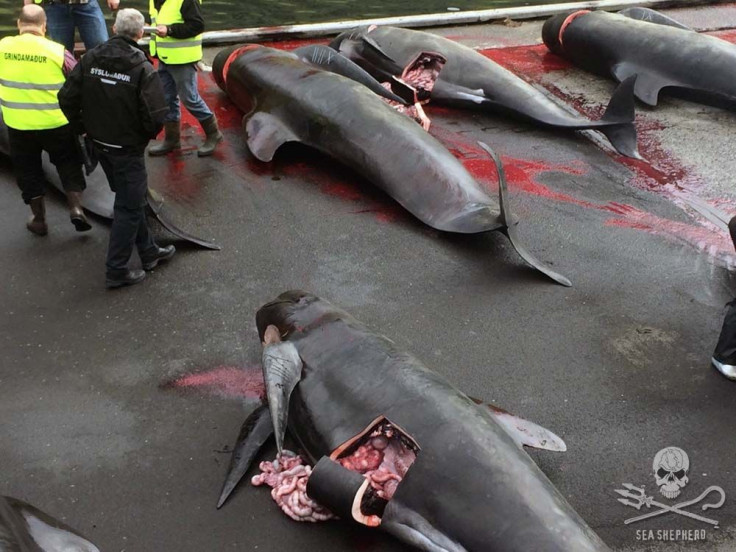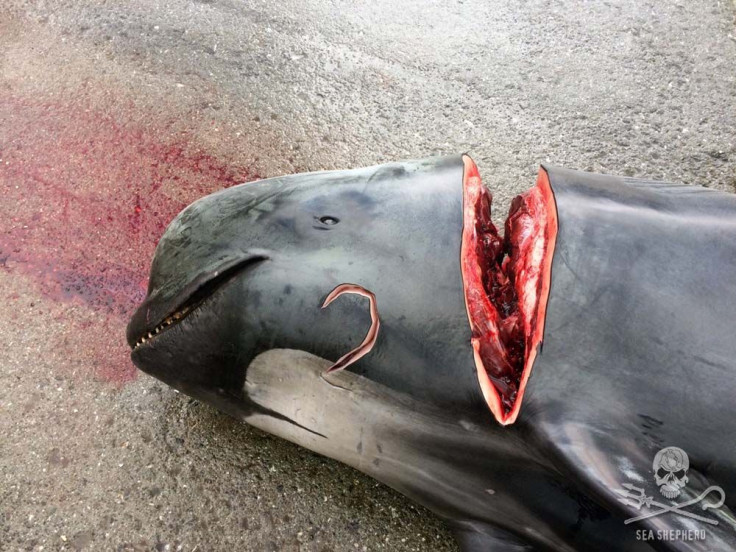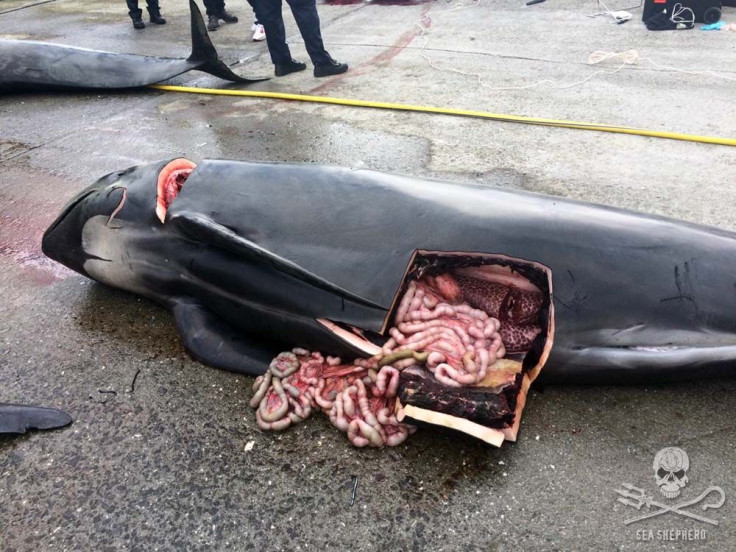 © Copyright IBTimes 2023. All rights reserved.
FOLLOW MORE IBT NEWS ON THE BELOW CHANNELS