Fashion Clubs For Men: Affordable Online Concierge Services That Do The Shopping For You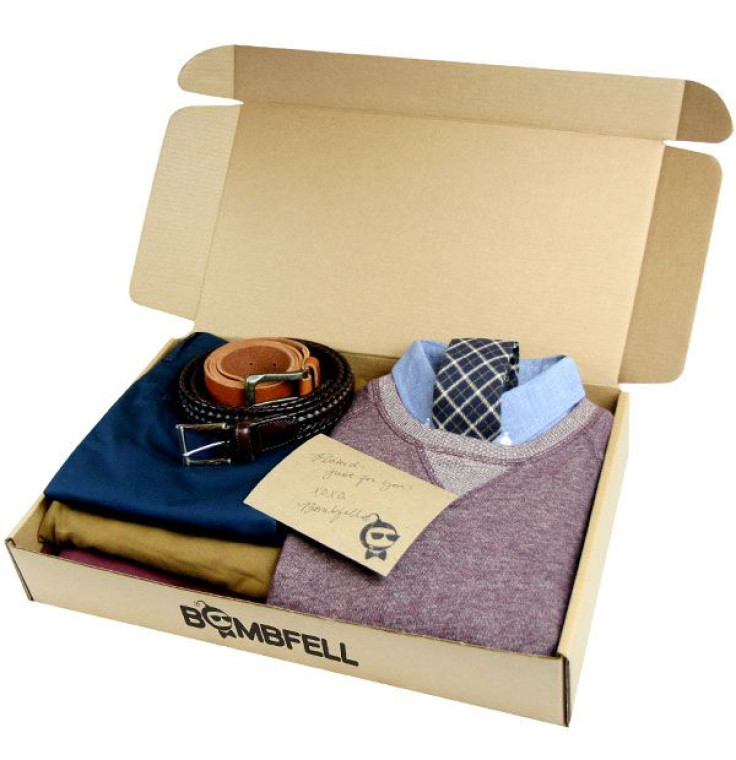 Your average fellow falls into one of these categories: hates to shop, doesn't know how to shop or doesn't have time to shop. But men still have to put clothes on every day. And without the help of a significant other -- or the money to shell out for a personal stylist -- a shopping-averse man can easily find himself among the sartorially dysfunctional.
Enter the concierge clothing service. These services merge technology and fashion and are helping the $100 billion men's apparel market grow. Sometimes called men's fashion clubs, online shopping assistance websites are growing rapidly as a means for men to shop without the hassle of going shopping.
Trunk Club, one of the first e-tailers to link stylists with men online, cornered the luxury market for online personal styling after it began in 2009. The Chicago-based company ships "trunks"(which are actually boxes) full of hand-selected, high-end apparel to men who seek a wardrobe upgrade, a special outfit or just have trouble finding clothes that fit. Each customer gets paired with a stylist who helps him find the best items for his needs, appearance and size. Men can try everything on at home and have 10 days to decide which items they'd like to keep. At the end of the 10-day period, Trunk Club charges the customer for all the items he chooses to keep, and the rejects get picked up by a courier.
While the stylist's consultations are advertised as free of charge, the garments themselves command moderately high-end prices: For example, $300 for a sweater and $250 for a pair of jeans.
The more budget-minded shopper who puts less of a premium on personalized service might opt for Cladwell, a Cincinnati, Ohio-based shopping service that's amassed 17,500 users in less than a year. Cladwell's target audience includes men who want to upgrade the look of their wardrobe without sacrificing comfort or shelling out a ton of cash."Every guy can look good no matter what his budget," Cladwell cofounder Blake Smith told IBTimes.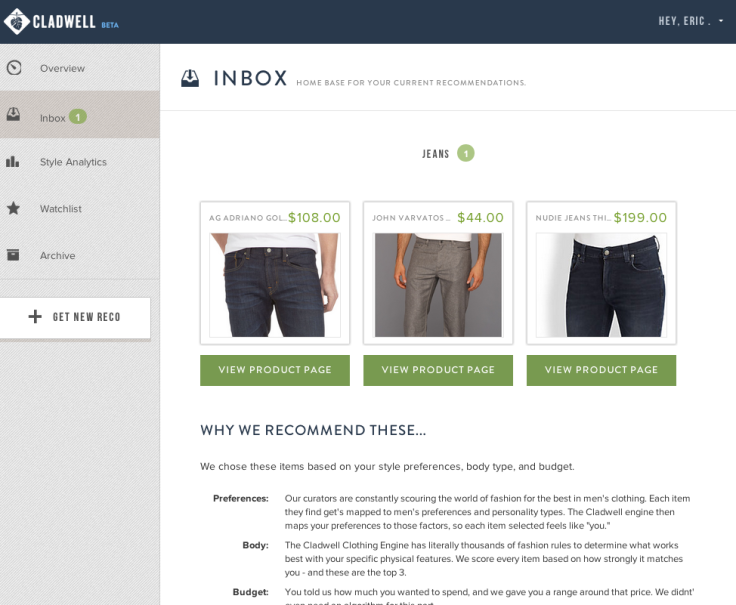 Cladwell, which calls itself a "solution when you have a clothing need," is not a retailer itself, but rather a digital outpost that connects shoppers directly to the retailers, "from boutique to Target," that match their preferences and suit their body types and lifestyles best.
Here's how it works: After filling out an interactive survey about appearance and lifestyle that uses images instead of text, users can choose which type of item they need, including their preferred price point, color, style and fit options. Cladwell then shows the user three options that fit the user's unique variables -- for example, broad shoulders with blue eyes in a tropical climate -- and it redirects the user to the relevant website where each item can be purchased. Instead of computer-generated recommendations, the company uses a team of human stylists who add expert style options to each data algorithm.
"Within two minutes, we have enough information," Smith said. "You can get a customized experience, because of technology, for free."
Eventually, cofounder Tim Brunk said, Cladwell hopes to engage its users more and allow them to detail the contents of their entire wardrobe. The site, he said, will provide outfit and style recommendations and serve as "a tailored, comprehensive wardrobe for the everyday guy."
"It's an opportunity for guys -- we want to help them find it, and we want to help them wear it," he said. "We're giving guys freedom to stop shopping for a while" so they can wear what they already own.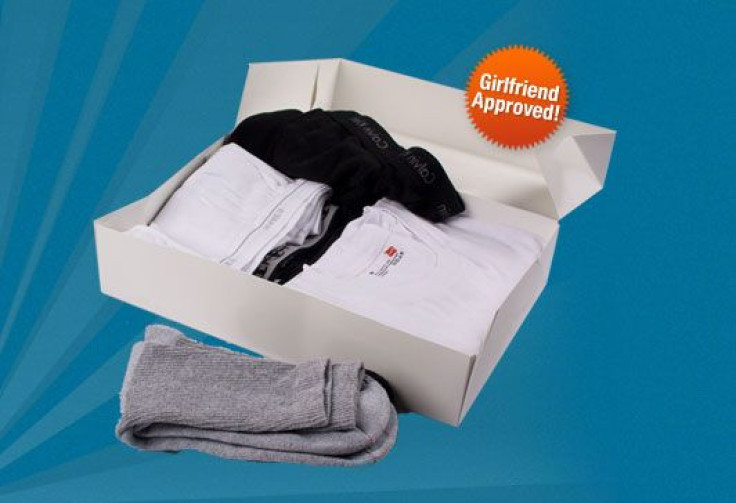 Bypassing the department store altogether is the central concept of Bombfell, a New York-based service with customers in all 50 states, and it's made tens of thousands of shipments per year since 2011. Perhaps as a result of its lack of a subscription or styling fee, 99 percent of its members return as repeat customers and continue receiving shipments. Co-Founder Berbie Yoo said Bombfell offers "anything between your neck and ankles" from $20 to $300 and beyond.
"We want to create the new next generation of retail and fill that hole online with a new curated personalized space for men," he said.
Bombfell allows its users to select their preferred clothing brands, along with other relevant options, for its service. However, the clientele are "not your fashion-forward guys who are super-focused on fashion," he said. "It's guys who want to look good, but they don't want to spend the time watching what's trending and spending a lot of time shopping."
Yoo said saving the time that they would otherwise spend shopping has translated into customers doubling or tripling their normal spending, "because they have more confidence in their purchases" with the help of a stylist.
"A lot of men don't have a great idea of what will look good on them," Yoo said, "but when you pair them with a stylist who knows what they're doing, we find they're more comfortable trying out new things."
Bombfell has done several cross-promotional partnerships with Manpacks, another men's concierge service that supplies its 10,000 customers with essentials like socks, underwear, t-shirts and razors. Customer Experience Officer Ken Johnson said Manpacks started off as the "Netflix for underwear" before it expanded to include other items that men frequently need.
"We have a curated selection, and it makes it easy to repurchase the things you need when you run out without having to search for them again," Johnson said.
Manpacks gives its users the option to order the essentials they need, as often as they need it. Customers can sign up for automated delivery or delay shipments as they see fit.
Beyond the obvious synergy between the brands, Manpacks and Bombfell have an investor in common.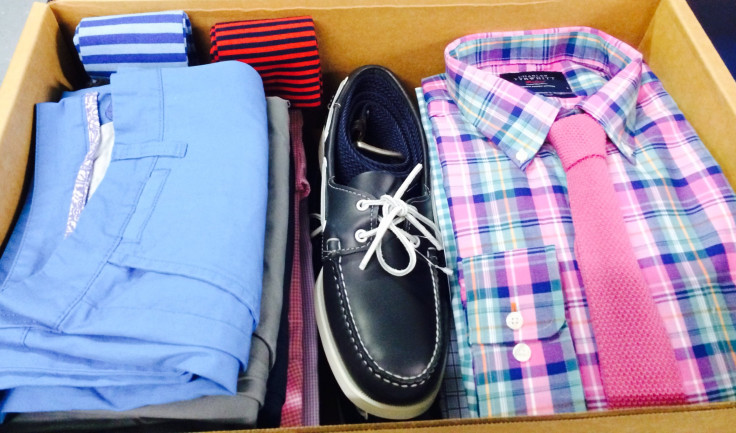 Men's Style Lab, another a more moderately priced option than Trunk Club headquartered in Des Moines, Iowa, is less computerized than its competitors. Instead, it links each user with a personal stylist on the phone for 10 to 15 minutes.
Baugh told IBTimes that Men's Style Lab caters to the true shopping amateur, or what he calls the "everyday guy." "Our guy hates to shop, and he just doesn't have a clue as to what he's doing."
Similar to Trunk Club, clients have 10 days to return what they don't want and pay for what they keep. If everything is returned, Men's Style Lab keeps a $25 styling fee. So far, none of its clients have abused its policy on returning clothes worn in the 10-day period, Baugh said, likely because the stylists' service is "personalized, so any responsible human being won't take advantage."
The service is free of charge and takes the height, weight, color preferences and geography of each user into consideration when shipping "style upgrades" to customers at home. Men's Style Lab is on-demand, meaning no subscription is required. Baugh said most of his customers use it both as a monthly service and a seasonal service, about two to four times per year. Eventually, Men's Style Lab hopes to use customers' "style DNA" to give them recommendations based on previous purchases or items that the user already owns, which the company can send overnight.
"We want to be the Pandora for your closet," he said.
FOR FREE to continue reading
✔️ Unlock the full content of International Business Times UK for free
offer available for a limited time only
✔️ Easily manage your Newsletters subscriptions and save your favourite articles
✔️ No payment method required
Already have an account?
Log in
© Copyright IBTimes 2023. All rights reserved.