FDI in Retail: Local Chains Happy, Small Shops Unhappy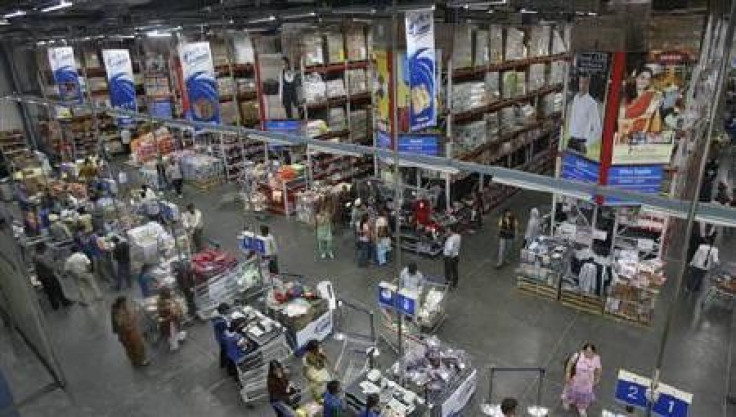 India's move to open its supermarket sector to foreign investors brought relief to its capital-starved local chains but failed to impress small-shop owners who dominate retail in the country, despite rules intended to safeguard small operators.
New Delhi approved its biggest reform in years by allowing global supermarket giants such as Wal-Mart Stores Inc and Tesco to enter India with a 51 percent stake in the hope it would attract capital to build much-needed supply chains and improve efficiency to alleviate food-driven inflation.
This is an extremely important step for domestic retailers as this will get in much-needed capital, apart from domain knowledge, said Thomas Varghese, chief executive of Aditya Birla Retail.
Chain stores account for just 6 percent of a $500 billion retail market dominated by street stalls and corner shops. Many Indian chains are cash-strapped and loss-making, struggling to build scale given high costs, poor supply chains and scarce real estate and have been eyeing equity investments and joint venture partnerships with global firms to build scale.
Vijay Karwal, head of consumer, retail and healthcare for Asia at Royal Bank of Scotland based in Hong Kong expects more than $5 billion in foreign investment into the Indian retail sector over the next five to seven years.
Given the relative lack of modern retail infrastructure in India, and particularly in the enabling back-end infrastructure ... the vast majority of investment this change is expected to trigger would be greenfield investment into new retail sites and infrastructure, he said.
Shares in Indian retailers Pantaloon Retail, Shoppers Stop, Trent jumped -- bucking a fall in the wider stock market -- on expectations that they will form tie-ups with foreign players, and not just compete with them.
Debashish Mukherjee, partner and vice-president at consultancy firm AT Kearney, expects joint ventures and investments in local players from overseas operators over the next six months.
The set of transactions which will happen fast is foreign players who are in existing joint ventures with Indian firms, the increase or decrease in stake, will happen quickly, he said. The second are a set of deals that are waiting to happen and have been just waiting for the announcement.
SMALL SHOPS UNHAPPY
To appease opponents, the government said foreign stores will only be permitted in cities of more than 1 million - of which India has more than 50 - and individual states can decide whether to allow global players on to their patch. It also insists that foreign retailers source almost a third of their produce from small industries, invest at least $100 million in India and spend half of that on infrastructure such as cold storage and warehouses.
Many small shop owners fear for their livelihoods. It will affect my business as families prefer going to air-conditioned stores with fancy packaged goods these days, said Vinod Jain, a 27-year-old small grocery shop owner in the Lower Parel neighborhood of central Mumbai.
A trade group representing so-called kirana shop owners is planning protests.
The move to let the foreign retailers in will most certainly lead to job losses, said Praveen Khandelwal, general secretary of the Confederation of All India Traders. They should have worked on some kind of protectionist mechanism for smaller traders before coming out with this policy, he added.
Foreign retailers who welcomed the Indian government's move to open the sector also view the entry conditions with caution.
Some of the conditions look quite stringent. The investment in particular - it's all quite big money. We'd need to know the details, and how that would be accounted for, said an official with a major global retailer who did not wish to be identified.
© Copyright Thomson Reuters 2023. All rights reserved.