UEFA President Michel Platini Stuck In Another FIFA Controversy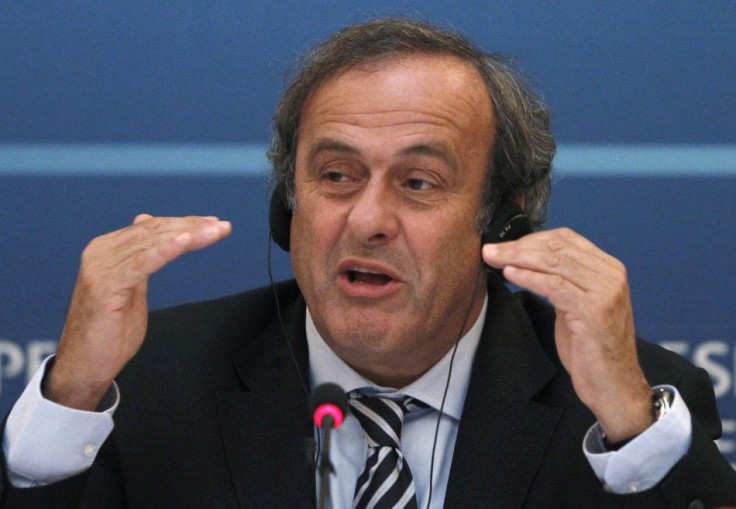 A 1,400-word dossier titled "Platini: Skeletons in the Closet," has reportedly been distributed around FIFA headquarters and sent anonymously to several newspapers, as world soccer's governing body investigates this "alleged smear campaign" against UEFA President Michel Platini.
The France and Juventus legend is running to succeed Sepp Blatter as FIFA president and is being challenged by FIFA Vice President Chung Mong Joon of South Korea and Liberian FA Chairman Musa Bility, as well as former Brazil star Zico. FIFA has been embroiled in controversy following the decision to award the 2018 and 2022 World Cups to Russia and Qatar, respectively, and there have been calls for a major overhaul of the 111-year-old organization.
Platini, 60, has received considerable criticism for his role with FIFA, and many have questioned his ability to lead the reform. He famously voted for Qatar's bid despite overwhelming evidence that it was riddled with flaws, while Blatter backed the U.S. to host the tournament. Platini has since insisted that he does not regret the decision.
In June 2014, Platini fired back at his critics, and denied that his Qatar vote was influenced by former French President Nicolas Sarkozy and a secret meeting with Qatari former FIFA Vice President Mohamed bin Hammam.
"I'm transparent, I am the only one who revealed who I voted for and did so by my own initiative, and now I find myself suspected of being corrupt. Let's not mess around. I saw this colleague 10,000 times in 15 years," said Platini, referencing bin Hammam.
"We were both members of the FIFA executive committee, we stayed in the same hotel all the time. Why would I have a secret meeting with him?"
Aside from the Qatar controversy, Platini has made other questionable comments and decisions. In 2014, the Confederation of African Football criticized his comments that the African Nations Cup should be postponed or canceled due to fears of the spread of Ebola. Platini denied he made such statements.
Last September, he refused to return a $25,000 watch given to him during the World Cup by the Brazilian Football Federation, despite FIFA asking its officials to return them. Platini has also resisted goal-line technology for European competition, calling it "too expensive."
Some have claimed that Platini has a bias against the English Premier League. When he was willing to accept the proposal of moving the 2022 World Cup to November and December, which would conflict with club schedules, he responded to detractors by saying "it's not only the Premier League in the world."
Through it all, Platini, who graced the Stadio Comunale Vittorio Pozzo as a member of Juventus and led France to a title in UEFA Euro 1984, still has his supporters and is a heavy favorite to become FIFA president after over eight years as the head of UEFA.
"As the president of UEFA, I have brought Europe together on a unifying path," Platini wrote to the 53 FIFA voters in Europe when he announced his candidacy in July. "I gave all the national associations — big and small — the place they deserved.
"Now, I aspire to do the same at world level, to offer all national associations a common cause."
© Copyright IBTimes 2023. All rights reserved.