Fisher Price Baby Seat Recalled? 'Electronic Babysitter' iPad Product Recall Requested By Parents, Petition Issued By CCFC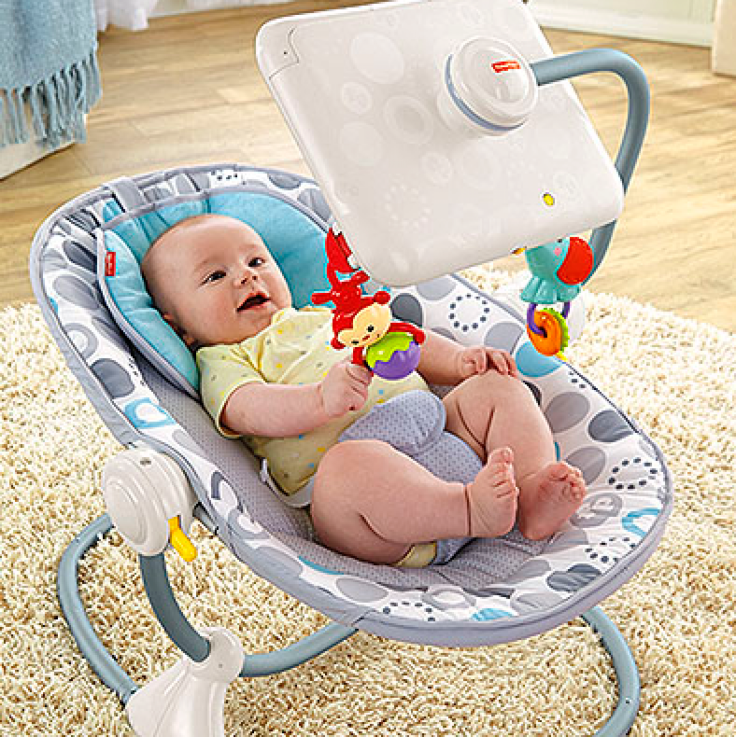 A Fisher-Price product, which gives infants the ability to be entertained via an iPad device, is causing a firestorm among parents this week.
The Campaign for a Commercial-Free Childhood (CCFC) is taking aim at one of the companies' baby items, the Fisher-Price Newborn-to-Toddler Apptivity Seat for iPad device, requesting the manufacturer issue a recall for the product, according to a report from the Associated Press. The baby seat, which allows parents to attach an iPad to the product to allow their children to watch video content, was deemed the "ultimate electronic babysitter" by the consumer group Tuesday.
"The seat is the ultimate electronic babysitter. Its very existence suggests it is fine to leave babies all alone with an iPad inches from their face," CCFC group director Susan Linn told AP. According to Linn, the group feels it is irresponsible to sell a product that encourages parents to leave their children alone and the possible dangers it can cause to a child's development. "Babies thrive when they are talked to, played with and cuddled, not when they are alone with a screen," Linn said.
In the original complaint, the CCFC rated the Fisher-Price seat the "worst device yet" and slammed the company for marketing the product as an educational tool for newborns. "Parents are encouraged to download 'early learning apps' that claim to 'introduce baby to letters, numbers and more.' There's no evidence that babies benefit from screen time and some evidence that it might be harmful," read the statement.
"I have always bought and enjoyed Fisher-Price toys…until now," consumer Carol McGrath posted on the CCFC's petition Wednesday. "This product is developmentally and morally irresponsible," she later added. "This is outrageous! Babies need face-to-face interaction that will help them learn to react to real people and situations -- not an iPad or computer!" said Patricia McPhail of Toronto Wednesday, adding, "Take this off the market NOW!!!"
As of Wednesday morning, 4,078 signatures requesting a recall of the product were received on the site, less than 1,000 signatures away from the consumer group's goal of 5,000.
According to AP, Mattel, the parent company of Fisher-Price, has yet to comment on the requested recall.
© Copyright IBTimes 2023. All rights reserved.