Fitbit For Babies: Watch Sproutling Unveil Its New Wearable Baby Monitor [VIDEO]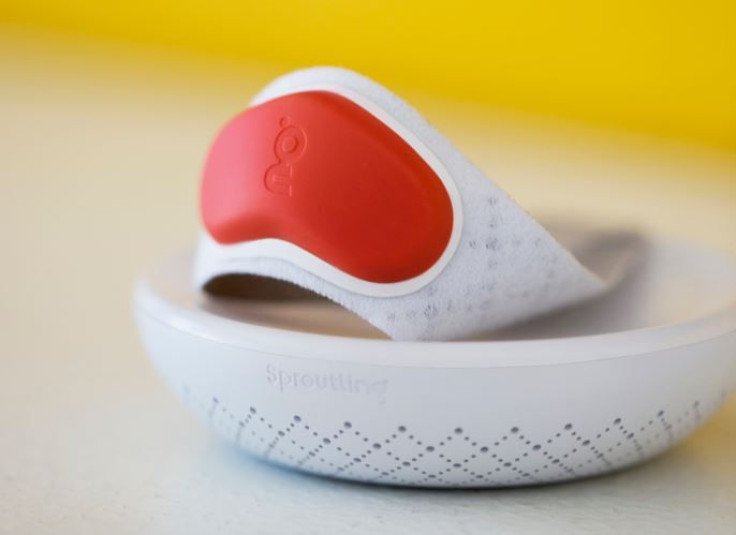 Wouldn't it be great if today's parents had a simple way to know about their babies' sleeping habits and well-being? A new smart baby monitor could solve that problem.
Former Apple Inc. and Google Inc. engineers have teamed up with Chris Bruce and Mathew Spolin to create Sproutling, a San Francisco-based startup, to take some of the anxiety out of parenting by including real-time insights through its wearable baby monitor, which is synchronized via an iOS mobile operating-system application. The company was founded in 2012. In September 2013, it raised $2.6 million during its first round of seed funding, thanks to Accelerator Ventures, FirstMark Capital, First Round Capital, Forerunner Ventures and others, as CrunchBase detailed.
"Matt and I really wanted something that could tell us our babies' wellbeing when they weren't moving or weren't making noise, especially at times when we couldn't pay full attention like when we're sleeping or when we're trying to take a shower," CEO Bruce said.
Bruce previously was a senior developer at Rupture, while Spolin has more than two decades of experience developing large-scale systems for Bay Area startups and operations such as the International Business Machines Corp., Oracle Corp. and the U.S. Health Department.
The Sproutling baby monitor consists of three parts: a wearable band, a smart charger and a mobile app. The monitor gathers 16 different measurements every second to help parents understand things such as when a baby is most likely to wake up, if a baby's heart rate is higher or lower than usual, and whether it is warmer or cooler than a baby's ideal room temperature.
"There's a small wearable sensor that's worn around the back of the ankle of the baby," said Spolin, who serves as chief technology officer. "It works in combination with the smart charger that goes in the room with the child and measures the baby's environment. So things like noise level, light level, room temperature and humidity, we take all that data and we use it to generate insights that are delivered to a parent's mobile phone."
The band is washing machine-safe with a removable sensor. It attaches to the baby's leg with a hypoallergenic strap that is manufactured without chemicals or toxins. Sproutling also engineered a small bowl-shaped wireless charging device: A parent can drop the wearable band into the bowl and let it power up wirelessly. The charging bowl doubles in utility, acting as the environmental sensor for the room.
The app can also be shared with caregivers, such as grandparents or babysitters, so parents can keep an eye on things even when they are not at home. The smart baby monitor syncs with iOS devices, including the iPhone, iPad, iPad Air, iPad mini and iPod touch. It will support Android 4.1 and above by March 2015. The startup also hinted it could be adding additional features to future products as soon as next year.
"Oddly enough, there are no standards for wearable electronics for infants," Spolin said. "So we partnered with a company called Bureau Veritas, the largest consumer-safety testing lab in the country. We took the best standards from small-part toys and textiles, as well as new standards for baby monitors from the Consumer Product Safety Commission, and then we put those together to create what should the standards be for infant wearables."
However, Sproutling is facing some competition from other companies developing wearable tech for babies. Mimo, a onesie-based baby monitor, sends breathing, temperature and sleep data real-time to a parent's phone: It is available for $199.99. Meanwhile, Owlet, the maker of a small bootie the baby wears while sleeping, is currently accepting preorders. Owlet is a vitals monitor that uses pulse oximetry to monitor the heart-rate and oxygen levels of babies.
Sproutling launched its preorder campaign in August, and it has set a presales goal of $50,000 for its first batch of monitors that will ship in early 2015. While the Sproutling baby monitor will retail for $299, early-bird pricing begins at $249.
"Honestly, we don't think of ourselves as a wearables company. We really look at ourselves as a family-technology company," Bruce said. "Being a wearable is the best way to solve the problem today, but in the future it may not be a wearable at all."
© Copyright IBTimes 2023. All rights reserved.
FOLLOW MORE IBT NEWS ON THE BELOW CHANNELS