The 'Shazam And Pinterest Of Cinema': Watch This New App To Discover Products From Movies [VIDEO]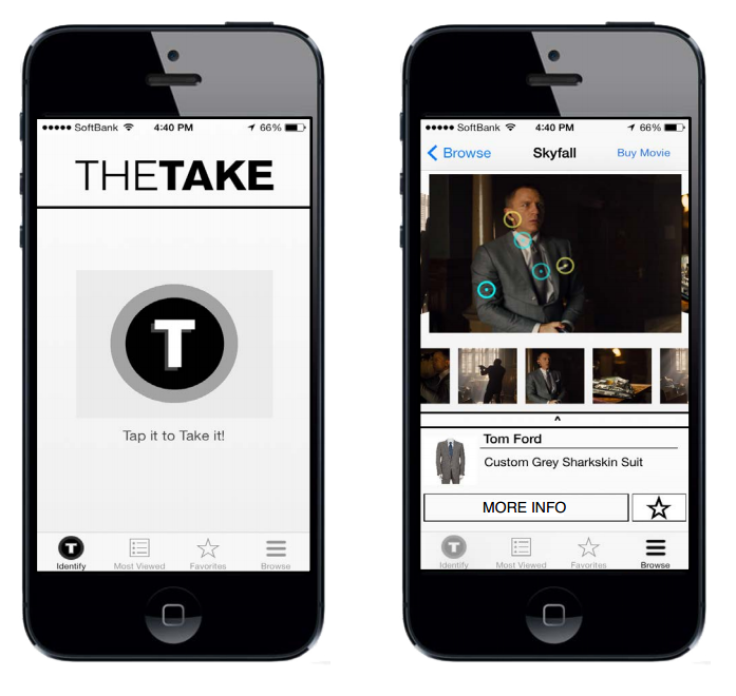 What if you could discover products and locations from your favorite movies the moment they appear on screen? Whether it's James Bond's 007 tuxedo from "Skyfall" or a pair of shoes from the ladies of "Sex and the City," a tech startup called TheTake hopes to be both "the Shazam and Pinterest for movies" by integrating its technology with mobile, Web and Google Glass platforms.
Tyler Cooper, cofounder and chief executive officer of TheTake, spoke to International Business Times about how the company's technology works and when its users can download the mobile app.
What is TheTake?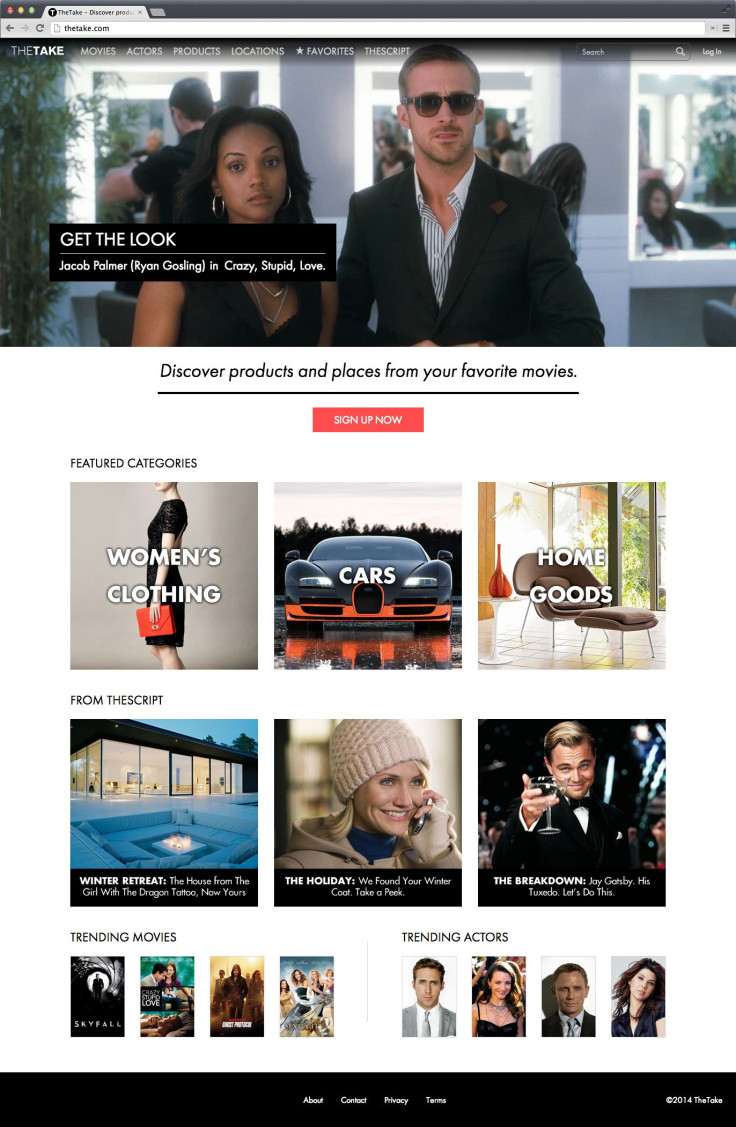 The New York-based startup was founded in 2013 by three current and former students from Columbia University's business and engineering schools: Cooper, Chief Product Officer Vincent Crossley and Chief Technology Officer Jared Browarnik. Shortly after forming the company, the cofounders brought it to the Columbia Business Lab in the SoHo neighborhood of Manhattan, where they set up shop.
"We think of TheTake as a Shazam and Pinterest for video content," Cooper told IBTimes. "It's for that moment when you're watching a movie and you see something beautiful that you love, whether it's a watch or a pair of shoes, and you can't identify it. If you don't know who made it or where you can buy it, you can use our mobile app in the moment to basically Shazam [it] and sync [it] with the movie to identify the product and buy it, or see a list of similar products at different price points."
Cooper said the impetus for the idea came after watching Kanye West perform at the MTV Video Music Awards in 2010.
"So it didn't start with movies," Cooper said. "It was initially all about Kanye West. I was watching him perform at the VMAs on TV a few years ago and he was performing 'Runaway.' I wanted to know what the beat maker was and where his suit came from, but there was no way to identify it. There were probably five million people watching that live performance, and no one could identify those two products."
The company's CEO said everything changed when he met his cofounders and they were able to turn this idea into a reality.
"It's just a problem that we see all of the time, and we are the centralized hub for solving that problem for consumers," Cooper said.
How TheTake Works: TheTake.com, Mobile App And Google Glass
TheTake is not just for products, it's for locations as well. Users can go a site and see video images from their favorite video content and identify the products and locations that are in those images.
"Time and time again I hear people say 'I want to know where that was filmed,' or 'I want to go visit that beautiful setting,' or 'I want to go sit in that park.' So we have all of that mapped out in one comprehensive map on our locations page," Cooper said. "Then you can scroll down and see that Pinterest-type layout where it has all of the images cropped from those locations."
TheTake uses indexing, a process of taking a film and cutting it into a specified number of frames, to help it identify all of the products and locations in that film. Cooper said the software that Crossley and Browarnik built is the "secret sauce" to its user experience.
"We have proprietary software that we've built," Cooper said. "Exactly how that works is the secret sauce for us, so we can't get into all of that. My cofounders are the real brains behind the whole operation."
TheTake.com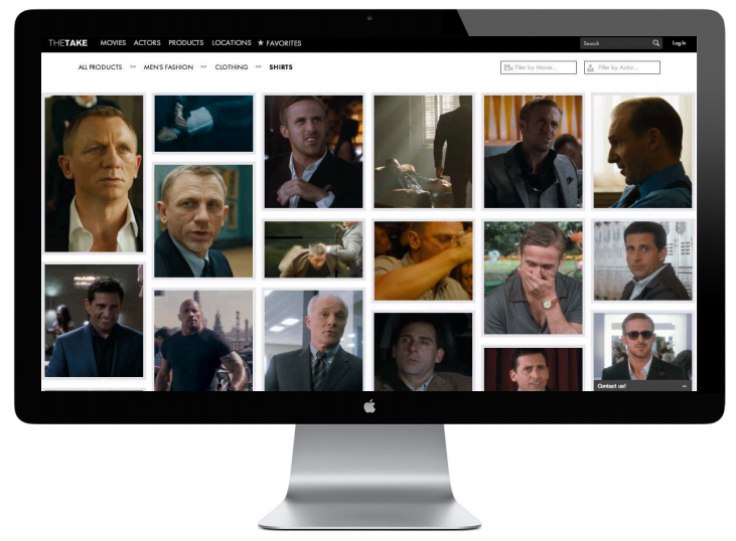 The company's website serves as a database of movie content, using a Pinterest-style layout, and its search filter lets users search by movie, actor or category to discover specific products or locations.
"The website allows you to look at all of the watches in all of the movies that we have indexed," he said. "You can, in a Pinterest-type way, play with all of the images and see all of the great things from different movies," Cooper said.
TheTake currently has more than 30 films indexed on its site, including "Spider-Man 2," "Skyfall," and "The Wolf of Wall Street." The team indexes three to five movies a week and hopes to double that rate in about a month.
"If your favorite movie isn't in there yet, it'll be there soon," Cooper said. "We're actually going to make a change relatively quickly in the next two to three weeks, and we'll be able to pull in about 10 movies every week. That'll ramp up the database really fast."
TheTake offers product categories varying from men's and women's fashion to electronics, as well as items for the home, food and beverage items, and accessories for children. The site has content about cinematic locations, including restaurants, local attractions, landmarks, stores, hotels and airports.
"Say they're in a restaurant, oftentimes it'll take you to that restaurant's website," Cooper said. "If it's a park, we'll send you to that park's website, and if that doesn't exist, we'll send you to their Wikipedia page. For products, we'll send you to where that product is sold. For example, if it's a Tom Ford suit, well send you to Blue Fly if it's sold there, or [to Amazon] if it's on [there]. Wherever that product lives, we'll send you there so you can actually buy it."
TheTake Mobile App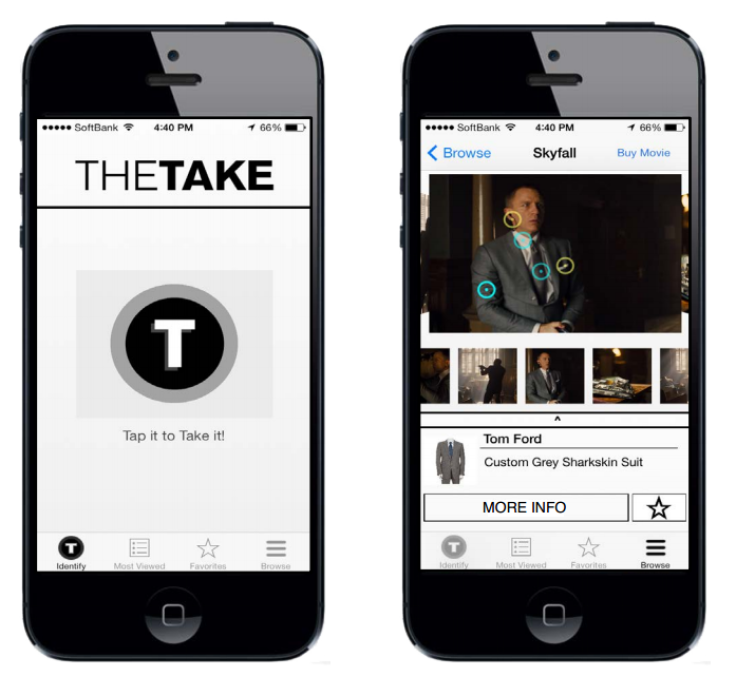 TheTake plans to launch its free mobile app for iOS users in the next six to eight weeks and then follow up with an Android application later this year.
To use the app while watching a movie, users touch the "T" icon on their mobile device's screen and the app immediately displays the scene they are watching, along with the products and places from that scene.
"The mobile app uses audio recognition and can tell the unique audio fingerprint of the movie in any scene," Cooper said. "It knows exactly how many seconds into the movie that the signature is, so when you sync up, it takes about four seconds to recognize and map that audio file. Then it pulls in from our server a frame and a still image of the movie scene for every two seconds."
"You can swipe through the movie and move forward or backward even if you picked up your phone too late," he said. "Then you can, for example, just touch the shoes or the watch you want and it'll pull the information up with a link to buy it."
"Basically, all of the same images live on our website, so you can come in and sort through to buy the product you want, or if you just want to look at suits from "Skyfall," you can also do that," Cooper said.
Google Glass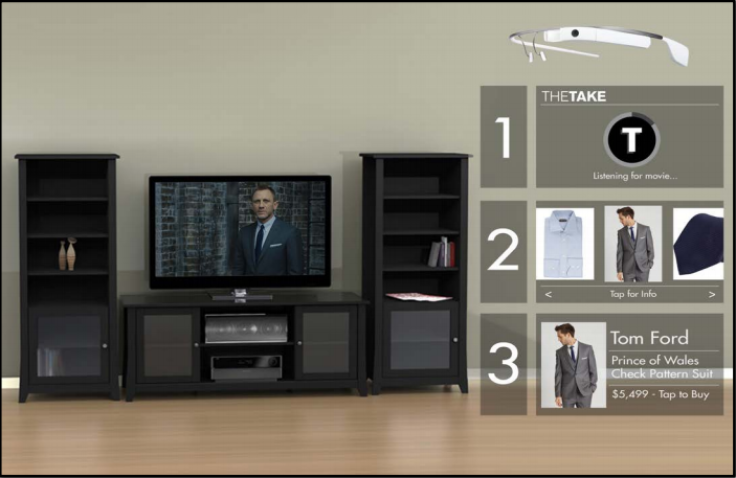 The third way to engage in TheTake's offerings is via Google Glass. TheTake is the first Google Glass application with product recognition for movies, and the app allows users to wear Glass in theaters to identify products and places in real time.
"The application lives in the same way it functions on the mobile app," Cooper said. "You just tap Glass and it syncs via the audio signature. Then, while you're watching the movie, in the upper right-hand corner of the display you'll see the products that are on screen at that point and you can swipe forward or backward on Glass on the side and it'll just move through the products that are on screen."
Cooper said users can favorite items or locations on Google Glass or the mobile app so they can go back to buy or view the products at a later date.
"You can tap to favorite it in Glass, and you can also tap to favorite it in the mobile app," Cooper said. "It'll save it to your account, so that way you can go back to the website later. You can look at it in greater detail there, and you can buy it through the website if you want, or just let it live there in your favorites."
TheScript
While TheTake informs users about products and locations, the website also offers TheScript, an email newsletter and blog that shows users how to put all of this type of information to good use. TheScript includes an interactive map of "The Top 100 New York Restaurants in Film" and a variety of tips, such as "The 7 Things You Need for Summer."
TheTake also has an "Actor Stats tool" it uses to list the actors who are trending up, such as Jared Leto or Amy Adams, versus actors who are trending down, like as Lindsay Lohan or Pauly Shore, based on their Internet Movie Database (IMDb) trend rankings.
What The Future Holds For TheTake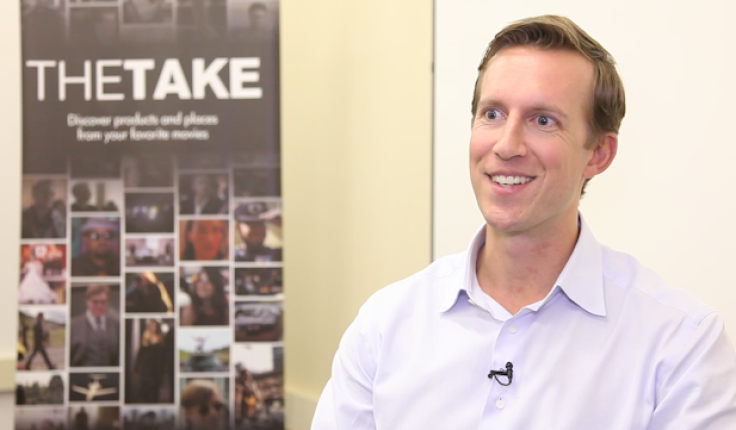 The Take is closing its first major round of seed funding soon and plans to add TV shows to its collection in the next six to nine months.
"Right now, it's all movies," Cooper said. "In the next six to nine months, we'll transition to television as well. Right now, we're just focused on really dominating the movie space and covering as many movies as possible. Once we've sufficiently accomplished that, then we're we'll move to television."
So how does TheTake generate revenue? By serving as a platform for advertisers.
"We're really an advertising platform," Cooper said. "Whether that's affiliate advertising or whether that is contextual display advertising. If you're looking at watches on our website, it's a really great way to sell valuable ad space to Omegas so they can appear next to all of these great watches from all of these great movies, or from just selling the watch that is actually seen in the movie. The affiliate side of it is not turned on yet, but we're working toward that."
TheTake said that after it closes its first major round of funding, its next major step is to launch the mobile app.
"The mobile app is the biggest evolution in what we're doing, and then the other side of that is really probably ingesting more and more movies," Cooper said. "We're pulling in three to five movies a week and we hope to double that rate in about a month. That's the next big change. We'll have about 10 more movies per week coming in soon, and it'll feel a whole lot more robust."
The Manhattan-based startup hinted that it's also in talks with a video movie streaming service, but he couldn't say which one just yet.
"I can't say which player it is, but we're actually talking to one of the big streaming players now about integrating our software into their streaming service," Cooper said. "It would take the same applicable video experience that you see on the movie trailers on our site and overlay them on the full movies on their site."
The tech startup hopes its Web, mobile and Google Glass-friendly platform will connect consumers with their favorite cinema products and locations in an innovative way.
"TheTake is an entirely new way to engage with your favorite films in a whole new deep level," Cooper said.
© Copyright IBTimes 2023. All rights reserved.
FOLLOW MORE IBT NEWS ON THE BELOW CHANNELS