Ford Hybrid F-150 In The Works, But Will Loyalists Embrace A Lighter, Greener Pickup?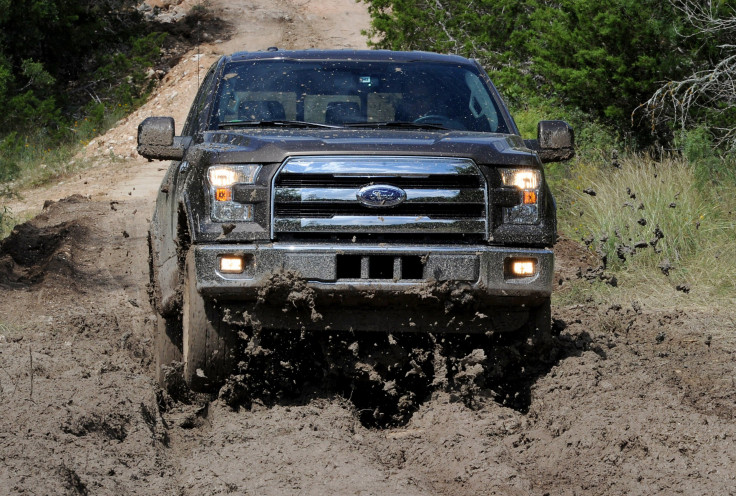 The Ford Motor Co.'s 2015 F-150 pickup truck -- with its new, lightweight, aluminum body -- went on sale a little over a week ago, and already the automaker is talking up another radical modification: a hybrid version of its popular vehicle that contains an optional engine stamped with a green leaf.
Is Ford about to turn its symbol of American brawn into a frail eco-car?
Environmentalism hasn't been among the primary concerns of the contractors, ranchers, boat-haulers and roughnecks who helped make the F-150 the best-selling motor vehicle in the U.S. for the past 32 years. Even so, the automaker is "working very hard" to develop a feasible hybrid powertrain for the truck, Raj Nair, Ford's head of global product development, told the Detroit Free Press last week.
The 2015 F-150 -- available with the option of Ford's smaller, turbocharged, 325-horsepower EcoBoost engine -- is already a big gamble for the company. By replacing steel and rivets with aluminum and adhesives, Ford shaved 700 pounds off the weight of the vehicle, helping it push combined city/highway fuel economy to 22 mpg, the highest of any nondiesel full-size pickup on the market.
The question for Ford will be whether it can adhere to federally mandated fuel-efficiency standards while convincing consumers the company isn't neutering its trucks as the vehicles become increasingly lighter and greener.
"It's an enormous risk if something is not right with the new F-150 and Ford disenfranchises its loyal customer base," said Bill Visnic, senior editor at automotive pricing and information provider Edmunds.com. "The key is to convince buyers that ... you can still tow that boat out of the water or carry that load of wood."
Visnic said truck owners tend to keep their vehicles longer than the average car buyer, so dealers should be able to use the 2015 F-150's nonrusting aluminum body as a selling point. Truck buyers are less likely to switch brand allegiances, too. If Ford can convince loyalists the 2015 F-150 is as tough and powerful as its predecessors, a future hybrid F-150 could be an easier sell.
At Freeway Ford along I-25 in southeastern Denver, a decked-out white 2014 F-150 pickup truck is on display in the showroom, as are signs advertising Ford's hybrid sedan offerings. But news that Ford is working on a hybrid F-150 hadn't yet reached the sales staff early Friday morning.
Shawn Tuggle, a salesman for 15 years at the 2-acre dealership, said it would be a "huge plus" to have a hybrid version of America's best-selling vehicle, but he also said mileage is not the first thing on a truck-buyer's mind.
"People that buy bigger vehicles aren't buying them for the gas mileage," he said, noting the F-150 is one of the dealership's most popular models. "Of course, they would like to have better gas mileage, but you aren't buying a bigger vehicle for gas mileage, you are buying it for what you can use it for and for its capabilities."
Hybrid technology is no longer associated with little electric motors and tiny Toyota Priuses, and by the time Ford has an F-150 hybrid (the company hasn't provided a timeline) the technology will be commonplace, even in bigger, heavier vehicles. Already, SUVs such as the Porsche Cayenne and the Nissan Pathfinder come in hybrid versions, and Formula One racing is wiping out the notion that hybrid technology is just for tree-hugging hipsters.
As Edmunds.com's Visnic pointed out, a hybrid powertrain is not just about lowering fuel standards.
"What hybrids really do well is optimize your fuel economy in stop-and-go urban traffic, and that's something that a truck could really benefit from," he said. "Trucks still have a lot of mass, even if the body is aluminum. A lot of energy is going to acceleration, and hybrids excel with that kind of driving."
Electric motors have inherent advantages over internal-combustion engines, including better 0-t0-60 acceleration. That's why a Tesla Model S electric car can leave a Lamborghini in the dust on takeoff.
David Sirota contributed to this report from Denver, Colorado.
© Copyright IBTimes 2023. All rights reserved.