Ford Motor Co. (F) Earnings Preview: Revenue Seen Up In The Fourth Quarter, But Profits Down On Rising Costs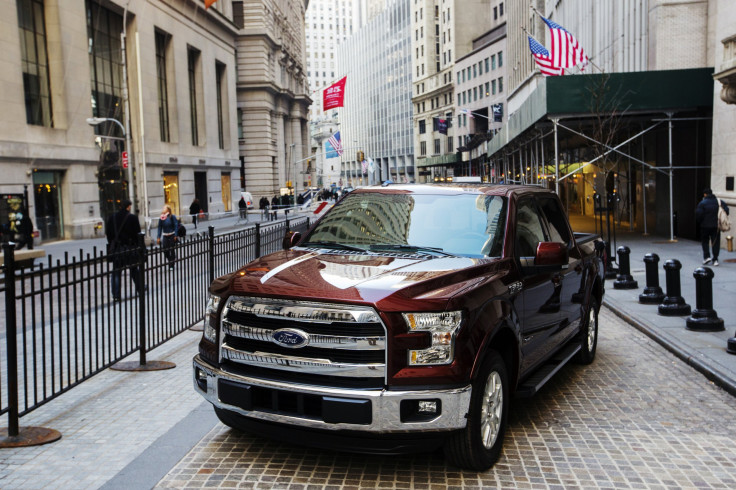 UPDATE: Ford Motor Co. (NYSE:F) reported $3.04 billion in net income, or 74 cents per share, on $37.6 billion in revenue for the fourth quarter of 2013, blasting Wall Street expectations. Read more here.
Original story begins below:
Ford Motor Co. (NYSE:F), the world's fifth-largest automaker by sales, is expected to report its only year-over-year quarterly decline in net income for 2013. It joined the industry in significantly escalating incentive spending in the fourth quarter, helping sales at the cost of profitability, and incurred one-time expenses linked to a recall and a continuing pension buyout program.
Analysts polled by Thomson Reuters on average expect the maker of the most popular passenger vehicle in the U.S., the F-150 pickup truck, to post, at 7 a.m. Tuesday EST, fourth-quarter net profit of $1.5 billion, or 28.7 cents per share, on revenue of $36.2 billion. Compared to the same period in 2012, revenue increased 5 percent while net income declined 8.2 percent. Ford has beaten EPS estimates in the past seven quarters.
For the year 2013, analysts see Ford raking in a net profit of $6.3 billion, or $1.60 per share, on $139 billion in revenue. If the estimates prove accurate, Ford will have grown net income by 12.1 percent and revenue by 9.8 percent over 2012 figures. Ford shareholders ended the year raking in 40 cents per share worth of dividends. Ford is expected to have one of its best years in a decade, but the party seems to be winding down in the short term as the company is embarking on an ambitious rollout of a record 23 new vehicles globally.
Meanwhile, economic conditions in Europe, where Ford sales fell 2.1 percent last year, and South America, where a currency devaluation in Venezuela has cost the company about $350 million, continued to hurt Ford's bottom line. The company predicted last month that its pre-tax profit would be lower than expected this year, to between $7 billion and $8 billion, down from an estimated $8.3 billion in 2013.
Ford is about to embark on an ambitious plan to roll out 23 new or revamped models globally, expenditures that have already started to affect the balance sheet. Capital expenditures in the fourth quarter are expected to be about $1.88 billion and $6.47 billion for the year, the highest level of investment since 2008.
Last month, Ford said the recall of its trouble-plagued 1.6-liter Escape compact crossover would cost the company up to $300 million for the year. It also will include a one-time charge in the fourth quarter related to its voluntary lump-sum salaried retiree program that began in 2012, amounting to $850 million in 2013.
"Of that amount, $600 million was recognized in the first nine months of this year, with about $150 million occurring in the fourth quarter," Chief Financial Officer Bob Shanks said in a conference call in December.
Meanwhile, there are signs the U.S. auto shopping spree that is estimated to have pushed Ford's revenue from auto sales up 10 percent last year could be winding down.
"Commentary on [U.S. automotive] pricing was the most alarming we've heard in the last four years, and the tone on the incentive environment is changing," Morgan Stanley analysts Adam Jonas wrote in a research note last month, referring to aggressive incentive spending carried out in the holiday shopping season.
Incentives such as manufacturer rebates on the purchase of new cars hurt profit margins and tend to increase when companies reach unhealthy levels of inventory. In December Ford saw the largest jump in incentives, 21.7 percent to an average $3,346, according to automotive pricing and information provider TrueCar.com. The industry average on incentive spending increased 7 percent in November, to $2,667, so Ford clearly took a hit pushing sales in the fourth quarter.
All of the global Big 8 automakers expect for Chrysler LLC increased incentives, three of them by double digits (Ford, Honda and Hyundai/Kia). The Detroit 3 automakers General Motors, Ford and Chrysler ended the year with about 90 days' worth of inventory, above healthy levels. Ford clearly ended 2013 on a lower note, but not nearly enough to push down the year's performance. Which is a good thing, because 2014 is going to be year of heavy investment at the expense of profitability; that is probably why earlier this month that company announced a 25 percent increase in its dividend payment: to encourage buy-and-hold investors to buy and hold.
© Copyright IBTimes 2023. All rights reserved.