Forget Vevo, Snapchat Works With Artists To Create And Premiere Music Videos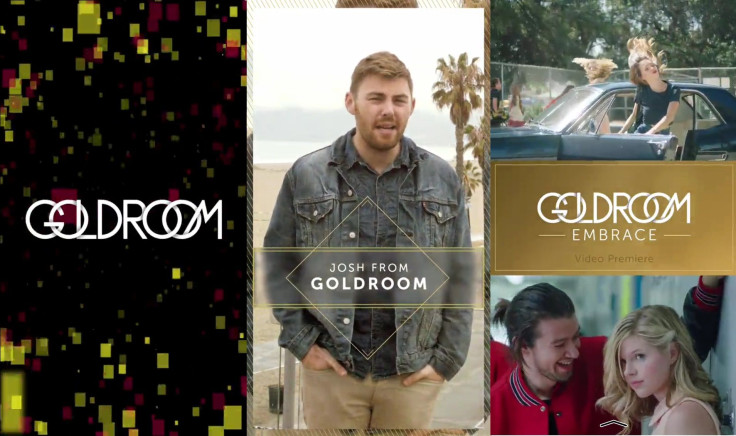 More original content is coming to Snapchat with artists creating music videos specifically for and with the help of the disappearing message company. Electronic musician Josh Legg, aka Goldroom, will premiere four music videos on the app this week, the New York Times reports.
The first music video "Embrace" went live Tuesday morning on Snapchat's "Snap" channel, found within its Discover network -- a separate page of the app from the one-to-one messaging where media partners provide daily content. Goldroom's other music videos will premiere once a day through Friday. The experience includes a message from Goldroom and then requires Snapchat users to swipe through clips until reaching the music video.
Some musicians have held to creating music videos with theatrical qualities and high-end budgets (see: Taylor Swift's "Bad Blood" premiere at Sunday's Billboard Music Awards). But this move represents a new, low-budget way to connect with fans. In February 2015, Madonna was the first artist to debut a music video on Snapchat's channel.
Goldroom has been an avid Snapchat user, using the app to send post short musical clips to fans who choose to follow him. In fact, Snapchat CEO had invited Goldroom to Snapchat's headquarters back in October 2013, the New York Times wrote, to premiere the app's Stories feature.
And now, Snapchat has gotten involved, working with the artist to create the video and optimize it for vertical viewing. This step follows in Snapchat's push for more original content. The app premiered an original series called "Literally Can't Even" in January. Actress Sofia Vergara is also working on reality series for Snapchat, Variety reports.
Music is one vertical Snapchat and its CEO Evan Spiegel has been pushing forward. Leaked emails from last year's Sony hack revealed that the company was negotiating with Vevo on premiering music videos. Currently, Warner Music Group provides music content through Snapchat's Discover network. The company has also partnered with iHeartMedia to show curated content from concerts and could end up joining Discover.
© Copyright IBTimes 2023. All rights reserved.