Snapchat CEO Evan Spiegel Showed Up At Bob Pittman's iHeartRadio Upfront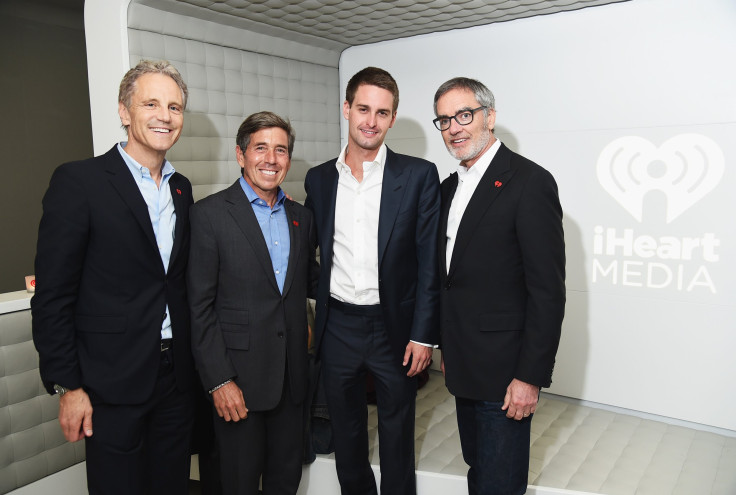 Snapchat will soon get more musical. The disappearing messaging-sharing app's CEO Evan Spiegel and executives from iHeartMedia Inc. shared the stage at iHeart's New York headquarters Wednesday to discuss their past and future partnerships.
Execs at iHeartMedia -- the mass media company that owns an extensive radio network, a digital music platform and hosts annual concerts -- seemed impressed by Snapchat, mostly recently rumored to be valued at $15 billion, that the 24-year-old Stanford graduate has built over the past four years. "I was Evan's age when I created MTV," said iHeartMedia CEO and Chairman Bob Pittman. "Evan is a true visionary. He's bold, and he takes action."
The iHeartMedia event was Spiegel's first "upfront," the industry term for a meeting hosted by companies to present new projects to advertisers, brands and reporters. Why so? Snapchat recently has been ramping up partnerships with the music network. John Sykes, the iHeartRadio division of iHeartMedia's president of entertainment enterprises and co-founder of MTV, said he has put faith in the reach of Spiegel's young company, likening the sharing aspect of Snapchat and other social networks to the power of radio.
"Radio was once the original social media because it's a curator, trusted brand. It's the DJ. It's the friend in the seat next to you talking to you and telling you about a new song and then you tell a friend who tells a friend who tells a friend," Sykes said. "Radio, being the oldest electronic medium, is a natural partner with the newest one."
Earlier in April, iHeartRadio created a Snapchat "Our Story" for the iHeartRadio Music Awards. The feed included videos from the red carpet from celebrities such as Ryan Seacrest, Snoop Dogg and Meghan Trainor. Sykes said, "14 billion social impressions prove that what was once the old media is the new media."
Singer Nick Jonas also used Snapchat to announce the lineup of the iHeartRadio Summer Pool Party, a concert to be held in Las Vegas on May 30. Both of these events cost nothing for iHeart, and instead were strategic partnerships, Sykes said. Also, iHeartRadio has its own Snapchat account that users can choose to follow. But future deals, including joining Snapchat's new Discover network, could bring iHeart visibility to all users on the public feed.
Spiegel has been traveling abroad to meet with investors, New York Post reports, and now is connecting with brands and advertisers. Spiegel neglected to say much at the iHeartMedia event other than that it was his first upfront, letting Pittman take back the stage. Pittman said the companies' partnership would be announced later this year. But after the event, Sykes expressed his team's interest in Snapchat's Discover network – an area of the messaging app where media companies can create daily content.
"We think we could play a big role" in Discover, Sykes said. "We literally have every artist from every format come through our doors. We create so much content every day, whether it's for radio or television, that we're perfect on Discover."
Launched in 2011, Snapchat began as a one-to-one photo-sharing app and has since become a giant, becoming even more popular for some teens than Facebook and amassing a reported 200 million users. Since then, Snapchat has expanded to video and photo sharing. In 2013, the company launched an "Our Stories" feature that allows for 24-hour posts. Within that feed, the company allowed brands to create promoted content.
Snapchat launched the Discover network in January 2015 and currently partners with more than a dozen media players, including CNN, Cosmopolitan and Warner Music Group. Warner Music's page, for example, includes previews of music videos, profiles of new artists and trivia. More news networks plan to experiment with the model, including ABC and Univision's Fusion, which is expected to premiere five shows exclusively on Discover.
This is the second money-making strategy Snapchat has launched. Its ad debut in October 2014 was a trailer for the movie "Ouija." It appeared in the "Recent Updates" section of the app and cost $750,000 a day, AdWeek reported. This option, however, has since been halted, Re/Code wrote, as Snapchat updates its ad model.
Snapchat is expected to rename that section as Live Story and may charge between $400,000 and $500,000 for a takeover of the feed and $100,000 for a shorter placement, AdAge reported. Other expected ad options include placement within local stories.
© Copyright IBTimes 2023. All rights reserved.