Fox News Dish Network Blackout: Customers Demand Refunds As Bitter Carriage Dispute Drags On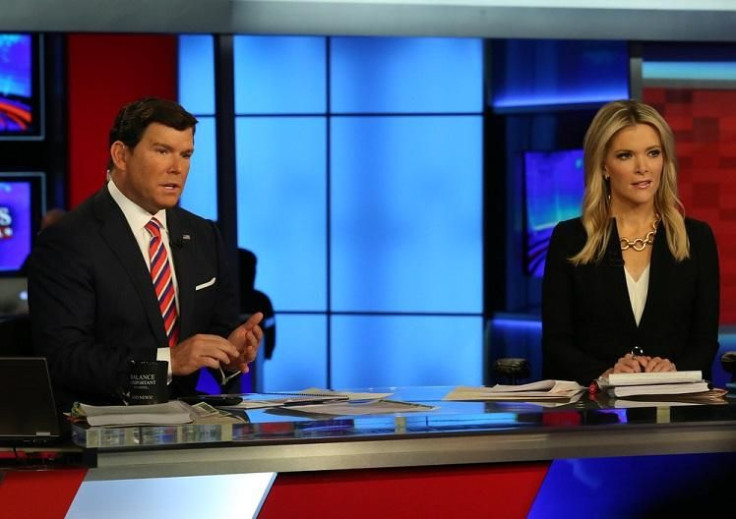 The bitter standoff between Dish Network Corp. and the parent company of Fox News Channel is entering its second week Friday, and there appears to be no end in sight. As both sides continue to blame the other for blocking Fox News and Fox Business from Dish subscribers, viewers are growing increasingly impatient, with some demanding refunds for the blackout period and others vowing to switch providers altogether.
Both options could prove to be fruitless, however, leaving loyal fans of the most-watched cable news network even more frustrated. That's because Dish's residential agreement pretty much gives it carte blanche to change its programming lineup as it sees fit, and customers who sign up for Dish are told specifically that changes in programming do not entitle them to a refund:
"We may add, delete, rearrange and/or change any and all programming, programming packages and other Services that we offer, as well as the prices and fees related to such programming, programming packages and Services, at any time, including without limitation, during any term commitment period to which you have agreed. You are not entitled to any refund because of a deletion, rearrangement or change of any programming, programming packages or other Services."
Switching providers, meanwhile, could subject customers to early cancellation fees.
Dish did not respond to questions about whether it would make an exception in this case, but some Fox News viewers said on social media and in emails to International Business Times that they were offered credits to their accounts -- ranging between $10 and $15 a month for several months -- when they called to complain about the blackout.
Dish has been involved in a number of highly public carriage disputes over the last few months, including battles with Turner Broadcasting, NBCUniversal and CBS Corp. The satellite-TV company says it is simply trying to fight off unfair increases in programming fees and insists that customers who switch providers will only embolden content owners to raise their rates even more, thereby pushing bills higher.
In a video message posted on Wednesday, Dish Network Chairman Charlie Ergen accused Fox News' corporate parent, 21st Century Fox Inc., of extortion, saying the company was using Fox's popularity to wrest higher rates for one of its less popular channels.
"There was nothing about this extortion attempt that was fair or balanced," Ergen said in the video, referencing Fox's longtime slogan. "Rather it was greedy, arrogant and disrespectful to you, their loyal viewers. While it would have been easy for Dish to accept these outrageous demands, it is you, the customer, who ultimately would pay the price."
Ergen said he could not predict when the blackout would end.
Fox News said in an updated statement Friday that blackouts are part of Dish's "business model" and pointed out that, before this current dispute, Fox News Channel had never been blocked by a pay-TV provider in its 18-year history. The network encouraged viewers to keep complaining to Dish or explore alternate providers.
One Dish customer, Ron Vos of Minnesota, said his mind is already made up. "I refuse to be a pawn in their stupid little game," he said of Dish. "They for one are not giving me what I subscribed for ... I hope they go bankrupt."
Christopher Zara is a senior writer who covers media and culture. Got a news tip? Email me here. Follow me on Twitter @christopherzara.
© Copyright IBTimes 2023. All rights reserved.