Gambia Military Coup? Capital Locked Down By Soldiers Amid Reports Of Heavy Gunfire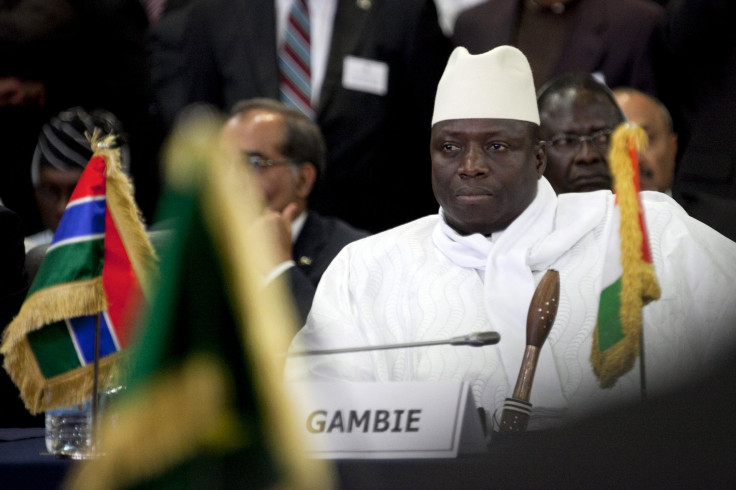 Heavy gunfire erupted in Gambia's capital, Banjul, early Tuesday, amid reports that soldiers from the presidential guard were attempting to stage a coup while President Yahya Jammeh was on a trip abroad. The apparent attempt by Gambian soldiers to launch a predawn coup was foiled, according to the Agence France-Presse.
"The presidential palace was attacked very early this morning ... by armed individuals of whom some came from the presidential guard," a Gambian diplomat told the news agency. The diplomat's account has been confirmed by army sources and residents of the city, many of whom were prevented from going to work after the shooting began as loyalist troops began patrolling the streets. Soldiers locked down the capital on Tuesday, blocking the bridge that leads to the center of the coastal city, and banks and other offices remain closed, according to Reuters.
Gambian media have not confirmed reports of an attempted coup, while state radio avoided referring to the incident entirely, instead playing traditional kora music. One diplomat told Reuters that mutineers remained in control of certain strategic pockets of the city Tuesday afternoon. No casualty figures from the clashes have been officially reported, but sources in the regional Gambian diaspora told the AFP that the incident has resulted in deaths and injuries.
There is some debate about the president's current whereabouts, with Gambian officials stating he was on a private visit to Dubai, while local media reports suggested he was on an unofficial visit to France. A French foreign ministry spokesman denied that Jammeh was in the country on an official visit and said there was no indication that he was in France on a private visit either, according to Reuters.
Jammeh came to power in a bloodless coup 20 years ago and has since stifled dissent in his tiny West African country. His government has faced increasing criticism from the international community over its human rights record, while his internal reshuffling of senior military and civilian officials has promoted internal political instability, according to the Guardian.
© Copyright IBTimes 2023. All rights reserved.