Gay Rights 2015: Thousands Of Activists March In Polish Parade In Sign Of Growing Public Support For Gay Rights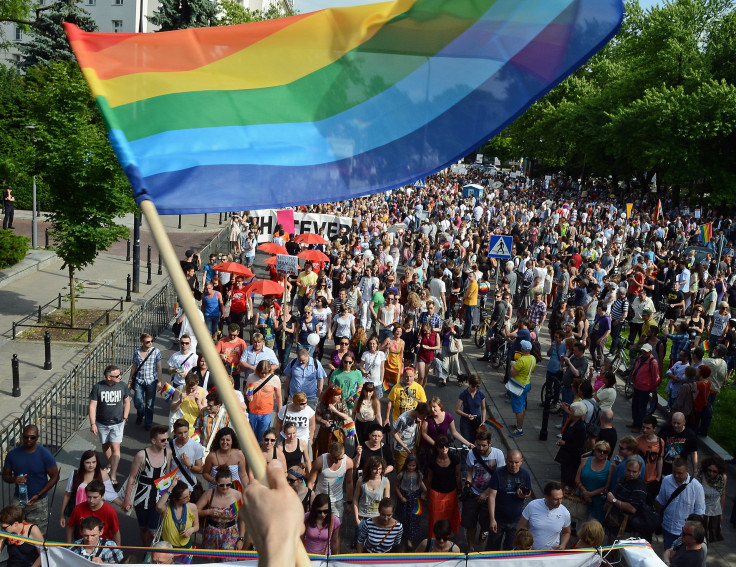 Thousands of activists waving rainbow-colored banners and Polish flags Saturday marched in Warsaw for the country's 15th annual Parada Równości (Equality Parade). The turnout signaled the growing public support for gay rights in one of the most devoutly Roman Catholic countries in Europe.
Participants chanted in support of same sex marriage and called for the right of same-sex couples to adopt children, the Associated Press reported. They marched in scorching weather from the Parliament building through downtown Savior Square where a giant glittery rainbow stretched directly in front of a historic cathedral. Right-wing groups have repeatedly burned the controversial art installation, which will be moved next year to a new location, the AP said.
Robert Biedron, a prominent gay rights activist and Poland's first openly gay mayor, said he could not attend Saturday's parade, citing "responsibilities."
"But have fun and fight for equality!" he said, according to a translation of his Twitter feed.
Biedron won a runoff election in the northern city of Slupsk in December, with 57 percent of the vote. He previously made Polish history as the first openly gay member of the Polish Parliament. Biedron pointed to the success of his campaign as a positive sign for Poland's gay community. "I see how fast Polish society has learned its lesson of tolerance. So I am very optimistic and happy with Polish society, and proud," he told the AP in an interview before the December election.
Still, despite Saturday's march and Biedron's election, Polish lawmakers remain reluctant to advance the rights of gay and lesbian people in Poland. Lawmakers have rejected recent proposals by left-wing politicians to debate regulations allowing for same-sex marriage. In 2013, Parliament defeated three bills that would have granted limited legal rights to gay couples.
Small groups of gay rights opponents protested Saturday's march, but there was no violence, AP reported.
© Copyright IBTimes 2023. All rights reserved.