'Genshin Impact's' Upcoming Events For Patch 2.0 Revealed
KEY POINTS
"Genshin Impact" 2.0 will have four events in total
Two events will be reruns of previous ones from past versions of the game
One event features Beidou as a reward
The list of events for "Genshin Impact 2.0" was recently revealed by miHoYo during its previous livestream, which showcased a couple of new events as well as two reruns for players who missed them.
The two new events, which can be seen at the end of the "Genshin Impact" 2.0 trailer, are Thunder Sojourn and Phantom Flow. Both events are Inazuma-themed and will most likely be set within the archipelago as well.
Thunder Sojourn was previously leaked by one of the community members. This event will have players complete several challenges in order to gain special currency. Players will be able to get a copy of Beidou by exchanging enough event currency at the event shop.
Judging by the trailer, there will be a new boss that looks suspiciously similar to an elemental hypostasis. This same boss is rumored to be the source of Ayaka's ascension materials.
There are four different acts in the Thunder Sojourn effect, and it's likely that each of them will represent a different challenge for players to overcome.
Meanwhile, the Phantom Flow event seems to be similar to the ongoing Never-Ending Battle event. Its description from the trailer is a bit vague, but players can expect to work with mechanics related to Electrograna.
The two rerun events are Theater Mechanicus and Lost Riches.
Theater Mechanicus is a minigame inspired by tower defense games. Players must prevent monsters from reaching exit points using automatic turrets that can cause elemental reactions.
However, it appears that miHoYo has added a new mechanic called Fortune Sticks, which are cards that grant players powerful effects once purchased. Rewards for this event include the standard bundles of Primogems, Mora and character progression materials.
Lastly, the Lost Riches from early this year will be making a comeback. Players must use a Treasure-Hunting Seelie to find buried treasure around certain areas. All players have to do is search these areas and find all of the treasures hidden beneath them.
These treasure hunts will reward players with Mora, Primogems, Enhancement Crystals and XP Tomes. If enough treasure is collected, players will be able to choose one of four different Seelie companions as a reward, which includes a new Inazuma-themed electro-purple Seelie.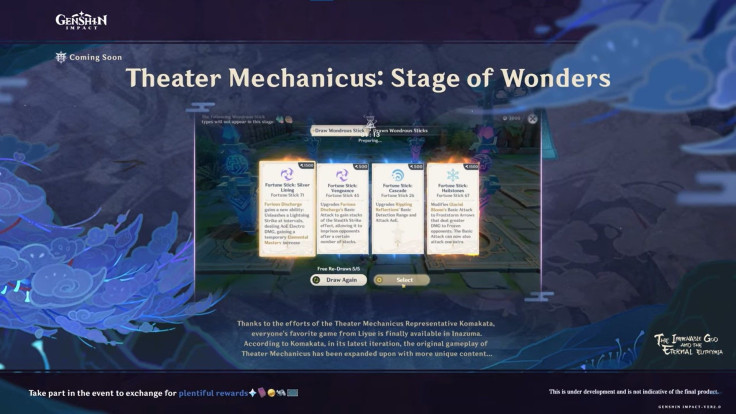 © Copyright IBTimes 2023. All rights reserved.