George W. Bush Completes Biography Of His Father, Book Out In November: Crown Publishers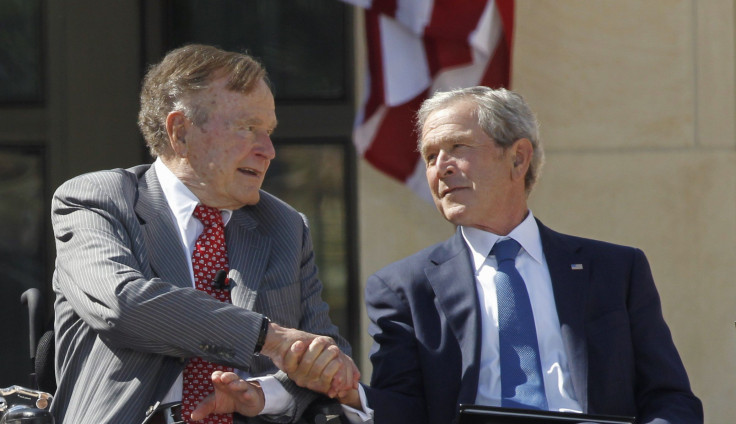 George W. Bush, the 43rd President of the United States, will release a biography of his father, George H.W. Bush, later this year.
The currently untitled book on the life and career of the 41st president will be released on Nov. 11, Crown Publishers told The Associated Press, or AP. The book will also reportedly cover the influence that the elder Bush had on his son's life, from his "childhood in West Texas to his early campaign trips with his father, and from his decision to go into politics to his own two-term presidency." Crown also published the younger Bush's 2010 best-selling memoir, "Decision Points."
"George H.W. Bush is a great servant, statesman, and father," the younger Bush said, in a statement issued by Crown, according to AP. "I loved writing the story of his life, and I hope others enjoy reading it."
Maya Mavjee, a Crown publisher, reportedly said in a statement, that the book will be "heartfelt, intimate, and illuminating."
"As the only father and son to each have served as President of the United States since John and John Quincy Adams, George H. W. Bush and George W. Bush occupy a unique position in history," Mavjee said, according to AP. "George W. Bush brings to vivid life his unique perspective of the personal qualities and principles that have animated George H. W. Bush's extraordinary life of service to country and family."
According to AP, the younger Bush thought of penning the story of his father's life in 2010, and began writing it in 2012.
The elder Bush, who turned 90 in June and reportedly celebrated it by making a tandem skydiving jump from a helicopter, has never written a memoir, unlike most other presidents.
The books he has authored include "All the Best: My Life in Letters and Other Writings" and "A World Transformed: The Collapse of the Soviet Empire, The Unification of Germany, Tiananmen Square, The Gulf War," which was written in collaboration with his former National Security Advisor Brent Scowcroft.
"Never before has a president told the story of his father, another president, through his own eyes and in his own words," Crown reportedly said, about the biography.
© Copyright IBTimes 2023. All rights reserved.