German Elections 2013: What You Need To Know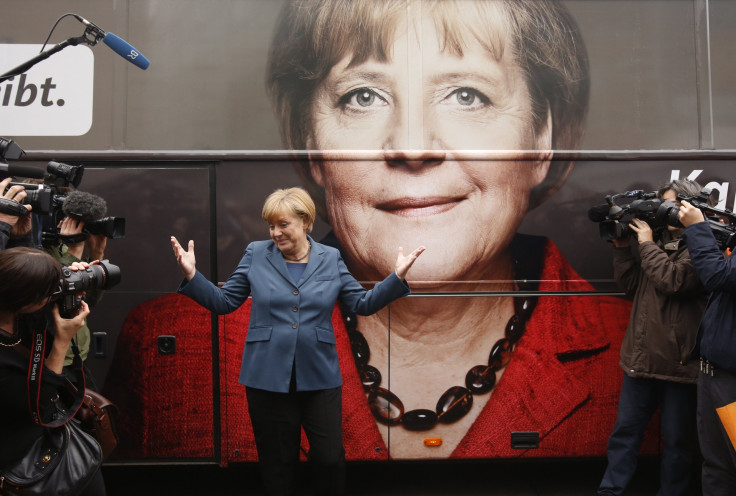 On Sunday, Germany votes in its first national elections since the euro zone debt crisis exploded in 2010. An uncertain election outcome and the urgent need for policy direction on a number of economic issues are keeping central bankers, politicians, businessmen and investors across Europe on the edge of their seats.
Chancellor Angela Merkel, who gained strong support by shielding her countrymen from much of the single currency bloc's debt-crisis pain, and her center-right Christian Democrats are seeking a third term after governing for four years in a coalition with the liberal Free Democratic Party (FDP), and from 2005 to 2009 in a grand coalition with the center-left Social Democrats.
Here are four things you need to know about the election:
Why does it matter? Germany is Europe's biggest economy and the main bailout creditor to struggling euro zone countries. Its 2.7 trillion-euro ($3.4 trillion) gross domestic product accounts for nearly 30 percent of euro zone output. So Germany's economic health is vital to the economic health of the region as a whole, as well as to the world.
Who's likely to win? Opinion polls continue to suggest that Germany's general elections remain a close call between a continuation of the current coalition government (Christian Democratic Union of Germany/Christian Social Union of Bavaria and Free Democratic Party) and a grand coalition between Merkel's conservative bloc and the Social Democratic Party.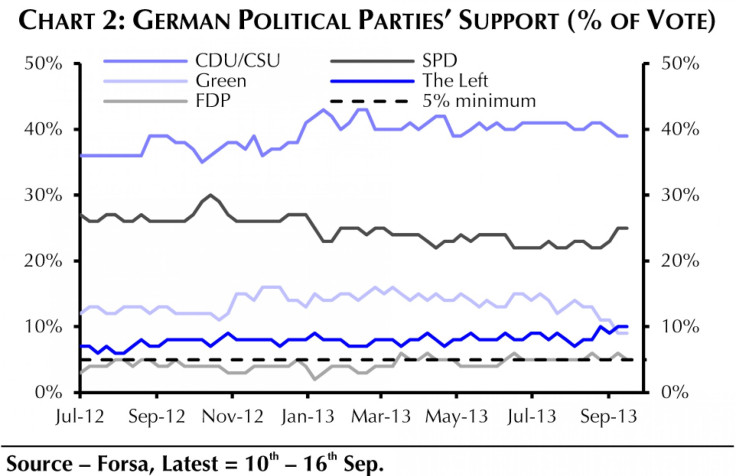 Exit polls will be published at 6 p.m. local time on Sept. 22, followed by first preliminary results around 20 to 30 minutes later. Although these first estimates in the past tended to paint an accurate picture of the final results, given the predicted neck-and-neck race, a reliable estimate might not be available until later in the night, according to Laurence Boone, the chief European economist at Bank of America Merrill Lynch.
Societe Generale analyst Anatoli Annenkov put high probabilities on the following outcomes: 1) Merkel will be a third-term chancellor; 2) the political landscape will be less stable after this election; 3) the economic challenges in Germany will put immediate pressure on the government; and 4) Chancellor Merkel is unlikely to move sufficiently on Europe, even in the medium term, providing policy uncertainty in Europe.
"While we do not expect Chancellor Merkel to move in any significant way on Europe, a grand coalition may possibly lead to a more open stance, which could yield faster progress on banking union and debt sustainability," Annenkov said in a note. "Domestically, however, there is a risk that a grand coalition is bogged down by ideological differences on important reforms needed in the fields of the labor and services markets, taxation and energy."
Issues the new government needs to address. The German economy is in a good shape -- enjoying record low unemployment as well as external and fiscal surpluses. Following the massive 5.1 percent drop in GDP in 2009, the German economy recovered rapidly and grew by 8 percent until last year. However, severe headwinds are emerging.
Among issues often cited: an aging population, rigid labor laws, struggling banks, weak investment and an energy policy that leaves Germans paying about 30 percent more for a kilowatt-hour of electricity than the euro zone average.
Germany already has the world's second-oldest population and one of the lowest birth rates in Europe, resulting in rapidly emerging labor shortages. Analysts warn that Germany's labor force could drop nearly 7 percent by 2025 without reform, resulting in potential growth of below 1 percent by the early 2020s. This could also put pressure on competitiveness through higher wages and inflation. While the main political parties all recognize the issues, tangible measures are notably absent in the parties' election programs.

In addition, Germany traditionally has a high level of regulation of services, such as craftsmen, due to consumer protection and quality control. However, it is also true that regulation can restrict market entry for new companies and hinder competition in a way that could reduce productivity.
According to the Organisation for Economic Co-operation and Development, Germany ranks 22 out of 27 OECD countries in terms of strict regulations in services sectors.
A gradual decline in its investment share is also not helping.
The German Institute for Economic Research (DIW Berlin) in a June report calculated that compared with the average development in the euro area (excluding Germany), Germany's investment gap amounts to around 80 billion euros per year, or some 3 percent of GDP, and that closing this gap could result in some 0.6 percentage points higher potential growth by 2017 (to 1.6 percent).
High savings have instead been used for international investments -- with large losses accumulating over the years (the DIW calculates that some 600 billion euros was lost since 2006, or 22 percent of GDP).
The new German government is re-evaluating the country's energy strategy. Energy costs for households and companies have risen over the past few years due to Germany's transition toward renewable energy.
Following the Fukushima nuclear disaster in Japan, Germany decided in 2011 to phase out remaining nuclear power plants by 2022. Without nuclear energy, the plans for reducing greenhouse gas emissions will require a faster expansion of relatively expensive renewable energy.
The transition has been more expensive than expected. But considering the resources that have been committed and developments already underway, analysts at Stratfor pointed out that Germany can't simply abandon the current strategy.
"With the cost of energy becoming an increasingly important factor for competitiveness, in an environment of weak global growth and constrained public finances, we expect the new German government to take urgent steps to clarify its position on the long-term objectives of Germany's energy policy," Annenkov said.
How will the election affect the euro? The German election has largely escaped the foreign exchange market's attention over the last several weeks. The U.S. Federal Reserve's policy meeting has been the key driver during this time.
This, together with a widespread presumption that Chancellor Merkel will remain at the helm, has kept the election largely on the market's back burner. "We do not think the outcome from the German election is likely to have much impact on the path of euro from here," Sarah Hewin, regional head of research for Europe with Standard Chartered, said in a note.
"We see a very high degree of policy continuity from the German side, although key ministerial posts are likely to be reshuffled. The more difficult call is predicting the behavior of key policymakers elsewhere," Hewin added.
© Copyright IBTimes 2023. All rights reserved.