Germany After The Berlin Wall: From Painful Reunification To Global Powerhouse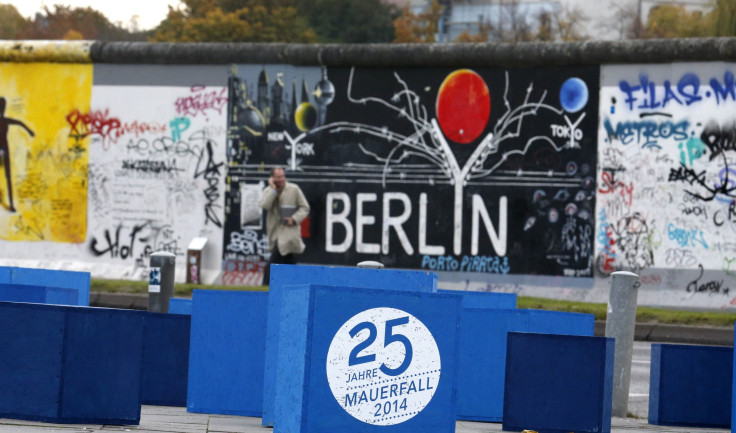 Twenty-five years after the fall of the Berlin Wall paved the way for a unified Germany, the country is a global powerhouse and the world's fourth-largest economy. This economic success story came in spite of the hefty cost of reuniting east and west, analysts say. But the painful measures taken over 20 years following unification also in part allowed Germany to assert its leadership role in the European Union after pulling through the 2008 global financial crisis relatively unscathed.
The price of unification was no small matter: At the time that the unification process began in 1990, East Germany had a per capita gross domestic product of around $11,800, while West Germany's stood at around $27,000. Chancellor Helmut Kohl, who led the reunification process, sought to bridge that divide by privatizing some East Germany's state-owned enterprises, resulting in the loss of 4 million jobs over five years, and instituting massive cash transfers from the richer western states to the east. Over the past 25 years, the former West Germany has bled out an estimated 2 trillion euros to the east in transfer payments.
"Trying to digest reunification in the 1990s provided quite a severe shock for Western Germany's economy, which basically had to shoulder the weight of reunification," said Alexander Privitera, director of the Business and Economics Program at the American Institute for Contemporary German Studies. "One can say that that shock clearly had a dampening effects on Germany's growth, and we're only coming out now of this unification shock. So it took about 20 years for the German economy to recover."
But Jeffrey Anderson, director of the BMW Center for German and European Studies at Georgetown University, said those hard economic choices also solidified German leaders' strong stance on fiscal responsibility -- which would put them at odds with their European neighbors in the years following the financial crisis. "Unification resulted very quickly in a massive increase in German public debt and deficits Germans were running. I think it certainly strengthened the resolve of the centrist parties that have dominated German politics over the years to find their way back as quickly as possible to what they consider to be fiscally responsible policies," he said.
Anderson added that prior to 1989, German leaders were hesitant to speak out on regional issues alone, without the support of a coalition or partners to join them. "It's fair to say that since unification, Germany's been more willing to take the lead on issues. The debate and discussion on austerity is an example of that."
But Germany's role as Europe's economic heavyweight is still muddled among criticisms that its austerity push is too overbearing on troubled Eurozone economies, and that it isn't providing strong enough leadership in the region. Observers have also taken note of Germany's discomfort in taking up the mantle of a global power in international affairs. "People thought [unification] would be the tipping point, and that we'd be seeing a much more muscular, independent, aggressive Germany. That hasn't happened," Anderson said. "Germany's remained firmly embedded in Western institutions; it does not throw its weight around anything like the way it did in the late 19th century, let alone the early 20th century."
Ulrich Speck, a visiting scholar at Carnegie Europe, put it more bluntly. "Germans are largely in denial about their country's global role," he wrote in an analysis on the organization's website. "They feel very comfortable staying on the sidelines. There is no ambition to lead -- quite the opposite. And Germany's foreign policy culture has remained rather weak and remains institutionally weak, despite the country's growing international role."
Military intervention is one particular area in which Germans have remained reticent. Notable incidents include its 2011 abstention from voting on the U.N. Security Council resolution to impose a no-fly zone over Libya and longtime hesitance on taking a stance on its response to the Syrian civil war.
However, in recent months Germany has begun to take more forceful stances on international crises, namely on Russian aggression in eastern Ukraine and the emergence of the Islamic State terrorist group in Iraq. Germany pushed for tightened sanctions against Russia after the shooting down of Malaysian Airlines Flight MH17 this summer, and last month, Berlin agreed to supply arms to Kurdish fighters in Iraq.
These assertive moves represent a surprising and potentially historic new shift in Germany's foreign policy, said Brookings senior fellow Constanze Stelzenmuller. "Germans were very cautious initially, as a result of habits of 40 years after [World War II] of whipping out their checkbook and saying the use of force is for other people. Those took a long time to overcome," she said. Now, she said, the Ukraine and ISIS crises are "forcing Germany to reconsider its policy of restraint and reluctance to engage in the more traditional kinds of power politics."
© Copyright IBTimes 2023. All rights reserved.
FOLLOW MORE IBT NEWS ON THE BELOW CHANNELS