Global Esports Organization Gen.G and Game Developer Nimble Neuron Launch Landmark Partnership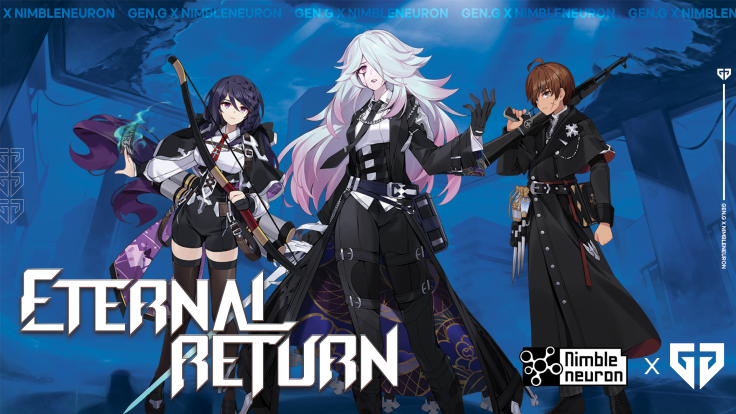 The partnership will launch with an Eternal Return World Kick-off experiential party at GDC 2022, followed by Creator and Collegiate Community Events through the end of the year, aimed at increasing user engagement and expanding the global market.
The partnership will officially kick off with an experiential announcement event on March 23 near this year's Game Developers Conference (GDC) in San Francisco. Influencers and event attendees will experience a projection mapped Tree of Life, Eternal Return-themed beverages, and music spun by Bay area DJs Miles Medina and musubi. This party is the first in a series of live events through the end of the year, including activations at Dreamhack and PAX East. Nimble Neuron and Gen.G will also be working together to enrich the vibrant Eternal Return community in Korea, starting with a community play event held at Gen.G's Seoul-based PC Cafe. Event attendees will have a chance to play with their favorite Eternal Return streamers and receive exclusive gift packages and in-game coupons.
Making appearances at these live events will be members of the Eternal Return stream team. The stream team is headlined by internet personality and musician Lily "LilyPichu" Ki, G4TV host and content creator Ovilee May, former Overwatch Pro turned variety streamer Jin-Woo "9ambler" Heo, and also includes current Gen.G creators Nicki Taylor, SupCaitlin, and Yeji.
Nam Seok Kim, CEO Nimble Neuron answered some questions from IBTimes about their partnership, Eternal Return and the future of the global gaming market.
What was the motivation around partnering specifically with an organization like Gen.G?
Excellent global brand awareness, impeccable marketing capabilities, and amazing esports infrastructure - all of the qualities that Gen. G have were enough to convince us that they were the ideal partner to provide an excellent gaming experience for our global community, while dipping into the esports scene as well. We have a lot of shared vision about the gaming and esports space, so everything started to click, and here we are with a first of its kind global partnership!
What can players and fans of the game expect in the next year?
This year, we will focus first on improving the overall game experience. As we move into next year, our fans can expect to see the expansion of Eternal Return's lifestyle culture, as well as experiencing the game as a true competitive esport.
What is the relationship between competitive esports and games like this?
Eternal Return is a MOBA based Battle Royale game that's all about competition. Competitive esports is therefore a must-go direction, and we hope that our discussions with Gen. G will provide viewers and players a great experience within the field.
But I believe Eternal Return is also great for casual gameplayers. You can either make a lunch bet playing duo or squad, or play solo so that you can become the strongest player in your community. We're working hard to try and provide a better gaming experience on a more casual level as well
Will we see any other games in the Nimble portfolio tapping into Gen.G global marketing strategies?
Discussions are just within the Eternal Return franchise (IP) for now, but anything is possible in our bright partnership development ahead of us.
We have seen other games such as League of Legends expand into original content with player backstories. Can we expect similar content in the future from Eternal Return characters?
Yes, we'd be lying if we said that we've never thought of such possibilities. Eternal Return has a fascinating universe with amazing characters. We're planning to expand our IP through maybe comics and novels or other forms as well!
Where do you see the global games market going in the next 3 years?
The game industry is going through fast and structural changes. The emergence of 'Web 3.0,' a player-centered game world, AI-driven game production, network changes, the attachment to virtual AI characters and the formation of their fandoms, the metaverse, indie games to AAA titles, a subscription economy… This will all eventually force game developers & publishers to compete against one another who can convey a better experience for their communities. However, despite all these drastic changes, games will always be evaluated based on how fun they are. I believe companies and teams that utilize the aforementioned structural changes will be recognized and eventually be loved. The way games are discovered, selected, played, and being shared is changing. We will continue to work hard to bring the changes and recreate them into an amazing experience for our gamers.