GM Teases Electric Chevy Silverado E Release While Ford Stops Taking F-150 Lightning Orders
As Ford (F) stopped taking orders for its electric F-150 Lightning truck, General Motors (GM) CEO Mary Barra teased the release of the all-electric Chevy Silverado E pickup, saying it would be "unmatched" against its rivals.
Barra's comments came Thursday at the Automotive Press Association meeting in Detroit and ahead of the Silverado E's release in 2023. The truck is expected to be unveiled at the CES technology conference in Las Vegas in January 2022.
She said at the event, according to CNBC, "I think when you see the timing that the Silverado will be available, and what that vehicle offers, I think [it] is unmatched. I think that's going to make a big difference."
Barra went on to say that the Silverado E will "educate people on what you can do with an electric truck when you have an electric truck platform."
The Ford F-150 Lightning truck is based on the automaker's current F-150 generation platform, which Barra seemed to criticize with the comment.
Ford has stopped taking orders for its Lightning model as it reached 200,000 reservations for the truck, which has a price tag of about $40,000.
"We are completely oversubscribed with our battery electric vehicles, Lightning especially," Ford CEO Jim Farley told "CNBC Investing Club: Jim Cramer's Game Plan for 2022," "We had to stop reservations. We got so many. We stopped at 200,000, and those are orders. Hard orders."
GM's release of the Silverado E comes well after several of its electric truck rivals will have already come to market with their pickup entries. Rivian's R1T truck will be available in January 2022, while Tesla will come to market with the Cybertruck in late 2022. Ford's Lightning will arrive by mid-2022.
Barra also addressed the chip shortage and its impact on the automaker's production schedule, saying she was "cautiously optimistic" about the situation, expecting the second half of 2022 to be better for supply.
"What you think about things like Omicron, I mean, we got hit pretty hard in September with Delta in Malaysia," she said at the Detroit meeting. "So, new variants are concerning to me, but we're still cautiously optimistic. I think things will continue to get better."
In Friday premarketing hours, shares of GM were trading at $60.11, up 49 cents, or 0.82%, while shares of Ford were trading at $19.76, up 19 cents, or 0.97% at the same time.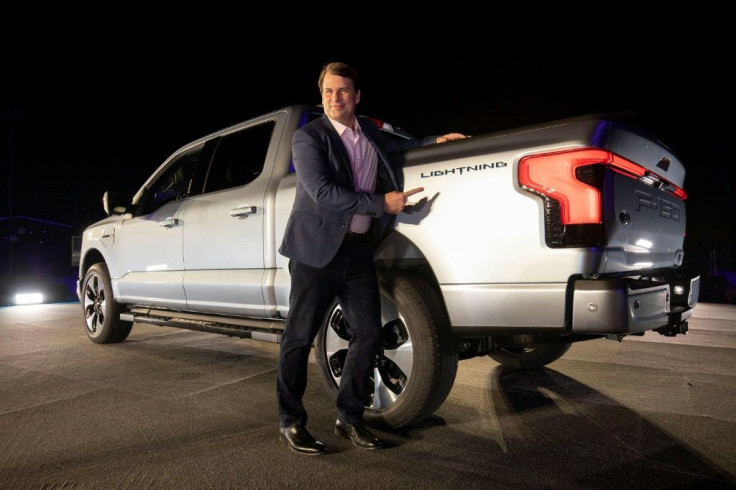 © Copyright IBTimes 2022. All rights reserved.
FOLLOW MORE IBT NEWS ON THE BELOW CHANNELS