Gold recoils from record on stock bounce, margin hike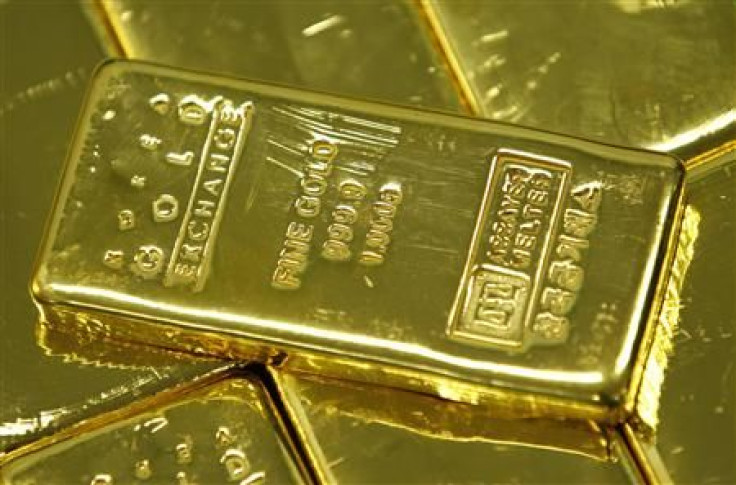 Gold recoiled after tapping a new record on Thursday, tumbling more than 2 percent as an equities rebound and higher trading margins fanned profit-taking from the biggest rally since 2008.
Prices fell by as much as $82 from a new overnight record of $1,813.79 in one of the biggest daily swings ever. Yet analysts showed no sign of revising their bullish view of gold, up nearly 20 percent since June as investors seek safe havens amid global debt crises and a darker economic outlook.
Concerns of a deepening European crisis and the possibility of distress among French banks were set aside on Thursday as equity investors took heart from a slight dip in weekly jobs data and upbeat Cisco earnings. .N But debt concerns were unlikely to disappear soon, analysts said.
Traders said steeper margin requirements also would not stop gold's long-term advance. Late on Wednesday, the CME Group Inc (CME.O) raised margin requirements for 100-ounce gold futures by 22 percent, the biggest rise in about 1-1/2 years and the first such rise since January.
"Once again, gold's decline is indicative of a sell-off of safe-haven assets, more of a risk-on type trade today," said David Meger, director of metals trading at commodity broker Vision Financial Markets in Chicago.
"The European sovereign debt issue is going to remain an ongoing issue, and the economy moving forward is concerning. All of the positive factors that have been supporting gold for the last several months are not dissipating. Inevitably, we view this as a pullback within an uptrend."
As Wall Street stocks extended an early rally to close nearly 5 percent higher, gold plunged to session lows. The spot price for bullion fell 1.7 percent to $1,763 an ounce by 4:44 p.m. EDT, reversing Wednesday's sharp gains. It recovered from a session low $1,732.10.
Gold futures fell 1.8 percent to settle at $1,749.90 an ounce.
The intraday trading range of over $80 an ounce was the third-widest in Reuters data going back to 1983. Tuesday's range was the sixth-biggest ever. Implied volatility for the biggest exchange-traded fund, the SPDR GLD .OVZ, pulled back slightly from Wednesday's 2-1/2-year high.
COMEX gold trading volume cooled after Tuesday's record-breaking 437,000 lots, with nearly 340,000 lots changing hands -- still 50 percent more than the 30-day average.
Heavy losses in the global stock markets have highlighted gold's appeal as a safe store of value. After a wobbly start, world shares rallied as U.S. markets firmed on relatively positive weekly jobs data and solid results from Cisco.
STOCKS BUOYED, GOLD SOLD
Investors were cashing in gains from a four-day rally that had boosted prices by nearly 9 percent. That run briefly carried into Thursday, but was cut short by news the CME would raise speculative margins to $5,500 per contract from $4,500, effective from the close on Thursday.
Gold was "overextended to an extent that requires a setback", said Ole Hansen, senior manager at Saxo Bank. "The CME has shown its hand, and given average daily price swings have moved toward 3 percent, a margin of 5,500 still seems too little, so we are expecting further hikes."
He said gold could fall toward $1,700 an ounce if this moves gathers pace, "considering how much hot money has come in over the last week".
Traders also noted that the 14-day Relative Strength Index (RSI) had surged to above 85 for the first time since last October, deep into overbought territory. It pulled back on Thursday to 71, at the top of its normal 30-70 band.
After days of whipsaw volatility that had catapulted gold deep into uncharted territory, some were struggling to call a market that had broken through a host of technical barriers.
After breaking two Fibonacci projection levels in its run-up to beyond the $1,800 milestone, the next best resistance mark may be its inflation-adjusted high of about $2,500, said Tom Pawlicki, an analyst at broker MF Global.
"It's a hard market to call, it's still kind of choppy," he said. "I'm looking toward what'll come out tomorrow in terms of U.S. retail sales and euro zone industrial production. Any strength there will turn the market lower, because it's only economic growth that will ease these debt problems."
Silver held up better than bullion, falling only 1.5 percent to $38.70 an ounce as it drew some benefit from equity gains that suggested a less-grim economic outlook.
© Copyright Thomson Reuters 2023. All rights reserved.