Google Announces An AI-Powered Smart Camera That Captures Clips On Its Own
Google announced a lot of new hardware during yesterday's press event, and it even unveiled its own little camera. Called the Google Clips, this tiny camera uses artificial intelligence to capture images based on what's happening in its view.
The Google Clips camera is small and square with rounded edges and it can fit the palm of people's hands. It also comes with a clip on the back so users can clip it onto things and even have users wear it on their clothes or pockets. The clip on the back also acts as a stand so users can simply place it on flat surfaces and let it do its own thing.
The Google Clips is equipped with a 130-degree lens and a 12-megapixel sensor. It's capable of capturing 15fps bursts of images and has 16GB of storage onboard, according to The Verge. The camera doesn't comes with a built-in microphone since it really is designed to take photos and create short video clips from its 15fps burst capture mode.
So how does Google Clips take photos? The boring way to do it is by pressing the button up front, while the real way is letting AI do it for you. Google says it comes with machine learning capabilities that lets the camera recognize people's faces. Machine learning is also responsible for taking clear shots by itself based on what's happening in its field of view.
The idea behind this is that Google Clips will be able to capture images that users are interested in. For example, it can recognize a family member entering the frame and it will take photos of that person automatically. Another example is with pets. Google Clips could capture a set of images if it recognizes a user's dog is playing in front of it and it will start taking photos by itself.
Google Clips also has the ability to automatically create short "motion photos" that are a few seconds long. These clips will sync wirelessly to the Google Clips app that's available for Android and iOS devices. Users will be able to swipe if they want to save or delete captured clips, or choose individual high-resolution still photos to save. Users also have the freedom to edit clips before sharing it on social media.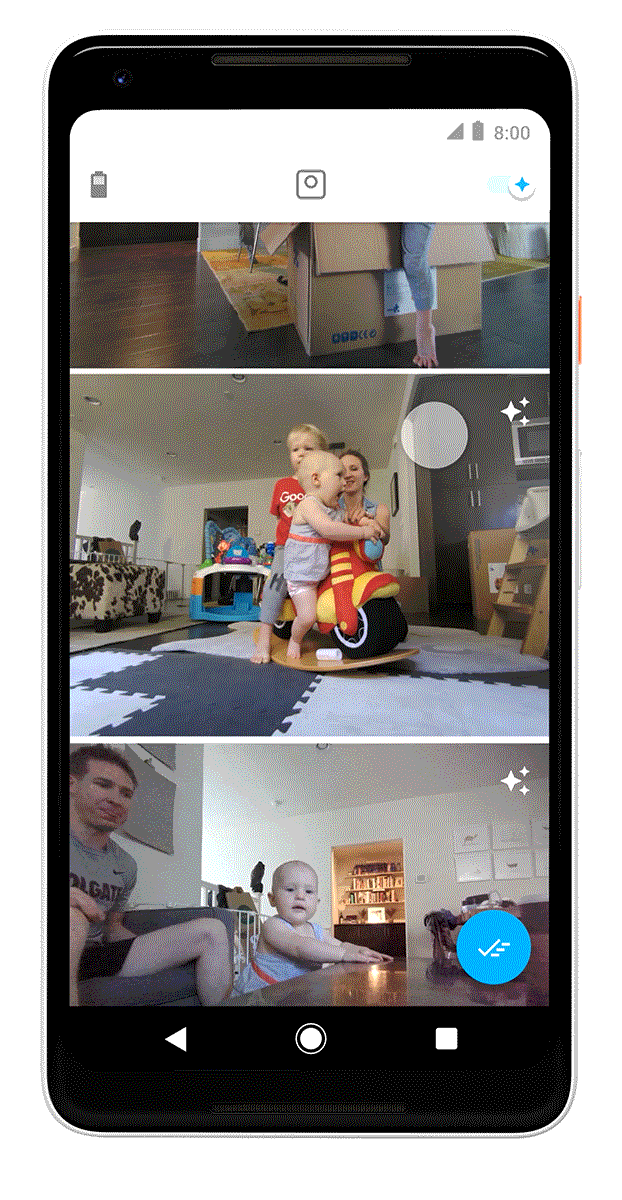 "t's an accessory to anything, I'd say. It's a stand-alone camera. A new type of camera and insofar as that any digital camera has become an accessory to a computer or a phone, so too with this," Google Clips product lead Juston Payne told TechCrunch. "The reason for that comes back to the fact that the intelligence is built into the device to decide when to take these shots, which is really important because it gives users total control over it."
Unlike Google's other AI-based services, Google Clips' intelligent features are all happening inside the tiny camera. No information will be sent to the cloud nor will the device heavily rely on a paired smartphone for processing power. There's also the question of privacy, which Google is taking very seriously with its new intelligent camera.
Google designed Clips to look very much like a camera and it has an LED light to indicate if it is capturing images. This lets people know that they are being recorded. It's also designed to be used at home with family, friends and pets. Again, the machine learning happens inside the camera itself and it doesn't have a built-in microphone.
Google Clips doesn't have a release date yet, but the company says that it will be available in the U.S. "soon" for $249. Google says it works best for Pixel phones, but it will also be compatible with Samsung's Galaxy S7 and S8, as well as Apple's iPhones (6 or newer).