Google Asks 'Who's Down' For A New Social Network? Kids Answer GroupMe, Facebook, Texts And Snapchat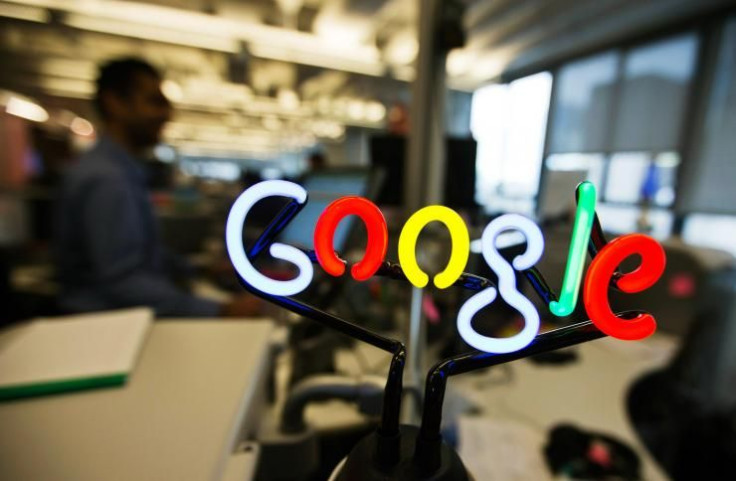 Google -- or what we may someday call Alphabet Inc. -- is once again trying its hand at social networking. This time, as with the ill-fated Google Plus, it's diving years late into a market already filled with players.
Called "Who's Down," Google's latest mobile app allows people to swipe right on a slider that will show if they are free and broadcast a status update. "Anyone down … " is automatically included and then you choose a "popular" phrase or type your own. Marketing art suggests "grab lunch?"; "workout?"; "watch a movie?" App users can see a feed of what their friends (added individually) have posted and then indicate interest.
Google's apparent target market: college students. The app is currently invite-only and registering requires listing a school name. Yet, students said they already have apps that serve that purpose.
"If I want to hang out with people I already know, I'll send a message to the group chat I already have on iMessage or GroupMe," said Ryan Lasker, a sophomore at George Washington University. "I don't think this meets any current market need in terms of hanging out with people who are currently friends."
"If you're friends with someone, you should be able to text them anyway," said Felix van der Vaart, a senior at Georgetown. "It doesn't appeal to me personally. So much [of] what I'm interested in doing depends on the person I'm with."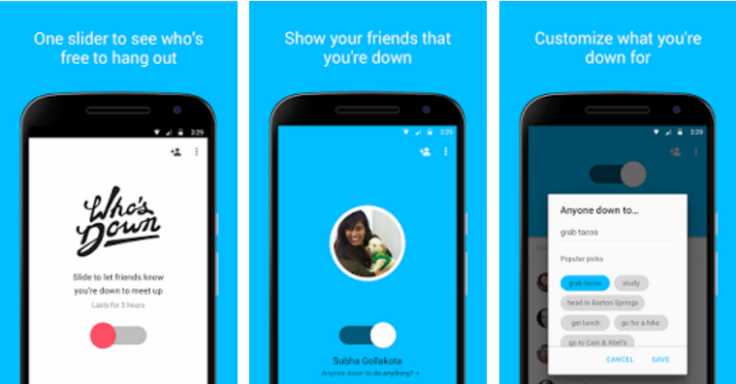 The concept of Who's Down is nothing new; many other single-use apps are nearly identical. "It's a really obvious idea. Most people interested in social have dreamed up some version of it," said Max Stoller, a programmer behind Red/Green, an app also about broadcasting availability. "I'm skeptical because the approach doesn't seem all that different from the many others that came and went before it."
Shortnotice was developed in 2013, marketed to college students and had 3,500 active users as of June) and Free launched this summer. There's also Foursquare's Swarm, Apple's Find My Friends and Facebook's Nearby Friends.
In fact, Facebook had a similar feature that integrated within the mobile app. A five-month test of "status updates" on the sidebar of the Facebook app concluded in the company turning it off (on Friday, coincidentally the same day of Who's Down's release). "We listened to feedback and learned a lot about how people want to use the sidebar to stay connected with friends," a Facebook spokesperson told the Verge.
Now, Who's Down is Google's answer and entry into the industry of impromptu planning. While Google could have acquired any number of startups in this space, the search giant instead dedicated about a year-and-a-half and a staff of about a dozen to the project, according to a source close to the company.
"I think they've seen the success of hyperlocal apps like Tinder, and there's Spotted in Germany," said Evan Danckwerth, an analyst at PrivCo, a research firm focused on privately held companies. "They want to build it in house so they have the knowledge. They can afford to do that. It's not integrated right now, but they could connect it to Gmail, Google Plus, across the system."
Rebranding Google's Social
If nothing else, the Google Plus experience showed how foreign the concept of social apps is to the search giant. The network launched in 2011, seven years after Facebook. "All this fanfare and then we developed something that in the end was quite ordinary," a former Google executive, who remained anonymous, told Mashable.
David Byttow, the tech lead behind Google+ and Wave who later co-founded anonymous messaging app Secret, echoed the company's confused direction. "At first it felt like a startup, which was great. But the vision and implementation wasn't strong enough of a differentiator," Byttow said.
Number of Active Social Media Users by Network | FindTheCompany
Google Plus tried to be all things to all people, but more recently Google has had success with single-purpose apps. Google executive Bradley Horowitz has led Google's new "Streams, Photos and Sharing" team since early 2015. "In that short time, I've had some time to reflect on the products we've built over the last few years," Horowitz wrote in a blog post where he announced no longer requiring Google+ to use other Google products. "I've concluded that it's time for a 'pivot' ... or more precisely time to talk more openly about a pivot that's been underway for some time."
Another single-use app within Google's new social initiative has proven quite successful so far. Google Photos reached 100 million monthly active users in October, about five months after it launched in May. The service allows users to backup and edit images.
However, Who's Down may not find the same engaged userbase. "I think Google is seeing the value in smaller social networks with niche use cases …. Social apps with singular functionalities can be very attractive to users because they tend to do one thing and do it well," Jan Rezab, chairman and founder of social analytics company Socialbakers. He highlighted Periscope and Foursquare.
Google's Who's Down does not tie into other networks, yet, and requires users to add people individually. "The big question is if Google can build a big social networking group from the bottom up," Rezab said.
College Students Aren't Down
Google's app asks "Who's Down?", and it seems that nobody's answering. The app has not launched to the public so there are no active user statistics. It has been tested among Googlers, a source close to the company says.
Colleges have been the takeoff point to several social networks including Facebook, Tinder and Yik Yak. Students are "willing to try new products and their unpredictable schedules (with class and extracurricular activities) encourage repeat usage," Kyle Wong, CEO of Pixlee, a visual marketing company, wrote in an email.
But students are not biting. "If you're looking to meet new people to hang out with, I guess this makes sense, but definitely seems unnatural," Lasker, the George Washington University student, said.
But the app is dedicated to people already within a user's network. "Instantly see which of your friends are free to hang out, right where you are," the app store description reads.
An app that does prompt meetings with new people -- like Tinder -- has taken off at some colleges. Friendsy allows for anonymous messaging other people in a college network. The app has received $700,000 in funding, led by Lerer Hippeau Ventures in New York, which has supported BuzzFeed and GroupMe, and Slow Ventures in San Francisco
"Friendsy is where you go to branch out of your social circle. That's different things for different people. We want people to take better advantage of the incredible network they have at school," cofounder Michael Pinsky told IBT in August.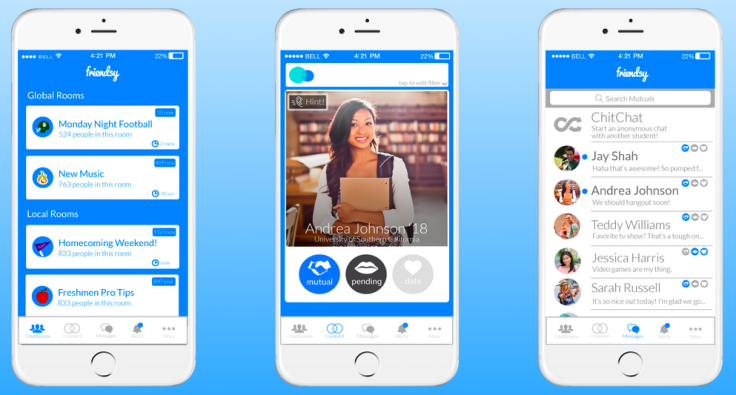 Google may be building its own network as well, building out an ecosystem of mobile apps for both iOS and Android. Indeed, mobile growth led the company's earnings for the third-quarter of 2015. Facebook has grown its product offerings for social beyond the standalone Facebook app, with Messenger, Instagram, WhatsApp and other experimental apps under the Facebook creative labs. "Google is using 'Who's Down' as a piece of its broader strategy to connect data across all devices," Wong wrote.
The idea of Google's intentions behind such a product had Georgetown student van der Vaart deterred to using it. "I don't really know how they'd monetize it," he said. "What concerned me is that it's another way to get more of our personal data for what we're doing."
FOR FREE to continue reading
✔️ Unlock the full content of International Business Times UK for free
offer available for a limited time only
✔️ Easily manage your Newsletters subscriptions and save your favourite articles
✔️ No payment method required
Already have an account?
Log in
© Copyright IBTimes 2023. All rights reserved.