Tinder-For-College App Friendsy Helps 100,000 Students Hook Up, Friend Or Date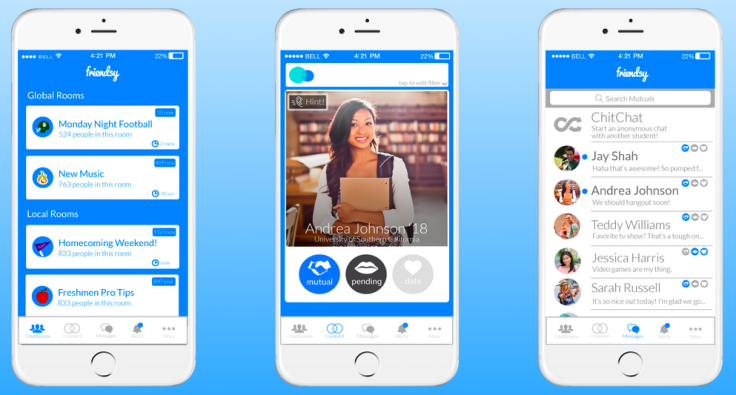 With school back in session, Friendsy is pushing forward in its quest to be the next social network -- embraced first by college campuses. Launched by two Princeton University students as a site in 2013, Friendsy has secured $500,000 in new financing and reported updated user numbers and interactions on its mobile app, the company announced Tuesday.
Friendsy, which launched as an app in March, makes the system available to anyone with an active college-affiliated (.edu) email address. The app has since attracted more than 100,000 users who have experienced about 750,000 mutual matches, Friendsy reported. Cofounder Michael Pinsky told International Business Times that the user base extends across 200 college campuses and has a "fairly even" male-female ratio.
"It's typically very hard for social apps and particularly in the pace of making new connections with a romantic edge to keep the numbers even," Pinsky said. "We try to maintain that Friendsy's a really positive space to everybody."
While mimicking the photo-heavy style and swiping style of Tinder -- the "golden child" of the hookup app boom -- Friendsy differs in how and why users can match. Instead of simply swiping left to reject or right to accept as you do on Tinder, Friendsy users can choose from three buttons: friend, hookup or date. Users can also chat anonymously and later choose to reveal their identities.
Down With Tinder?
"While it's nice to think that all of us are using apps to become lifelong friends or lovers who sit around campfires singing the alma mater, it's impossible to deny that some use these online mediums to facilitate purely sexual encounters," Dartmouth student Luke McCann wrote in a column titled "It's Going Down (I'm Yelling Tinder)" for the university's daily newspaper in January 2014.
The student wrote that he knew of at least one couple who had met on Friendsy. App interactions on Dartmouth's campus were divided between 28 percent for "friends," 13 percent for "hookups" and 15 percent for "date," a Dartmouth campus representative reported in January 2014.
The app first launched at Princeton, moved to Dartmouth and then expanded to 40 different college campuses during the first test. In March 2015, Friendsy opened to all campuses in the United States.
Friendsy also extends beyond one-on-one connections and boasts chat rooms, such as "Monday Night Football" or "Freshmen Pro Tips." Friendsy users can participate in and create their own network on a global or per-school level. Messages are sent anonymously, similar to chat app Yik Yak.
The Yik Yak Model
Friendsy's growth follows a trajectory similar to that of Yik Yak, and cofounder Pinsky is not shy about admitting it. Yik Yak, launched in 2013, first expanded to 40 campuses as well and has since grown to more than 2 million users, as of January 2015. Yik Yak's rapid rise was, in part, fueled by a widespread campus representative program. Supported by new financing, Friendsy has grown its campus programs and will have about 100 paid representatives on college campuses this fall.
"We're hoping we can lean on this campus reps program, and they can help us grow incredibly," Pinsky said. "We're kind of following what Yik Yak did a year ago. We're about exactly a year removed from what they've done."
On the other hand, Friendsy hopes not to inspire the controversy the befell Yik Yak. The app was banned at several high schools and colleges, including Utica College, after abusive and racially offensive posts were discovered. In April 2015, police arrested a Virginia Tech student for making a threat made via the app.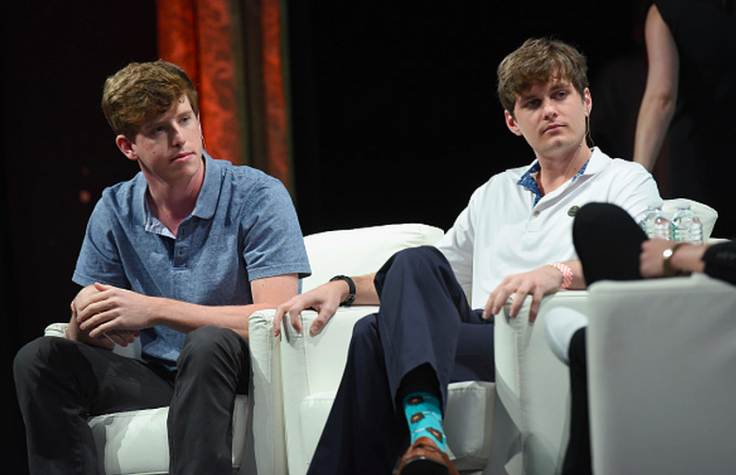 "Safety is the very core of our values. We work to make sure that Friendsy is the safe and friendly and happy place for students," Pinsky said. "We have the reporting tools and moderating team to make it so that you don't have a negative experience."
Sound Familiar, Zuckerberg?
Cofounders Pinsky and Vaidhy Murti graduated from Princeton in May and have since moved to New York City. Over the summer, the two -- along with a team of 13 -- worked to reiterate the app and carve out a marketing strategy for the fall. While many previously full-time workers will be returning to campus, Pinsky and Murti will continue overseeing the project from a coworking space in the city.
The new financing round totals up to $700,000 and was pulled from two investment firms: Lerer Hippeau Ventures based in New York, which has supported BuzzFeed and GroupMe, and Slow Ventures in San Francisco, which was founded by early Facebook executives Dave Morin and Kevin Colleran and has funded Hinge, another Tinder competitor.
"We have been incredibly impressed by Vaidhy and Michael's ability to quickly build a lightweight social network that so many college students love and trust -- all from their dorm room," Taylor Greene, a partner at Lerer Hippeau Ventures, said in a statement.
Sound familiar? Like Yik Yak, Tinder and Snapchat, social networking giant Facebook also received its greatest marketing push on college campuses. Friendsy seems to not only latch onto that active community but also improve the college experience, bolstered by new connections and experiences.
"Friendsy is where you go to branch out of your social circle. That's different things for different people. We want people to take better advantage of the incredible network they have at school," Pinsky said.
© Copyright IBTimes 2022. All rights reserved.
FOLLOW MORE IBT NEWS ON THE BELOW CHANNELS