Google Pixel C 10.2-inch Android Tablet: Release Date, Specs, Price For iPad Pro, Surface Pro Rival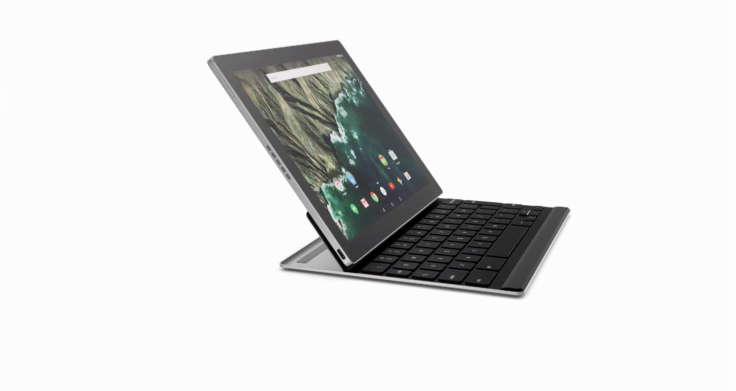 Google took the wraps Tuesday off the Pixel C, the first Android tablet built end to end by Google and a strong Android-based competitor to the iPad. The 10.2-inch display has a square root of 2 aspect ratio, the same as a typical A4 sheet of paper, and the company has developed a keyboard attachment with fully adjustable display angles.
The search giant launched the device at an event in San Francisco, where it unveiled a number of other gadgets and services, including the Nexus 5X and Nexus 6P.
The keyboard will attach to the back of the device and automatically charges inductively when closed, operating wirelessly via Bluetooth during normal use. The keyboard has a 1.4mm deep key travel, making it ideal for long writing sessions.
Google stresses that the Pixel C is not replacing the Chromebook Pixel. Instead, following the Apple path, Google is betting that customers want both tablets and laptops. The Pixel C will also go up against Microsoft's coming Surface Pro 4 in the notebook replacement market.
The tablet is no slouch, with an Nvidia Tegra X1, Maxwell desktop-class GPU and 3GB of RAM. The device has speakers on either side and four microphones for speaking voice commands from across the room. The screen has a 2560 x 1800 resolution, capable of 500 nits brightness.
Google has also solidified its commitment to USB-C with the Pixel C, noting its role in the USB Implementers Forum in developing the connector over two years. The Pixel C will use the same charger as several other devices on the market, like the OnePlus 2.
But what is the difference between Pixel and Nexus at this point? Google states that Pixel devices, unlike Nexus devices that are built with third-party hardware partners, are built and designed entirely by Google.
The Pixel C is due for release "in time for the holidays," priced at $499 for 32GB and $599 for 64GB. The keyboard accessory will sell for $149.
© Copyright IBTimes 2023. All rights reserved.