Google's Amazon River 'Street View' Allows For Virtual Tours [PHOTOS & VIDEOS]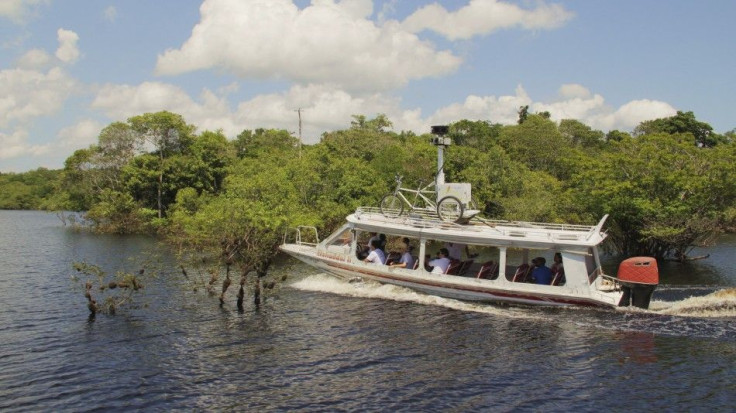 Each day the world gets a little smaller as Google Street View takes us to far off corners of forgotten lands. A few weeks back, it was the Great Barrier Reef. Now, it's the world's largest river, the Amazon.
Google launched its Street View tour of the Amazon Basin on Wednesday in honor of the 2012 World Forest Day. The amazing imagery is available inside of Google Earth as well so long as you have version six.
The search giant was granted special permission to capture areas that are protected by the Brazilian government, so even if you've traveled to the region before, there are areas in Street View that you'd never be allowed to see in person.
Members of Google's Brazil and U.S. Street View and Google Earth Outreach teams collected the ground-level images of the rivers, forests, and communities in the Rio Negro Reserve in August 2011.
The team amassed imagery of the Rio Negro, an Amazon Forest trail, and five river communities in the reserve area near Manaus, the most populous city in the Amazon. The result, which can be explored by clicking the link below, is a stitching together of more than 50,000 still images over a 30-mile stretch of land.
More Virtual Adventures:
World's First 3-D Travel Portal Allows You to Climb Everest from Home
Great Barrier Reef Goes Online With Google Help [PHOTOS & VIDEO]
Museum of Me: A Virtual Museum for Narcissists?
The project was made possible in partnership with Amazonas Sustainable Foundation (FAS), a local nonprofit conservation organization that invited Google into the area.
We are training employees of the Amazonas Sustainable Foundation as well as well as local community members and will be leaving the equipment with them so that they can continue to share their point of view with the world and continue to collect data that they would like to see online as well, Google geo data strategist Karin Tuxen-Bettman said in an accompanying video.
Google has an amazing vision to bring the world and all of its diversity and its beauty to its global online audience through Google Maps and Google Earth, Tuxen-Bettman added. This is one amazing project that helps to do that.
Google used a bicycle-based camera system known as a trike to capture the astounding images, mounting it onto a boat to explore the Rio Negro. Across the globe, a similar trike is busy combing the waters of the Great Barrier Reef for the SeaView project, which was announced in February.
Highlights of the Amazon adventure include the small tributaries of the flooded forest, the paths of the reserve's largest community, Tumbira, an area where Brazil nuts are harvested, and a certain camera-loving forest creature.
Begin your journey down the Amazon here.
© Copyright IBTimes 2023. All rights reserved.