Government Shutdown 2013: House Vote Dead After Rules Committee Meeting On New Budget Plan Postponed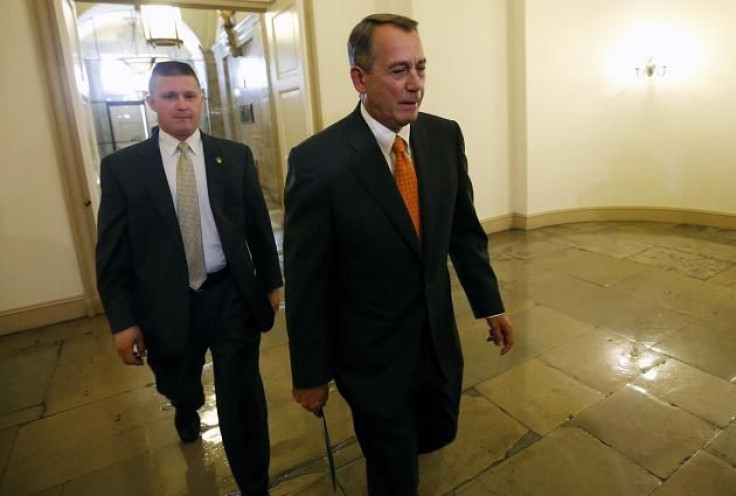 Update 10:45 a.m. EDT: A Republican senator said the bipartisan deal to re-open the government and raise the debt ceiling - averting a default - has been completed, AP Digital News reported Wednesday.
Update 10:15 a.m. EDT: In a sudden change, the U.S. House will vote first on the bipartisan Senate bill crafted by McConnell and Reid, Politico.com reported Wednesday.
The upside of that strategy is that it would expedite the bill's passage - if the lower chamber approves the bill.
The downside is that if the House fails to approve the bill - that defeat, even if temporary - may delay the formulation of a revised bill, with little time to spare; a House defeat also may send a mini-shockwave through U.S./global financial markets.
Update 9:20 a.m. EDT: McConnell and Reid are finalizing a new deal to avert a U.S. debt default, Politico reported Wedneday morning. The deal is essentially done, sources said, the two leaders finishing a draft of legislative language late Tuesday night. First up would be the Senate, and if that goes well, the bill will be sent to the notorious, Tea Party-dominated House, where Sepaker Boehner has struggled to craft a majority to pass any debt ceiling legislation among his GOP caucus.
Further, so far Boehner has been unwilling to bring a bill to the House floor without the support of a majority of Republicans, the party that controls the chamber. However, Boehner may feel pressure to do so - i.e. recruit 25 or 30 Republicans to vote for the bill, and combine that with Democrats - as he did during the fiscal cliff vote, earlier this year; the alternative could very well be a U.S. debt default.
Update 7:20 a.m. EDT: The Speaker's office told Senate Majority Leader Harry Reid's office late Tuesday that it would be willing to send them a "message" so that the procedural process to speed a debt limit increase and government funding bill to the House quicker, Salon.com reported.
A message is a legislative tactic that would allow the Senate to skip one cloture vote.
This would limit a senator - should he/she want to extend the bill's debate - to only 30 hours of debate.
The U.S. government will exhaust its borrowing authority on Thursday Oct. 17, the U.S. Treasury Department has underscoed.
Update as of 9:45 p.m. EDT: Shortly after Republican House leaders canceled plans for a Tuesday night vote, the two top figures in the Senate rebooted their own talks aimed at putting an end to the U.S. budget standoff, CNN reports.
Spokesmen for Democratic Sen. Harry Reid and Republican Sen. Mitch McConnell said that they restarted negotiations aimed at creating legislation that would fully reopen the government and raise the debt ceiling.
"Sen. Reid and Sen. McConnell ... are optimistic that an agreement is within reach," said Adam Jentleson, a spokesman for Reid, according to CNN.
Senate staffers were working through Tuesday night drafting a framework bill, yet no announcement was expected before Wednesday, McConnell spokesman Don Stewart said.
Original story:
House Republicans have indefinitely postponed a planned Rules Committee hearing on a new budget plan, one that they hoped to put to a vote Tuesday night in an effort to end the government shutdown.
"No votes tonight. We'll see you in the morning," House Majority Leader Eric Cantor told CNN as he left the Capitol.
The decision sends the partial shutdown of the federal government to a 16th day. Cantor, R-Va., didn't answer questions about what may occur next.
According to Politico, House Democrats would have voted unanimously against the plan, which means that Speaker of the House John Boehner (R-Ohio), Majority Leader Eric Cantor (R-Va.) and Majority Whip Kevin McCarthy (R-Calif.) needed 217 GOP votes to pass the bill.
Key conservative groups like Heritage Action for America came out against the plan, effectively killing any chance of a full vote tonight.
There are just two days left until the Oct. 17 deadline when the U.S. government will have reached its spending limit, resulting in a debt-ceiling breach, Slate points out.
The proposed plan would delay Obamacare's medical device tax for two years and require verification of income in order to get Obamacare subsidies, Politico said. The GOP bill would also cancel health insurance subsidies for members of Congress and the President's administration.
"If the president and Senate Democrats are going to force the American people to live under ObamaCare, then they and all Washington leaders should not be shielded from the law," one GOP aide said, according to Fox News.
The new budget plan would reportedly fund the government through Dec. 15 and raise the debt ceiling through Feb. 7. Democrats rejected it. "To say, 'absolutely categorically not, we will not consider what the Republicans in the House of Representatives are doing,' in my view, is piling on," Sen. John McCain, R-Ariz., stated. "Let's sit down and work this out."
White House spokeswoman Amy Brundage called the plan a "partisan attempt to appease a small group of Tea Party Republicans who forced the government shutdown in the first place."
© Copyright IBTimes 2023. All rights reserved.