Grammy Awards 2012: Bruce Springsteen Opens Show, Closes with Paul McCartney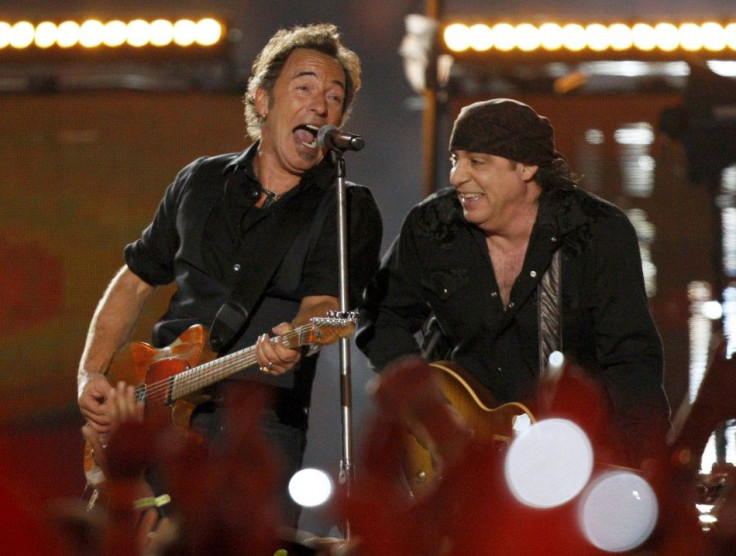 Though the 54th annual Grammy Awards show was shadowed by the untimely death of Whitney Houston, the celebratory nature of the gathering managed to shine through thanks to the living greats that have gone on to survive Ms. Houston.
There's no way around it, said LL Cool J, host of the 54th Grammy Awards, at the beginning of the show. We've had a death in our family.
After a short monologue, LL Cool J led the audience and all of those watching at home through a prayer. Then, he promised that the night would be filled with proper remembrance and a celebration of the universal language -- music.
The night lived up to LL Cool J's promise. Several classic rock stars from the 1960s and 1970s made appearances throughout the show including Bruce Springsteen.
Springsteen opened the show with a song from his forthcoming album called We Take Care of Our Own. His wiley performance was enough to get Sir Paul McCartney out of his seat and clapping.
That wouldn't be the last time we'd see the two share a moment. In the final minutes of the show, when Paul McCartney was playing Golden Slumbers, Springsteen joined McCartney and several others including Dave Grohl from the Foo Fighters for a final sendoff. The musicians took turns soloing as McCartney led them through a short jamming session.
Springsteen and the rest of the old-timers proved that among the rising stars with pristine voices and new technologies to aid their shortcomings, the song remains the same for the aging men of classic rock.
© Copyright IBTimes 2023. All rights reserved.
FOLLOW MORE IBT NEWS ON THE BELOW CHANNELS