Greek Debt Crisis: Polls Show Sunday's Referendum Vote Could Be Close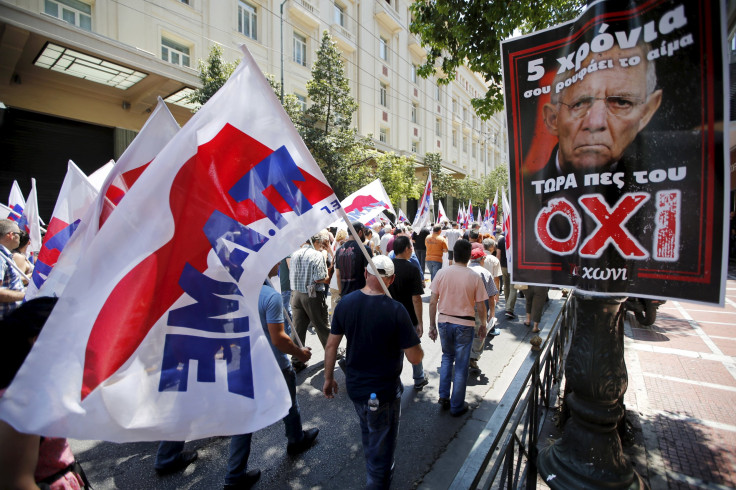 UPDATE 1:48 p.m. ET:
Reports have filtered in of protesters chanting for a "no" vote clashing with police using tear gas in Athens' Syntagma Square. Prime Minister Tsipras is supposed to address the crowd at 2 p.m. ET.
A live stream of the square can be seen below:
UPDATE 12:21 p.m. ET:
The Council of State rejected an appeal to cancel the referendum, meaning the vote will go ahead, according to the Associated Press. Greece's top court was charged with deciding if Sunday's vote was legal and if it breached the constitution.
Original story below:
A couple of days before the Greek people vote in an important referendum that could decide the fate of a country mired in a debt crisis, polls pointed to an extremely tight race. The vote Sunday basically will decide whether Greece is to accept or reject bailout terms offered by its creditors, with the nation now in default on a $1.73 billion payment to the International Monetary Fund (IMF), making it the first developed nation ever to default on an IMF payment.
Campaigning by those on either side of the debate -- "yes" for acceptance or "no" for rejection -- has reached a fever pitch. European Union leaders have warned that if the Greeks vote "no," then their country may depart the eurozone and its euro currency. Greece's Prime Minister Alexis Tsipras and his leftist ruling party want a "no" vote so the country can reach a "better agreement" with creditors, according to BBC News. Tsipras amped up the rhetoric Friday, telling voters to reject "blackmail" in the referendum vote, BBC News reported. He urged voters to ignore the "sirens of scaremongering."
The latest data show the vote could swing in either direction, with the two sides almost even. Published in Greece's Ethnos newspaper Friday, a poll recorded support for the "yes" vote at 44.8 percent and for the "no" vote at 43.4 percent. The difference is well within the reported margin error of plus or minus 3.1 percentage points. Meanwhile, 11.8 percent of poll respondents said they were undecided. The poll also showed 74 percent of people wanted to stay in the eurozone, with just 15 percent wanting to return to a national currency.
The Greek economy has been in a bind since funds dried up after the missed IMF payment Tuesday. Banks have been closed, and ATM cash withdrawals have been limited.
In pushing for a "no" vote, Tsipras has criticized the bailout terms offered by creditors as too harsh, with the prime minister especially unhappy that they do not provide any debt relief, according to the Guardian in the U.K. But others have suggested a "yes" vote would bring last-minute economic relief to Greece and permit the country to stay in the 19-nation monetary union using the euro.
There is still a chance the referendum could be suspended. All campaigning aside, Greece's top administrative court -- the Council of State -- is set to rule whether Sunday's vote is constitutional or legal, BBC News said.
© Copyright IBTimes 2023. All rights reserved.
FOLLOW MORE IBT NEWS ON THE BELOW CHANNELS