Greek Debt Crisis: Prime Minister Tsipras Urges 'No' Vote Before Debt Referendum Vote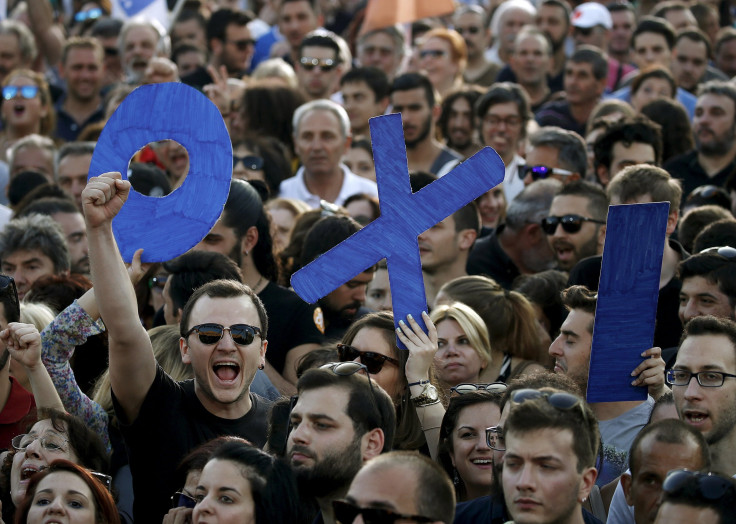 On Friday night, two days before Greece's referendum over whether the country should accept the bailout repayment terms of the International Monetary Fund (IMF) -- an issue that has divided the nation and the European Union (EU) -- Greek Prime Minister Alexis Tsipras addressed a massive crowd of supporters in Athens' central Syntagma (Constitution) Square in front of the Greek Parliament building. He urged a "no" vote, which amounts to a refusal of the austere terms of Greece's European creditors, led by Germany; this could potentially force the country to abandon the EU.
A few hundred meters away, supporters of "yes," or acceptance of the creditors' terms, held their own rally, headlined by the mayor of Athens.
Walking through the crowd in Syntagma Square amidst chants of "Oxi," Tsipras ascended the stage and declared that the referendum is about deciding whether to live with dignity in Europe or not.
"I call upon you to ignore the sirens, the scaremongering. Decide for Greece, proud Greece in a democratic Europe," said Tsipras to an ecstatic crowd, according to the Telegraph. "Greece is the cradle of civilization. We won't allow the technocrats of austerity to rape Europe again, and to take Europe away from us."
The 40-year-old prime minister from the radical left-wing Syriza party came to power as part of the popular anti-austerity movement. Many expect that a "yes" vote for Greece would lead to formation of a new unity government.
At the nearby "yes" rally, Athens Mayor George Kaminis criticized Tsipras and his government, saying "they say that they will reach a deal in 48 hours when no one is talking to them," reports the Guardian.
"Today we are not protesting. Today we are celebrating democracy. Today we are celebrating the victory of democracy, whatever the result is on Monday," Tsipras began. "Today all of Europe has its eyes on you, the Greek people, and on the 3 million impoverished Greeks. The whole planet has its eyes turned on Syntagma Square in the place where democracy was born."
Television channels in Greece did not relay the prime minister's speech in its entirety, according to the Guardian, since the nation's media has taken a firm stance supporting a "yes" vote.
The current crisis emerged after Greece missed a scheduled $1.73 billion rescue-program payment to the IMF on Tuesday, making it the first developed country ever to default on an IMF payment. The government then limited bank withdrawals in Greece in order to prevent a run on the banks, which are losing funds. Unemployment in Greece is currently hovering at 25.5 percent, according to Eurostat.
© Copyright IBTimes 2023. All rights reserved.