Greek Tourism Could Boost GDP To Historic Levels – At Least For a Brief, Fleeting Period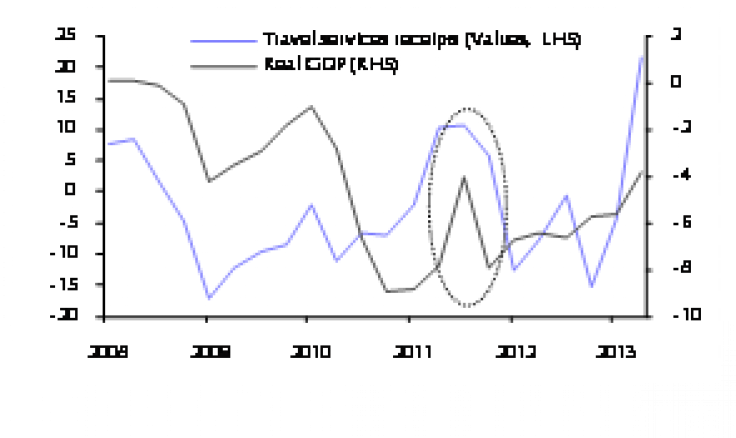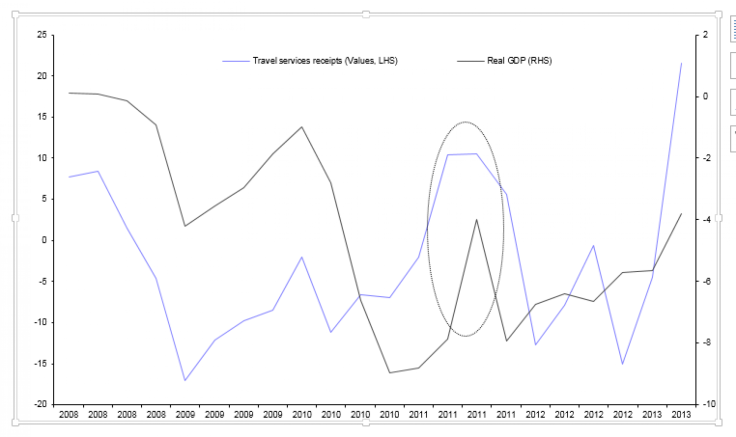 Tourists who visited Greece this summer may have blessed the ailing economy with the best gross domestic product growth figures it's seen in five years, if historical data is any measure, according to a research note from Capital Economics on Tuesday.

If tourists spend 20 percent more in the third quarter of this year, compared to Q3 2012, as seems likely, then annual GDP growth could rise by 4 percent.

"We think that the annual rate of GDP growth might be boosted by about 4 percentage points, leaving it around the zero mark – a five-year high," wrote Capital Economics economist Ben May in a note.

That would bring the Greek economy back, at least for a short time, to the happy days before yearly public deficits of more than 10 percent of GDP ran the government into a paralyzing debt crisis, from which it has struggled to emerge for several years.

So, May is quick to qualify: "Even if this is the case, we suspect that this will not mark the start of a sustained economy recovery."

May's argument depends on the fact that tourist spending in the second quarter usually tracks tourism spending in the third quarter, which includes the peak summer months.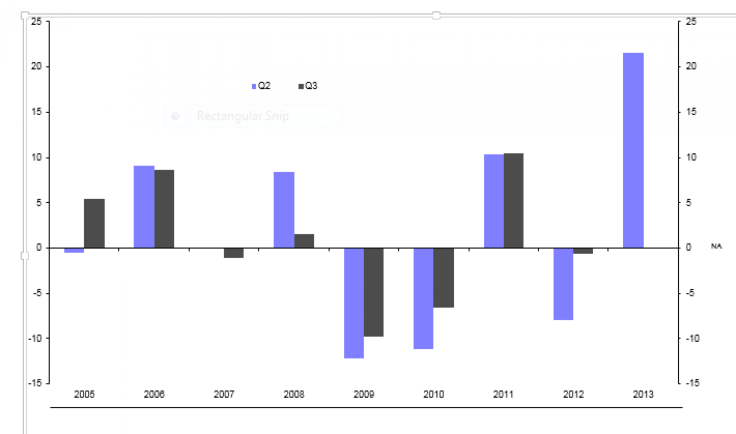 Since tourism spending in the second quarter was 21 percent higher than last year's, a similar boost for the third quarter augurs well for upcoming economic data.

But May told International Business Times that it could be another three months before the impact of Greek summer tourism on economic growth is fully known.

"It's difficult to say definitively how big any tourism boost will be until we have the Q3 GDP figures, which are a couple of months away," he said.

"But we'll certainly have an idea over the next couple of months, from various data," he continued, citing balance of payment data for July and August due in coming weeks.

For the second quarter, a strong tourism industry was a key factor in shifting annual GDP up 0.7 percent from the previous quarter, which already showed an encouraging move from -5.6 percent to -3.8 percent.

It's also likely that more visitors flocked to Greece this summer than last because uncertainties about Greece's place in the euro zone union have died down, May told IBTimes.

"There were obviously factors depressing visits to Greece last year," he said. "Now we're seeing that there's been a general pickup in tourism in southern Europe, which probably suggests a decline in numbers to Turkey and Egypt, because of problems in Libya, Egypt, Syria."

With a bad tourism year in 2012, and new value as an alternative destination from the turbulent Middle East, Greece may have seen a "double boost" in tourism this year, said May.

Still, the overall economic picture for Greece isn't cheerful.

According to official government statistics, the Greek economy contracted 3.8 percent in the second quarter of 2013, the 20th straight quarter of contraction. And with continuing weak exports, a weak labor market and tight credit conditions, depressed domestic spending is likely for 2013, said the Capital Economics note. The so-called troika of international lenders – the European Central Bank, the European Commission and the International Monetary Fund – has forecast economic contraction for Greece of 4.2 percent for the year.

May is also not optimistic about Greece's prospects for the overall year or for 2014.

Any bounce in GDP for the third quarter is likely to be reversed in the fourth quarter, he wrote, as happened in 2011. And he forecast 2 percent GDP contraction for 2014 overall, a more pessimistic take than the troika's projection of a 0.6 percent GDP growth in 2014.

"In other words, a tourism bonanza in Q3 won't alleviate Greece's need for further financial assistance," he wrote.

According to the World Travel and Tourism Council, tourism accounted for 16 percent of Greek GDP in 2012. That's the biggest dependency on tourism spending in 2012 among the so-called PIGS economies, which also include Portugal, Italy and Spain, according to council statistics.
FOR FREE to continue reading
✔️ Unlock the full content of International Business Times UK for free
offer available for a limited time only
✔️ Easily manage your Newsletters subscriptions and save your favourite articles
✔️ No payment method required
Already have an account?
Log in
© Copyright IBTimes 2023. All rights reserved.