Guatemala Ministers Resign After Impeachment Bid Against President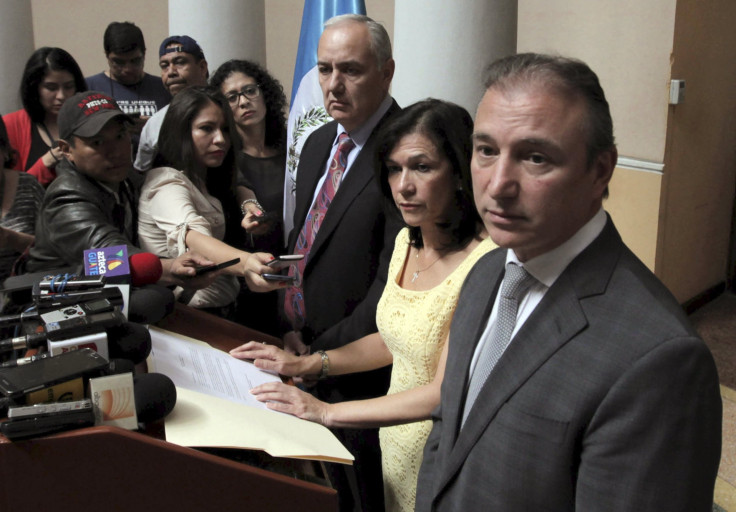 GUATEMALA CITY (Reuters) - The last remaining ministers of Guatemalan President Otto Perez's original cabinet said on Saturday they could no longer work in his government after prosecutors sought to impeach him for corruption, piling pressure on the head of state to resign.
Economy Minister Sergio de la Torre and Education Minister Cynthia del Aguila said they were standing down a day after the attorney general asked the Supreme Court for permission to prosecute Perez over a suspected customs racket.
"I took office without political affiliation. We're disappointed and cannot continue in our posts," de la Torre told a news conference in Guatemala City.
Asked whether Perez should resign, de la Torre said: "That is up to the president, it's not for us to answer this."
The president has denied any wrongdoing, but his position is in increasing jeopardy after prosecutors on Thursday also arrested his former vice president over the customs scandal and said they believed the 64-year-old Perez was in on the scam.
The impeachment bid follows months of corruption allegations against leading officials, which in May prompted Perez to fire several senior cabinet ministers. It also risks throwing the country's upcoming presidential elections into disarray.
Perez, a retired general who took office in 2012, cannot run for re-election by law, and his right-wing Patriot Party is way off the pace ahead of the first round of voting on Sept. 6.
If no candidate wins at least 50 percent of the vote, a second round run-off will be held on Oct. 25, though the new president will not take office until the start of next year.
If the Supreme Court grants Attorney General Thelma Aldana's request and Perez does not step down, Congress must still give its consent for the president to be impeached.
Juan Carlos Paiz, the president's competition commissioner, also announced his resignation at the news conference.
© Copyright Thomson Reuters 2023. All rights reserved.