Honduras And Guatemala Anti-Corruption Protests Spur Hope For Change For The First Time In Decades
The crowds gather on Fridays or Saturdays, bearing torches, national flags and protest signs along the main plazas and streets of Honduras and Guatemala's capitals. They shout slogans, lead long marches toward government buildings and circulate social media hashtags calling for their presidents to step down.
Anti-corruption protests have gripped Honduras and Guatemala in recent weeks, sparked by explosive revelations of bribery and graft schemes. Thousands have been taking to the streets weekly for three months now to demand an end to impunity, and there are no signs that the demonstrations will soon die down. The mass movements are an extraordinary sight for two countries that have long been beset by military rule, entrenched poverty, legacies of civil war and soaring rates of violence, and protesters are trying hard to ensure that a crucial moment for change does not go to waste.
"This is a really historic time in Central America," said Arturo Matute, a Guatemala-based analyst for the nonprofit International Crisis Group, headquartered in Belgium. "The question is whether this will really turn into a critical juncture in which society, civil organizations, the private sector and political parties can really come together in making the best out of this opportunity that's being presented to us to begin really cleaning up our state institutions."
Both countries struggle under the weight of high poverty rates, extreme inequality and some of the highest murder rates in the world, making the corruption issue that much more potent. Around 66.5 percent of Hondurans and 62.4 percent of Guatemalans live below the national poverty line, according to United Nations figures from 2012. Honduras was also at the top of the U.N.'s list of global homicide rates in 2013, with Guatemala in fifth place. Those conditions have spurred an exodus of migrants out of Central America through Mexico that prompted a humanitarian crisis at the southern U.S. border last year.
The United States is watching the protests closely as lawmakers consider a $675 million fund for Guatemala, Honduras and El Salvador to boost local economies and tamp down on corruption and crime in an effort to stem the northward migration flow. During a U.S. Senate Appropriations Committee meeting July 9, lawmakers recommended that $2 million of the fund be available to support a commission against impunity in Honduras if one is created, which has been one of the protesters' main demands. Sen. Patrick Leahy, D-Vt. has also spoken out in support of Guatemala's civil society movement, urging U.S. officials to "make clear that the United States unequivocally supports" its demands for transparency in the political system.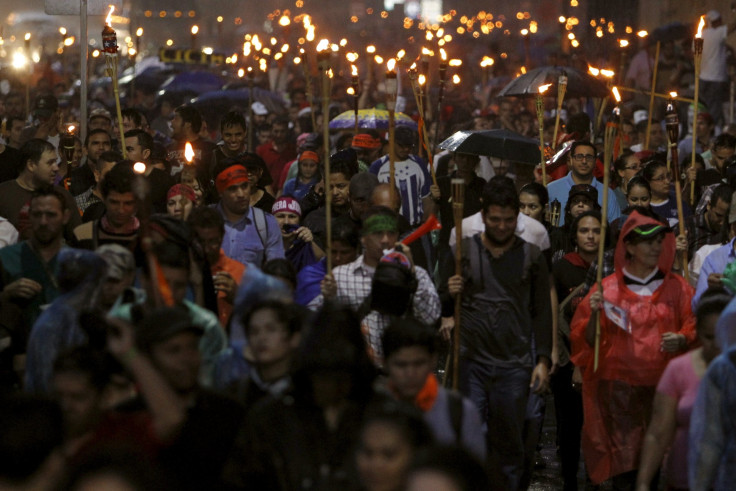 The massive protest turnout, led by educated, middle-class citizens, was largely unexpected, particularly in Guatemala, a country that suffered decades of military dictatorship and civil war and is considered to have a weak civil society. Past protests have usually risen up from indigenous or rural groups over labor or land rights, and failed to rouse urban support. Meanwhile, tensions have been simmering in Honduras ever since the controversial 2009 ouster of President Manuel Zelaya. Hondurans came out en masse at the time to protest the move, but the government placed strict restrictions on public dissent and cracked down on demonstrations.
But while many acknowledge the anti-corruption wave is an extraordinary phenomenon, there's reluctance to label it a "Central American Spring" or make any comparisons to the revolutionary movements that spread through the Middle East in 2011. "To describe it as a 'Central American Spring,' I would say that it would be maybe a bit too early to do so, although I think it's really important that people are coming together and going out to protest," Matute said.
Guatemala tumbled into a political crisis in April after a U.N.-backed investigative commission unveiled a widespread fraud scheme, known as "La Linea" (the Line), in which officials allegedly charged lower customs duties for select importers in exchange for kickbacks. President Otto Perez Molina has not been directly implicated, but the scandal has enveloped several high-level officials and snaked its way up to the vice president, Roxana Baldetti, who resigned in May while facing an impeachment vote. Other cases of malfeasance have come to light since then, including a health care contracts scheme for kidney treatments and a scathing report from the investigative commission detailing the infiltration of drug money and corruption in electoral finances.
Honduras was rocked by its own blockbuster revelations in May that a multimillion-dollar embezzlement scheme in the national social security administration had funneled money into President Juan Orlando Hernandez's political party. Under the scheme, officials allegedly marked up medicines and other goods and used the excess funds to live lavish lifestyles and give payouts to participating businesses. Hernandez acknowledged that his party received the funds, but has denied any knowledge of or involvement in the scheme. A separate scandal involving alleged fraud in the health ministry resulted in the arrest of the congressional vice president earlier this month.
Corruption allegations are nothing new in Honduran or Guatemalan politics. In Guatemala, ex-President Alfonso Portillo stood trial in 2011 on charges of embezzling funds from the ministry of defense during his presidency from 2000 to 2004, but was ultimately found not guilty by the courts. In Honduras, impunity is considered rampant, particularly among law enforcement. Nearly 80 percent of Hondurans consider corruption to be "common" or "very common," according to a 2014 Vanderbilt University survey. But the details of these latest schemes and their connections to the sitting presidents were the last straw for many citizens.
"We recognize that this has been happening for a long time now, just with different presidents. But [Hernandez] just went over the limit," said Fernanda López Aguilar, a coordinator for the Indignados in Honduras, a group that has been at the forefront of protests there. Guatemala's massive outcry against impunity also had a "great deal of influence" in inspiring Hondurans to take to the streets, she said.
Protesters are calling for criminal investigations and resignations of their respective presidents and for corrupt elements to be swept out of their political systems. In Honduras, demonstrators are demanding an independent, internationally backed commission against impunity similar to the one that brought Guatemala's scandals to light.
"It's 20 years of corruption that's finally giving into a breaking point," López said.
The anti-corruption protests have galvanized many who before saw few ways to express their dissatisfaction with the political system. For Martín Berganza, a law student at Guatemala's Universidad Rafael Landivar, the protests finally presented a real opportunity to help his country after witnessing years of endemic impunity. "It seemed to me like the country might finally go somewhere" with this protest movement, he said in an email. "I felt that it was the right time to participate, that I'd finally found something I believed in. I still do."
Protesters in both countries say there is some fear the momentum may dissipate as the weeks wear on, but thousands still show up to the weekly demonstrations. The numbers have stayed constant in Honduras, with around 20,000 participants in the most recent July 25 demonstration. Part of their appeal in Honduras is that the protests have become a social space in which groups of friends and even parents with children feel comfortable participating despite the country's chart-topping crime and murder rates, said Kurt Ver Beek, vice president of the Association for a More Just Society, the Honduran chapter of anti-corruption research group Transparency International. Honduras has a homicide rate of around 90 per 100,000 people, according to 2012 U.N. figures.
"People don't think it's dangerous, it's kind of a fun thing to do," he said.
Meanwhile, some of the supporters of Honduras' protest group, the Indignados, have been discussing ways the movement can become a standing civil society organization that can keep pressure on the government even after the marches die down, said Lopez, the Indignados coordinator.
Zelaya, the ousted former president of Honduras, has also come out in support of the protest movement, injecting a more partisan strain into the fray. But the uniting goal among disparate Honduran protest factions is still the creation of an independent committee to investigate malfeasance, modeled after Guatemala's. Honduran lawmakers are set to vote soon on whether to hold a referendum to create such a body.
Not everyone thinks an investigative commission is the sole answer, however. "Guatemala's [commission against impunity] is eight years old, and they have two very big, high-profile cases, but it took them eight years to get a vice president indicted," Ver Beek said. "Honduras needs answers right now."
Crowd sizes in Guatemala have declined from their peak of around 30,000 participants in May, but supporters say any new revelations could make the numbers surge again. The country is lurching toward a critical presidential election Sept. 6 that is continuing to fuel public pressure on the political system, particularly around a set of electoral reform laws that civil society groups are lobbying to pass. In the meantime, burgeoning student movements are looking to solidify their presence in the political sphere to hold accountable whoever takes up the presidential mantle next.
"Three months in, we've seen more people organizing into different groups and organizations," said Berganza, the Guatemalan student protester. "This is a fantastic development because whoever wins the general election in September will find it harder to govern in an authoritarian way, since he or she will be controlled by an organized citizenry."
Lopez, the Honduran protest coordinator, is also hopeful that the show of public support will continue snowballing into concrete change. "People are desperate and running to do whatever they can, whatever mobilization they can participate in, because any change would be welcome," she said. "It feels like it can't get any worse."
© Copyright IBTimes 2023. All rights reserved.
FOLLOW MORE IBT NEWS ON THE BELOW CHANNELS