Guo Guangchang, Billionaire Chairman of China's Fosun Group, Reported Missing Amid Speculation About Links To Anti-Corruption Campaign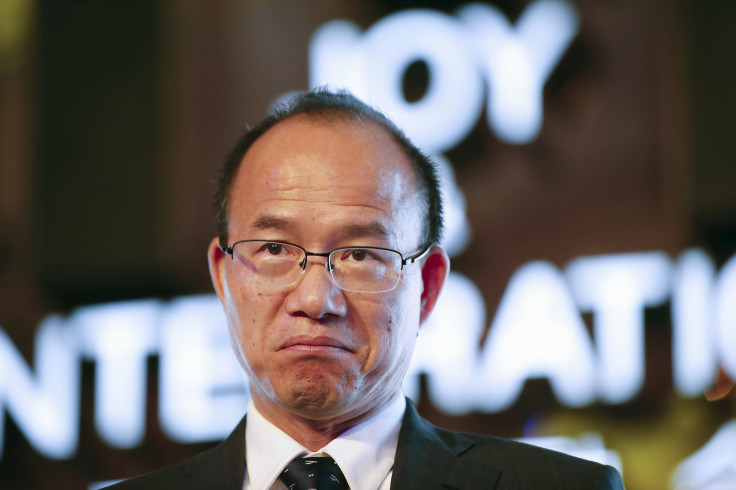 SHANGHAI -- Uncertainty surrounded the fate of one of China's most influential tycoons on Thursday -- following reports that he could not be contacted, and media speculation that his apparent disappearance could be connected to China's deepening anti-corruption investigation. Guo Guangchang, chairman of Shanghai-based Fosun Group, China's biggest privately held company, and one of the country's most influential investors, had not been seen since Wednesday afternoon, Chinese news magazine Caixin and several other media sources reported.
Fosun did not confirm the news, and calls to the company went unanswered on Thursday, but trading in its Hong Kong-listed companies Fosun International and Shanghai Fosun Pharmaceutical was suspended at the firms' request. The group said in a statement this was "pending the release of an announcement containing inside information," according to Hong Kong's South China Morning Post. Observers noted that the statement was signed by Fosun International CEO Liang Xinjun rather than Guo himself. Companies owned by Fosun listed in Shanghai also suspended trading in their shares.
Guo, 48, is China's 11th richest person, according to Forbes China Rich List 2015, with personal assets of $6.9 billion. Often called "China's Warren Buffett" for his aggressive and carefully planned investment strategy, Guo set up Fosun and began investing in pharmaceuticals soon after graduating from Shanghai's Fudan University in the early 1990s. Fosun later invested in the steel sector and real estate, both booming in China at the time. In recent years, Fosun has become one of the most internationally minded of Chinese companies, reportedly investing more than $25 billion since 2010. It has focused in particular on the insurance sector, with stakes in Portugal's largest insurer Fidelidade Group and U.S.-based Meadowbrook Insurance Group and Hong Kong-based Peak Reinsurance. Last month it completed the acquisition of U.S. insurer Ironshore for some $1.8 billion. Ironshore CEO Kevin H. Kelley said at the time the takeover would enable the company to "enhance our global brand."
However, Fosun has many other interests too -- this year it completed the acquisition of a majority stake in French holiday resort company Club Med, and 20 percent of Canada's Cirque du Soleil. In July it bought the Palazzo Broggi, one of Milan's most iconic buildings, for some $370 million. Other real estate investments include Lloyds Chambers in London and One Chase Manhattan Plaza in New York. Fosun also has stakes in Australia's Roc Oil and German bank BHF, and operates a joint venture with British travel firm Thomas Cook.
However, speculation about Guo's future began this summer, after Wang Zongnan, former chairman of Shanghai-based state firm Bright Foods, was jailed for 18 years for bribery and embezzlement. Wang had longtime links to Fosun, and the court accused him of abusing his position to seek benefits for Fosun by transferring shares of one of his group's companies. It also alleged that Wang's family had bought two villas from Guo for prices well below their market value, and said these discounts amounted to bribes, the Shanghai Daily reported at the time.
The paper also said there was speculation about whether Guo might face charges. However, Fosun quickly issued a statement saying it had not received any benefits from Wang, and said the discount on the houses was "reasonable."
Guo is also reported to be close to Ai Baojun, who was fired as Shanghai's vice-mayor last month and put under investigation on alleged corruption charges, the Shanghai Daily said Thursday.
Guo's disappearance comes as the Chinese government continues a stringent anti-corruption campaign, which has brought down thousands of officials over the past three years, including Zhou Yongkang, China's former security chief and a former member of the Communist Party's ruling standing committee. As the scope of the investigation has broadened, officials from several leading universities and some of China's top stock brokerages have recently been detained.
"The news about Guo Guangchang is a Force 9 earthquake for China's private sector," Rupert Hoogewerf, head of Shanghai-based research group Hurun Report, which tracks China's wealthy, told International Business Times.
"If confirmed it would be the first time such an influential entrepreneur has been investigated," he said. "Guo is a widely respected businessman in China, and is seen as a scholarly figure, and something of a thought leader. And Fosun has had a major international impact."
Hoogewerf noted that Guo is a member of the advisory body to China's legislature, and a former delegate to the legislature itself, and is deputy head of the influential businessmen's association of Zhejiang province, of which Alibaba founder Jack Ma is the current chairman.
Private entrepreneurs have become increasingly influential in China in recent years -- but some experts say many remain anxious about their position in society, about the Communist Party's attitude toward them, and the security of investments. This is seen as one factor in the large overseas investments by wealthy Chinese individuals in recent years.
Fosun is certainly increasingly well-connected internationally. Patrick Zhong, Fosun Group's senior managing director and head of global investment, spoke at a recent conference in Shanghai about arranging a dinner for "my friend George Osborne," the U.K. chancellor of the Exchequer, during his recent visit to China. Zhong described Fosun as a "trailblazer" in China's attempt to build global brands.
However, credit ratings agency Moody's has previously expressed concerns that the company's borrowings could hurt its financial strength and said it faced great funding pressures -- though it changed the company's outlook from negative to stable earlier this year. Shares in Fosun traded in New York fell 11 percent on Wednesday following the first reports about Guo's apparent absence.
© Copyright IBTimes 2023. All rights reserved.