Hakeem Olajuwon: Why Does The NBA Legend Live In Jordan?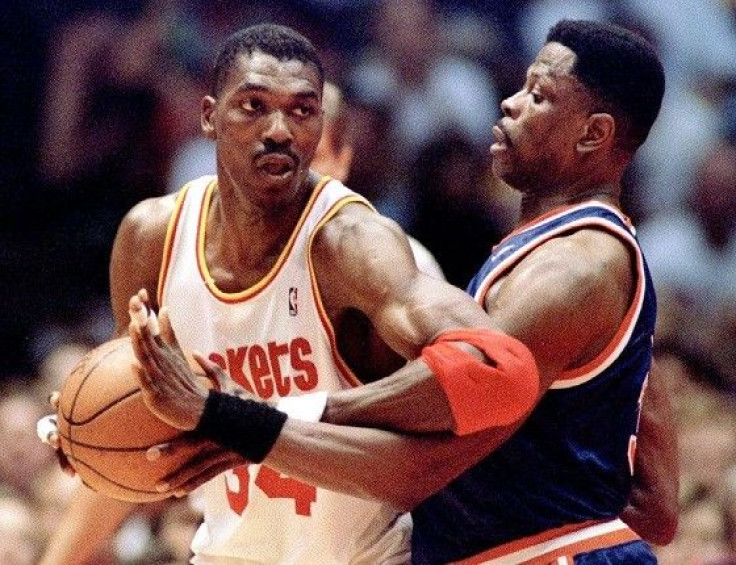 Hall of Fame center Hakeem "The Dream" Olajuwon, who played 18 stellar seasons in the NBA and won back-to-back championships for the Houston Rockets in the mid-1990s, now spends half of every year in a place not a lot of Americans, much less basketball players, have ever visited, nor are planning to live in: Amman, Jordan.
But then again, Olajuwon -- a Nigerian native and devout Muslim who reportedly speaks five languages fluently, and has never been touched by any scandal of any kind -- is unlike any other NBA star.
He has enjoyed many accolades on the court -- MVP awards, one of the 50-best players ever, an Olympic gold medal, and tens of millions of dollars in income and endorsements. However, shortly after his retirement in 2002, he did not take the familiar path hewn by prior NBA superstars -- that is, he didn't become a coach, nor a broadcaster, nor a celebrity pitchman, nor retire to Arizona to play golf. Rather, he packed up his wife and seven children and relocated to the Hashemite Kingdom of Jordan.
In a 2009 article written by Gary Meenaghan, an Abu Dhabi-based sportswriter, Olajuwon described Jordan as a "balanced, neutral society" where he and his family regularly attend mosque and diligently observe Muslim customs, like Ramadan, and also study Arabic in order to read The Holy Quran in its original language.
"Whether people around you are fasting or not doesn't make any difference," Olajuwon said of Ramadan. "If people are eating and drinking in front of you, the willpower of the Muslim should be stronger. That's what the training is for ... I find in the Arab World that when they are fasting, they say they are weaker and they don't work as hard. But it should be the opposite."
Olajuwon, who earned about $100 million over his career, also spoke about money and its influence on modern athletes.
"What's more important is that they can manage their fame for a good cause -- there are lots of people like that," he stated. "But you also have a lot of people where they don't know how to handle success and end up destroying their career. Someone who is rich, but who doesn't have [positive] principles -- these people have no value."
When he is not ensconced in his farmhouse outside Amman, Olajuwon spends the other part of the year in his Houston-area mansion, where he manages a number of high-end real estate investments. He also maintains his contacts with the NBA, by tutoring some of the game's brightest stars, including Kobe Bryant, Lebron James, Amar'e Stoudemire, Yao Ming and Dwight Howard.
However, the core of Olajuwon's life appears to be rooted in Islam.
In a 2008 interview with Texas Monthly, he said: "My religion is a lifestyle. We pray at certain times of the day, a total of five times a day. That's the way it is all around the world. It doesn't mean I'm [so] religious; every devout Muslim does it."
Olajuwon told the Monthly that he had visited and trained in Jordan while he playing in the NBA, liking the country enough to settle there after his playing days ended.
"I'm here [in Jordan] with my whole family, so I drive the kids to school," he said. "Then I start my exercise, which is hiking in the mountains. We live in the mountains. It's beautiful when the sun is coming up."
Olajuwon living in Jordan is not no unusual considering that it is an Islamic nation and also one that has received (though not always welcomed) immigrants and refugees from across the Middle East and North Africa. The current wave of Syrians fleeing the civil war in their native country has put enormous pressure on Jordan's limited resources. Jordan is already home to some 2-million Palestinians (most of whom are Jordanian citizens) and up to 1-million Iraqi refugees – all in a country with an "official" population of about 6.5 million.
According to the Jordan Times newspaper, in 2010, foreign-born people represented almost half (46 percent) of the nation's population.
However, it is unclear how many Nigerians, like Olajuwon, live in Jordan – either legally or illegally. In recent years, tens of thousands of Africans have migrated to the Middle East, including Israel, on search of jobs, causing a tremendous strain in the host countries.
Of course, as a super-wealthy celebrity, Olajuwon would not suffer the indignities of poverty, rejection and racialism endured by most of his fellow black Africans in the Middle East.
According to the Jordan Times, about 350 Nigerian students are currently enrolled in Jordanian universities, with about one-third of them studying aviation. The Nigerian Ambassador, Amman Taofeek Oladejo Orapaja, wants Jordan and his country to develop deeper ties and has called on Jordanian authorities to open an embassy in Lagos, noting that Jordan only has one consul office in the non-Arab part of Africa (that being in Johannesburg, South Africa). "Nigeria is a regional hub for Western Africa and certainly an embassy in Lagos would help ties with other countries in Africa," the ambassador told the Times last month.
FOR FREE to continue reading
✔️ Unlock the full content of International Business Times UK for free
offer available for a limited time only
✔️ Easily manage your Newsletters subscriptions and save your favourite articles
✔️ No payment method required
Already have an account?
Log in
© Copyright IBTimes 2023. All rights reserved.