Halting Corrupt New York Politicians Requires Term Limits
Opinion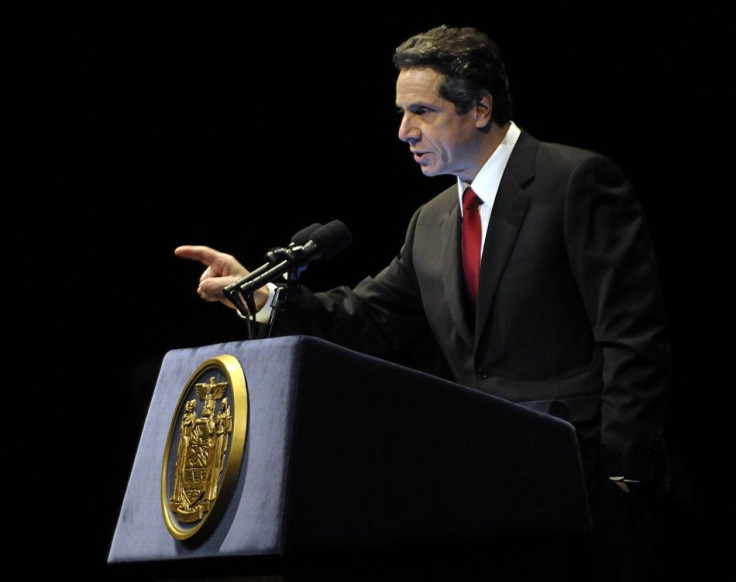 "I have a theory that the truth is never told during the nine-to-five hours." -- Hunter S. Thompson
Nothing proves Thompson's theory better than New York politics.
Last week, some prominent New York legislators, most notably Democratic Senator Malcolm Smith and Republican Councilman Dan Halloran -- both representatives of Queens -- were arrested by U.S. District Attorney Preet Bharara on charges of accepting bribes and corruption.
Two days later, Bharara was in front of the cameras again, this time announcing that Assemblyman Eric Stevenson, a Democrat representing the Bronx, was also charged with bribery and conspiracy.
I read the news and, like most New Yorkers, I simply thought, Here we go again.
That corruption is rife in New York politics isn't a startling revelation. It's familiar -- too familiar. It's become all-too-normal to see the image of an elected official being led away in cuffs, with the stunned look of being caught outright, the disheveled clothes, and the chunky news headlines hovering overhead like a black halo. It's delivered horror-movie-style, and we, the tax-paying-slow-to-react public, eat it up.
It's time for term limits and immediate suspension when a politician is charged, and time for immediate dismissal if he or she is convicted of corruption.
In New York, we have been inundated with a bevy of soiled brilliance in local and state government. The hubris of corrupt officials extends to their expectation of entitlement when they cross into the State House or Blue Room, where the most accomplished liars and litigators reside.
It is must-see TV, filled with local self-made political celebrities, and greed, and dark-alley dealings, and the FBI, so it must be good. The public syndicate loves this form of entertainment, this steaming pile of dung. So instead of being outraged, we are predisposed to wait and watch the trial and the fall from grace, instead of nipping the problem in the bud.
These scandals play out without the blame falling on what, in New York, is the face of bureaucratic evil. It's a face that ducks the truth, and it belongs to Gov. Andrew Cuomo.
Then again, given the accurate depiction of the State of the State, Cuomo -- flanked by his internal army of polarized subordinates -- was happy to sit in front of the New York Post editorial board on Monday, shifting the blame for these current scandals to those in the state legislature who have been entrenched in power for years.
Now he's proposing legislation that would make it easier for district attorneys to prosecute public corruption.
That won't solve the problem, but term limits will.
Cuomo asserted that those entrenched in power for a long time can become corrupt. Well, placing a two-term, six-year limit on legislators would prohibit extended stays and allow voters to elect fresh voices to represent them in Albany.
"The people of New York deserve a government that works, for a change -- not a government paralyzed by partisan politics and plagued by ethical scandals," Cuomo boasts on his website. "Andrew Cuomo's Clean Up Albany agenda is a comprehensive plan for how to fix the State government to make it work for all New Yorkers."
Pretty words, but the agenda has failed. District Attorney Preet Bharara revealed that twice last week. There will undoubtedly be more and more and more.
Just look at New York's corrupt history: Former Senator Pedro Espada was convicted of embezzlement; former Senate Majority Leader Joe Bruno was convicted of corruption; former Comptroller Allan Hevesi was caught misusing state funds and of corruption; former Gov. Eliot Spitzer participated in a prostitution ring; Assemblyman Vito Lopez was found guilty of sexual harassing female staffers; former Senator Carl Kruger was convicted of bribery and fraud.
Except Halloran and Stevenson, all of the above legislators served eight years or longer.
Cuomo took to the radio Monday to pound the table about how he will not tolerate this kind of behavior in Albany. He even went so far as to say he and his staff were going to produce a new ethics-reform package that would help make it easier for the U.S. District Attorney to prosecute those who partake in corruption.
Again, that doesn't solve the problem. Term limits do.
If Cuomo wants to lead New York and live up to the high moral and ethical standards set forth at the beginning of his administration, he needs stand up to those who would seethe at the idea of having to leave their posts before they stuff their pockets.
Mike Figliola is executive producer of "The John Gambling Show" on WOR Radio 710 AM in New York City. He is a resident of Queens. You can follow him on Twitter at @mikefigs.
© Copyright IBTimes 2023. All rights reserved.