Harper to visit China, seeking higher oil sales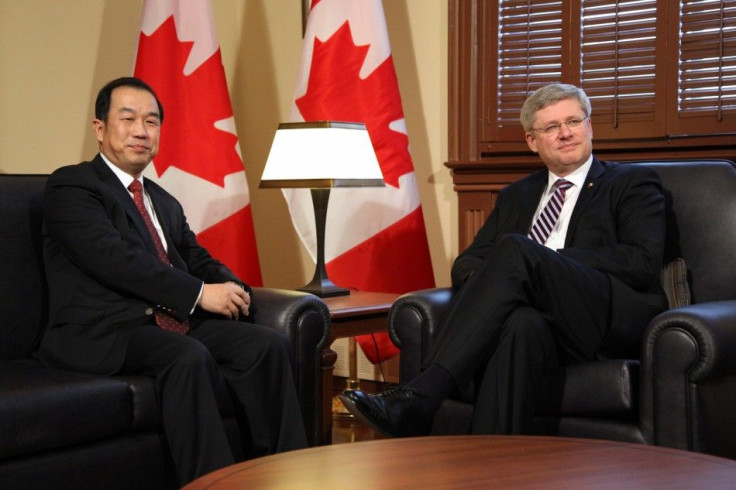 Prime Minister Stephen Harper plans to visit China next month as his government looks to open new markets for oil sands crude in the wake of Washington's decision to delay approval of a major pipeline from Alberta to Texas.
Harper is scheduled to fly to Beijing in the second week of February and aims to deepen economic ties with the Asian powerhouse, the prime minister's office said in a statement on Wednesday after he met with China's ambassador.
After President Barack Obama's administration said last November it would delay approval of TransCanada Corp's proposed Keystone XL pipeline to Texas, Harper said he would focus on Asian markets.
I'm very serious about selling our oil off this continent, selling our energy products to Asia, he told CTV television in an interview last month.
The easiest way to boost oil exports to China would be through Enbridge Inc's proposed Northern Gateway pipeline, which would carry tar sands-derived oil from Alberta to the Pacific Coast. There it would be loaded on to tankers and shipped to Pacific Rim markets.
Regulators began hearings on Tuesday into the C$5.5 billion($5.4 billion) project, which would move 525,000 barrels of oil sands crude a day and is strongly opposed by environmentalists and some influential aboriginal groups.
While in China, Harper will meet with President Hu Jintao and Premier Wen Jiabao.
After winning power in 2006, Harper's Conservatives initially took a cool line with China and cited what they described as Beijing's poor human rights record.
Under pressure from industry groups who said it made no sense to aggravate one of the world's most powerful nations, the Conservatives gradually adopted a much more pro-business approach to China and now rarely mention human rights.
Our government is committed to moving our relationship with China forward by focusing on deepening economic ties, including opening new markets, Harper said in a statement.
Harper paid his first visit to China in December 2009, when Hu publicly chided him for waiting so long. Hu subsequently came to Canada in June 2010.
Canada's trade with China more than tripled between 2001 and 2010, according to Statistics Canada. In 2010, exports to China were worth C$13.2 billion while imports totaled C$44.5 billion.
This relationship has been developing very rapidly in quite a few areas, especially in the economic areas. We hope that we will maintain this relationship and lift it up further after your visit, Chinese Ambassador Zhang Junsai told Harper.
More than 1 million of Canada's 34.5 million population are of Chinese descent.
Diplomats say they expect Harper will also visit Mongolia on the trip. Canada's Ivanhoe Mines owns 66 percent of the giant Oyu Tolgoi copper-gold project in the South Gobi region.
Ivanhoe is 48.5 percent owned by Anglo-Australian mining giant Rio Tinto.
($1=$1.02 Canadian)
© Copyright Thomson Reuters 2023. All rights reserved.